Hybrid Office Spaces You Can Book Today
With economies reopening and businesses preparing to reopen, the hybrid workspace has become a buzzword. Companies are now considering a hybrid work model that combines the best of both worlds—remote work and in-office work. The modern professional landscape is no longer centered on where one does the work, but rather on the work that one does. It is an agile ecosystem with a constant flow of communication workload via calls, messages, emails, meetings, and conferences. This makes it clear that for hybrid workspaces to thrive, they require office solutions that can keep the ecosystem together regardless of where they work.
If you're unsure about what options are available in Singapore, feel free to chat with our team. We can find you the best deal on any office space in Singapore. Book an office space tour today!
5 Types of Hybrid Offices in Singapore
1. Smaller HQ
If you want to reduce your office footprint while still having a physical headquarters, this could be a good option for you. Many workspace operators allow businesses to take a smaller private office that can accommodate a portion of their employees while providing them with additional access cards for their larger team (sometimes at no extra cost).
This means that businesses can maintain an office presence while getting a lot more bang for their buck—and that all employees can use the workspace when they need to. In some cases, these access cards also allow use of other buildings (of the same brand) throughout their portfolio, allowing your team to continue working from an office environment if they prefer, without having to travel to a specific office.
2. Multi-location workspaces 
According to a recent survey, one of the best aspects of working from home is the lack of commuting. If your team feels the same way, you might want to consider renting an office space from a provider that allows business tenants to use any of the workspaces in their portfolio. This means that your team can work from whichever location is most convenient for them. This is ideal if your workforce is dispersed.
3. Part-time office space
If you need a private office but don't want to use and pay for it every day/week of the year, an office timeshare may be the solution.
This setup is especially suited to businesses that want to designate specific days for office vs. remote working, as it allows businesses to access office space on a "part-time" basis—by sharing ownership, costs, and usage with one or more other companies. The companies agree on a timetable that works for them and divide the costs accordingly.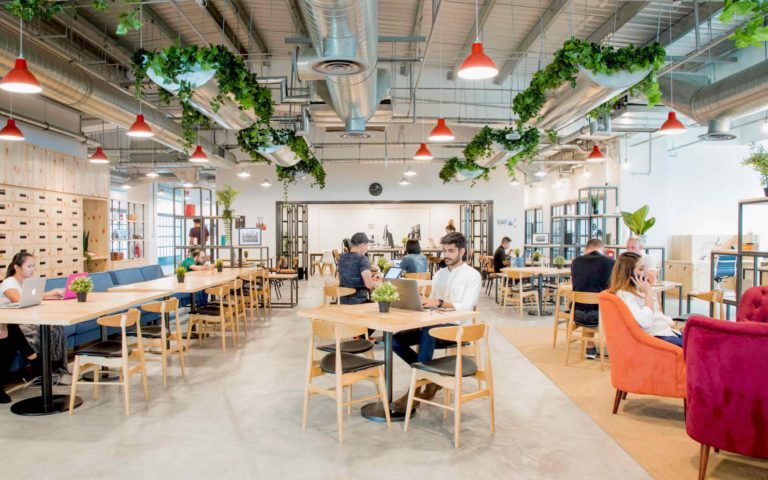 4. Flexi desks or hot desks
Many companies are opting for a full remote setup with occasional meet-ups at coworking spaces and/or options for their employees to take advantage of dedicated desks.
Desk hoteling, desk sharing, hot desking, and shared desks are other terms for the same thing. All of these terms refer to the same concept: a flexible workspace in which desks are not permanently assigned but rather shared among employees to allow for greater agility and collaboration between teams. A desk booking system is usually used to facilitate desk sharing, and it can often be tailored to specific business needs.
5. Co-working spaces
Coworking spaces are, at their core, shared workspaces. They provide affordable office space for those who want to get away from the isolation of a home office or a coffee shop.
Hot-desks, private meeting rooms, kitchens, coffee, and other office-like amenities are available at these shared workspaces. They frequently provide a sense of community as well. Occupants are typically freelancers, entrepreneurs, start-ups, and small teams looking for a flexible workspace.
How to Choose the Right Workplace Solution for Your Team
With so much change in the workplace, it can be difficult to know where to begin when deciding on the best workplace strategy for your company.
While hybrid workspaces have been identified as a major trend for 2021, it is clear that they are much more than that. They are more than just a design trend; they represent a fundamental shift in the way people work.
To fully benefit from this transition, businesses must consider what else needs to change; otherwise, the shift will be perceived as superficial by employees, resulting in organisations failing to reap the full benefits.
Examining current benefits and policies to see how they can be updated in line with design changes is an important part of fully adapting to hybrid working. These changes, like workplace design, must be adaptable and represent a shift in the way your company operates.
What about leasing an office space?
Of course, if a significant portion of your team wants or needs to be in the office most/every day of the week, or if your business relies on having a physical team presence, taking space equivalent to one desk per person may still be the best option. And, if you want, you can still rent a full-team office while also implementing a flexible working policy—the two don't have to be mutually exclusive. As the most established workplace strategy, this is the simplest option in today's office market, and it also ensures complete flexibility in the face of changing preferences throughout the pandemic and beyond.
The three main types of office space available to you, starting with the most flexible, are as follows:
Serviced offices – These are plug-and-play workspaces that include all business rates and bills in the monthly rent. Serviced office contracts typically provide far more flexibility than traditional leases (with contracts lasting a few months rather than a few years).

Managed offices – customisable office space that can be tailored to a company's needs, allowing you to brand and personalise it. All costs, from rent to fit out, are bundled into a single monthly fee with managed spaces, with contracts typically beginning with a 12-month minimum term.

Offices for lease – These are ideal for companies looking for a longer-term lease. While the initial setup costs may be higher, leased offices are usually more cost-effective in the long run and allow businesses to customise the space to their exact specifications.