Flexible Office Spaces in Raffles Place, Singapore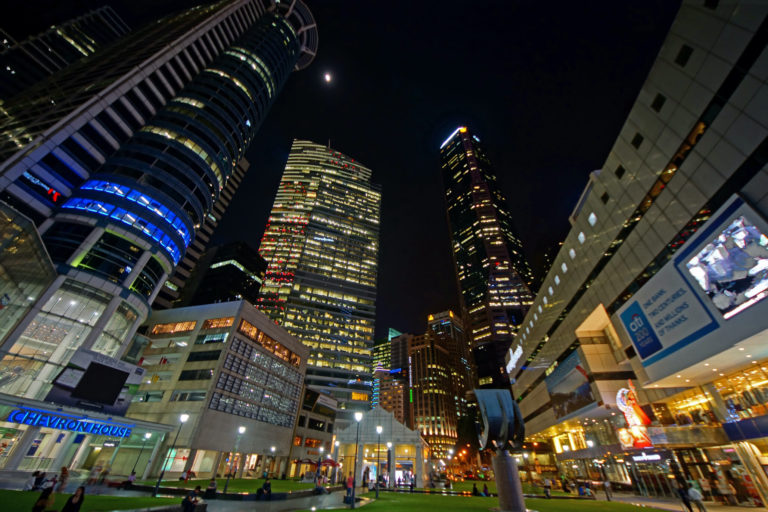 Raffles Place is Singapore's financial district. Geographically, Raffles Place is 200 yards long and 50 yards wide, and it is located below the mouth of the Singapore River. It is situated in Downtown Core of Singapore's Central Area and it has some of Singapore's largest Financial companies in some of the country's tallest buildings and most iconic landmarks within walking distance of each other.
Many of the retailers who opened shops at Raffles Place in the early 19th century relocated in the latter half of the century, paving the way for finance houses and major banks to populate the area instead. This, as a result, has attracted newer businesses and professionals into the district, giving rise to many of the offices in Raffles Place. 
If you're looking for a flex office space in the area, you may chat with us or search offices by clicking on the button below.
Where to Find Serviced Offices, Coworking Spaces, and Private Offices in Raffles Place
Some office spaces in Raffles Place can be found in the following office buildings: One Raffles Quay, Collyer Quay, 9 Raffles Place, 80 Raffles Place, 6 Battery Road, and 18 Robinson Road.
From private offices to various co-working or serviced offices, there's a wide range of flexible offices that come with furnishings and flexible rental conditions for businesses and professionals to choose from. They're also a few minutes away from 1 Raffles Place and Raffles Place MRT station, making shopping and commute easily accessible.
If you're looking for an office space in this area, feel free to contact osDORO. Check out our properties and book a private tour.
For more info, download our annual report:  COWORKING SPACE MARKET REPORT
What to See in Raffles Place
Being a financial district, many of the landmarks in Raffles Place are famous commercial buildings such as 1 Raffles Place, the United Overseas Bank Plaza, and the Republic Plaza. These skyscrapers were Singapore's three tallest buildings until Guoco tower was built in 2016. There's also a mall in 1 Raffles Place, where people can eat and shop.
Aside from these, Raffles Place also has the world-famous Merlion which serves as Singapore's national symbol today. The Merlion is a mythical creature with a lion's head and a fish's body. The original Merlion Statue used to stand at the mouth of the Singapore River but was eventually relocated upon completion of the Esplanade Bridge to the current Merlion Park in front of the Fullerton Hotel, facing Marina Bay.
Another attraction in Raffles place is the durian-shaped Art Centre Esplanade Theatre near the Merlion Par. The Esplanade Theatre is a performing arts centre which can accommodate 1,600-2,000 people depending on the kind of performance being held.
Where to Eat in Raffles Place
As a financial district, most food choices in Raffles Place are pricey but there are also plenty of more amazing affordable options to try. Among them is Salmon Samurai, located in Ocean Financial Centre, which allows you to create your own salmon donburi from a wide array of ingredients prepared fresh every day. Other Japanese options are Gochi-So Shokudo and Kotobuki in 1 Raffles Place; Gochi-So Shokudo is famous for its rice bowls and katsu while Kotobuki is known for its overflowing sashimi bowls.
There's also Hans im Glück in Republic Plaza which offers healthy vegetarian options for their famous German burgers. But if you're looking to eat clean, you can have salads from WHEAT Baumkuchen or Haakon, both also in 1 Raffles Place.
Raffles Place used to be called Commercial Square. It was first conceptualized in the Jackson Plan, also known as Raffles Town Plan as a means of accommodating the many merchants who came to Singapore from all over the world. The Jackson plan is an urban planning system drafted in 1822 according to Sir Stamford Raffles' vision to make Singapore a "great commercial emporium" and was named after Lieutenant Philip Jackson, the chief engineer who created the Town Plan and oversaw the construction and development of the land from 1823 to 1824.
During the development of Raffles Place (Commercial Square), a hill which stood between Commercial Square and Battery Road was leveled and the soil was used to reclaim land in the southern part of Singapore River. These reclaimed areas would eventually become Boat Quay and Circular Road Area, which, along with Commercial Square, would eventually house Singapore's business sector. 
With the help of two to three hundred unskilled labourers, Sir Stamford Raffles personally oversaw the land reclamation procedures, including raising the ground level of roads which led to Commercial Square. Afterwards, many merchants settled into Commercial Square, forming what would then be Singapore's trading community.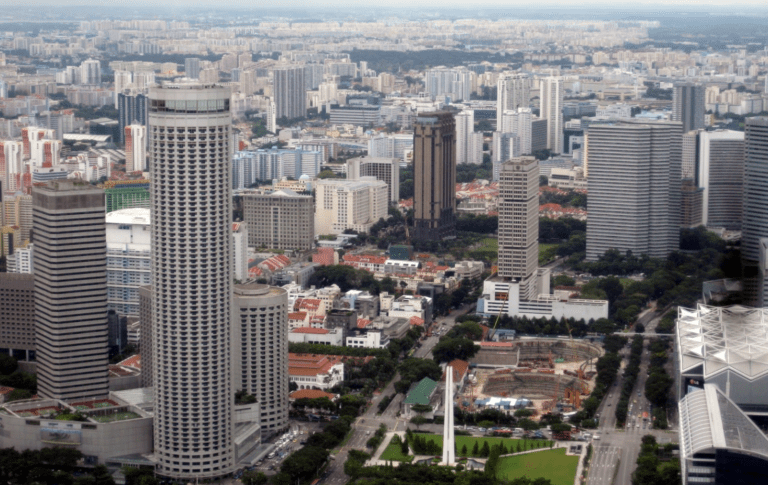 Over the years, Commercial Square saw many businesses flourish, from banks and trading houses to shops and huge department stores. In fact, four of Singapore's earliest banks (the Oriental Bank of London, Chartered Mercantile Bank of India and China, Chartered Bank of India, Australia and China, and Asiatic Banking Corporation) were established here. Also, Singapore' oldest department store, John Little was also established in Commercial Square in 1842.
In 1858, Commercial Square was renamed Raffles Place; in the same year, Robinson's department store, one of Singapore's more renowned landmarks, was built. Then in 1941, during World War II, Raffles Place was bombed by Japanese planes. Later in 1972, Robinson's Department Store was destroyed by fire.
In 1987, Raffles Place replaced its underground car park and opened its MRT station, and in 1988, then Prime Minister Lee Kuan Yew officially opened the OUB (Overseas Union Bank) centre which we now know as 1 Raffles Place. OUB centre was the world's tallest building outside of the United States at the time, and a part of it was built on the land where Robinson's Department Store used to be.
Since its inception, Raffles Place has undergone many changes but still remains Singapore's financial district. In 1997, Raffles Place was declared a historical site by Singapore's National Heritage Board.
Looking for something else? Send us a message and we'll gladly assist you.