More and more businesses are transitioning to more flexible work arrangements to cope with the fast-changing times. If you're a business owner or professional, you want to partner with a workspace provider who can give you the flexibility you need while also catering to your other unique business demands.
But there are so many workspace providers in the market today. Going through all of them can be overwhelming. There's the internationally known American coworking space company, WeWork; there's also the aggressively growing smart flex space provider, Distrii; and lastly, the superstar in the Asia Pacific region, JustCo.
Read further to learn more about these three workspace providers to help determine which of them is best suited for you and your business.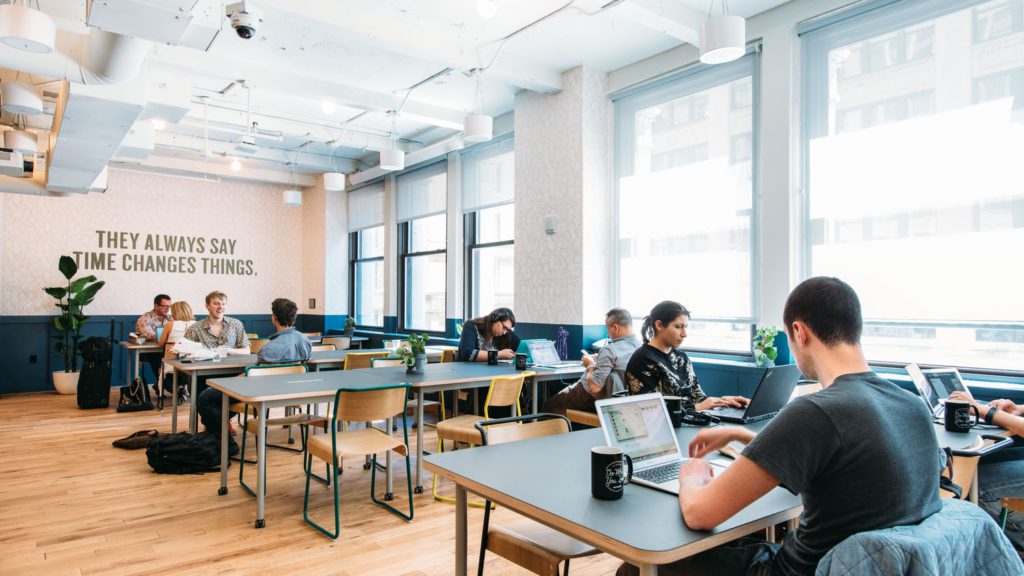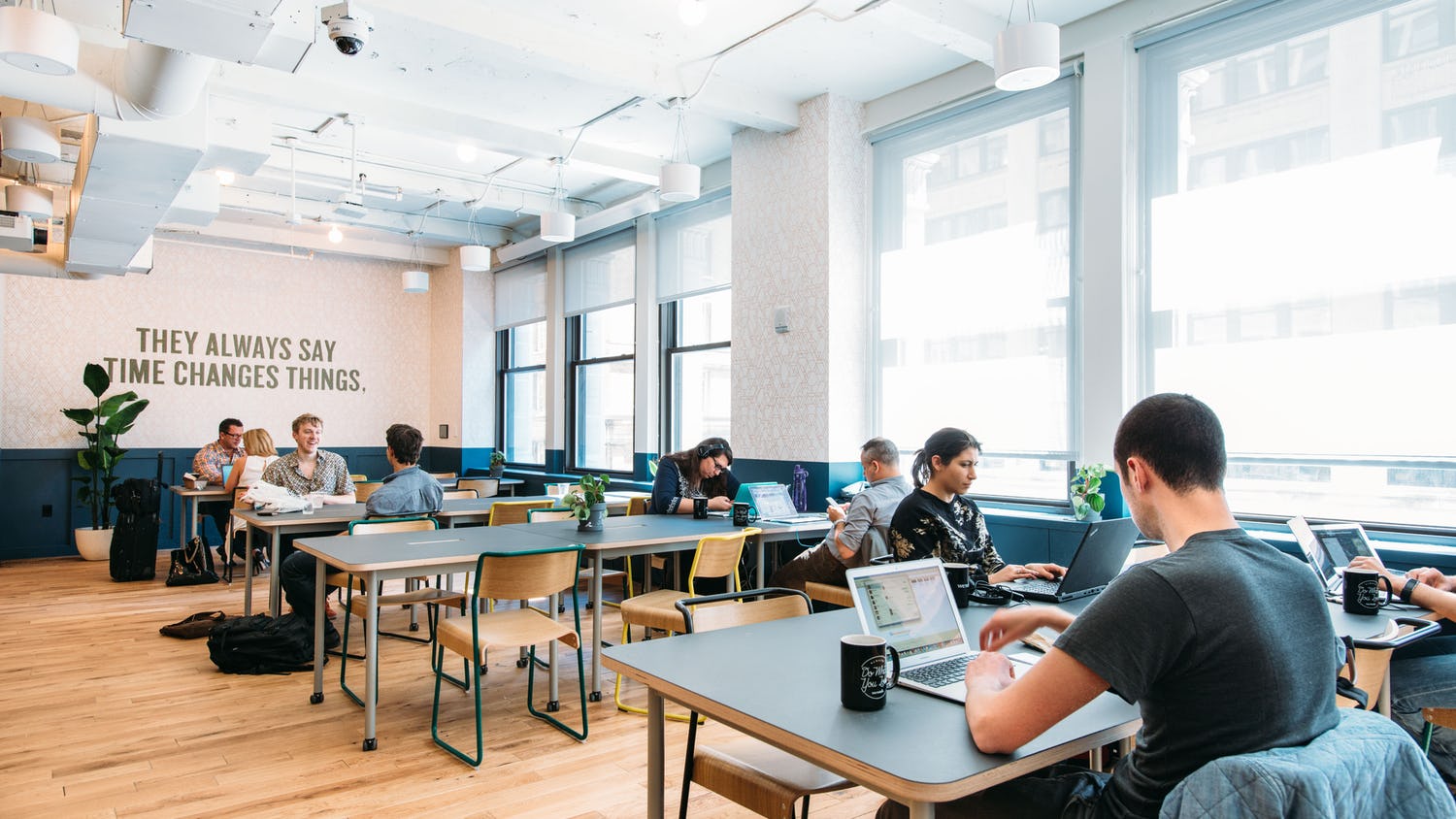 WeWork
Founded in New York City back in 2010, WeWork is a coworking company that has 800 branches spread across countries in the USA, Europe, and Asia. This means they are one of the largest and most recognized coworking companies in the world today. 
The success of WeWork is partly due to their wide range of enterprise solutions. Their workspaces are heavily influenced by innovation, technology, and business so they can offer customised enterprise solutions to small and large businesses alike. This has made it possible for WeWork to help nearly 40% of the Global Fortune 500.
Having any locations and helping a wide range of businesses across the globe has made WeWork a popular choice amongst businesses and professionals. This led to a wide and diverse WeWork community, which provides rich networking opportunities for potential clients.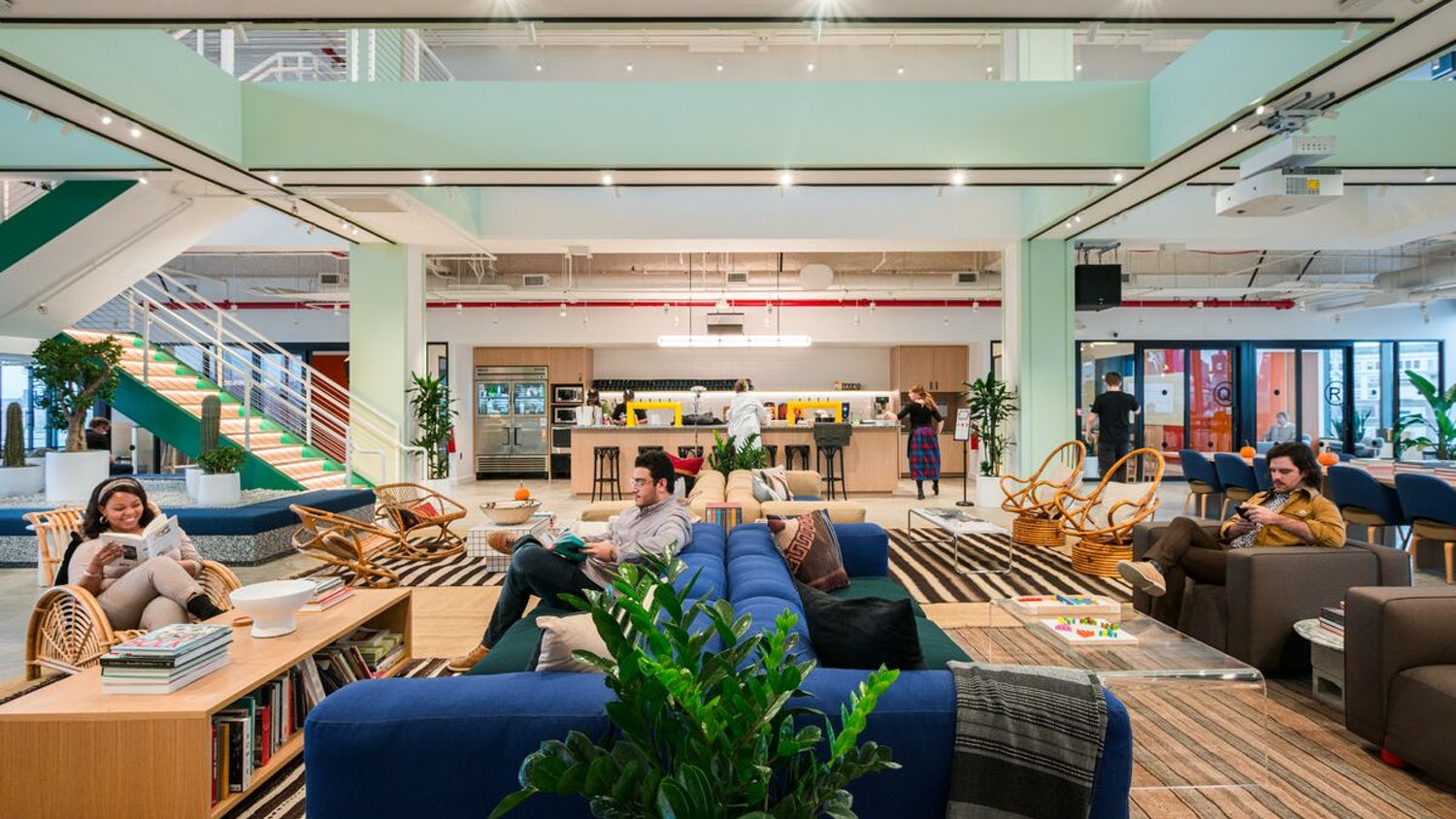 If you're looking for a hot desk at any WeWork location, don't hesitate to chat with us now!
Distrii
Founded in 2016, Distrii is a coworking company with 30 locations across Asia with the majority of its branches in China and a handful in Singapore. With many locations, Distrii manages to build an impressive network of over 20,000 members from over 600 companies, making them one of the largest coworking communities in Asia.
But more than that, Distrii is a great workspace provider because of their comprehensive suite of proprietary tech tools. They provide members a mobile app backed by a cloud-based system and IoT technology so members can access a series of office tools, as well as network with Distrii's large social circle. The app also lets members enter locations, make reservations, access lockers, hold conferences, and even avail exclusive deals or promos.
Aside from tech, Distrii also offers a Distrii Entrepreneurship Alliance (DEA) Membership, an extensive platform that allows select members to network across Distrii's large community and shares their ideas and experiences, as well as resources and opportunities for collaboration and business expansion.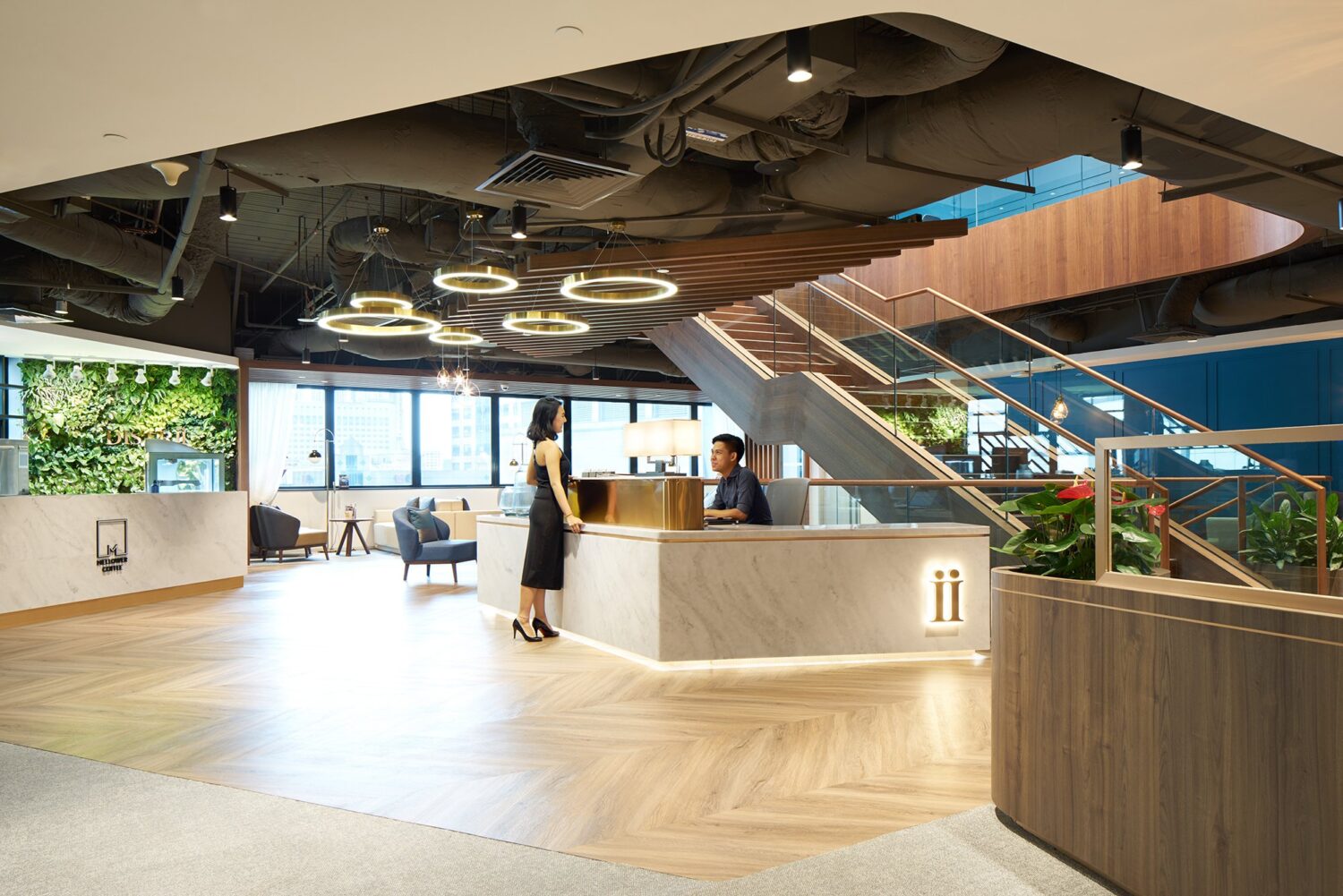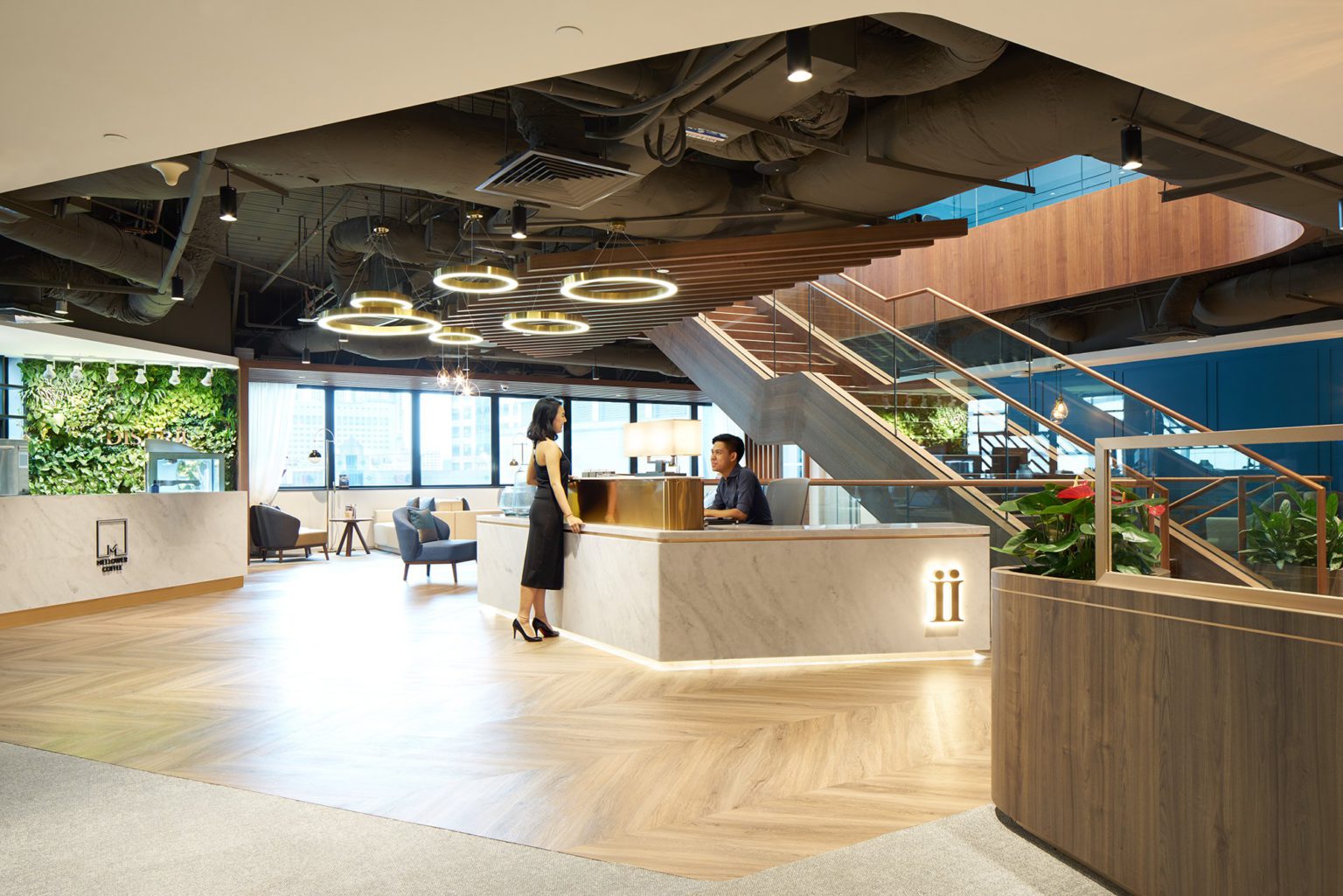 If you're looking for a hot desk at any Distrii location in Singapore, don't hesitate to chat with us now!
JustCo
Founded in 2011, JustCo is one of the earlier companies to join the flex space market in the Asia Pacific. This has given them an advantage and helped them become one of the biggest names in the industry. To date, they have over 40 locations across 9 major cities in 8 countries in the Asia Pacific region with most of their branches located in Grade A office buildings. In less than a decade, they also grew their community to over 100,000 members.
JustCo's success is in part due to its incorporation of technology to revolutionise smart offices and redefine modern-day working. They provide members an app so they can access their workspace, connect with other members of the JustCo community, and avail exclusive events and perks anytime. Recently, they even launched a new AI-powered tool, SixSense, which allows JustCo to analyse the use of their spaces to minimise touchpoints and make coworking a much safer endeavor during the pandemic.
Not to mention, JustCo is also a great workspace for Startups. They have JustCo Labs, a platform that allows startups to connect with enterprises within the JustCo community so that they can employ their help in solving business problems. JustCo Labs also helps young entrepreneurs through a series of educational events to help them level up as individuals and business owners.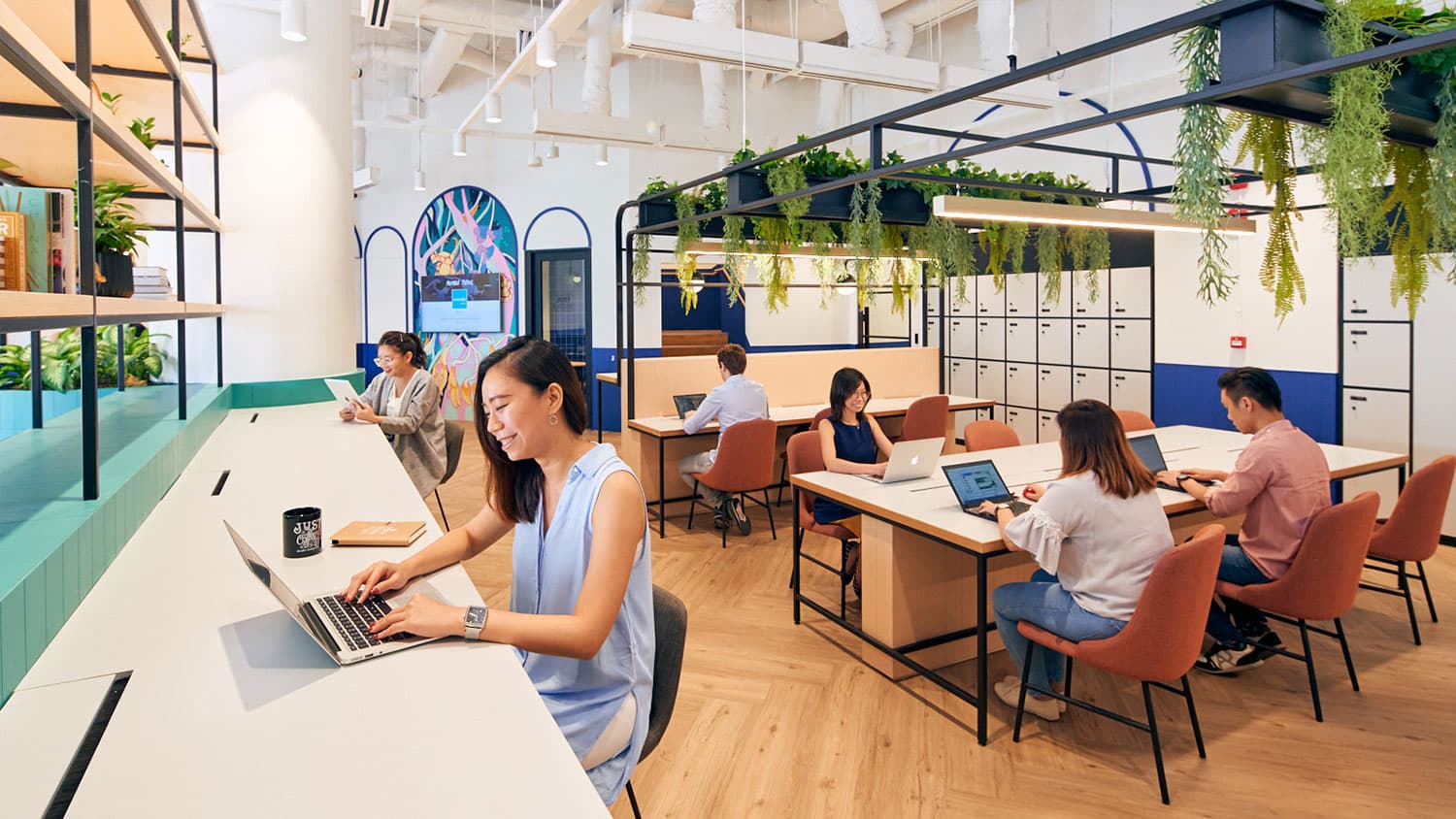 If you're looking for a hot desk at any JustCo location, don't hesitate to chat with us now!
WeWork vs. Distrii vs. JustCo
Each workspace provider has its advantages and disadvantages. As a business owner or potential coworker, the best place for you today may not be in a year or so. As you've seen above, WeWork, Distrii, and JustCo each cater to different niches and depending on your priorities, one may be better suited to you than the others.
WeWork is the best choice for those who benefit from connections outside of Asia. Through the WeWork network, you can meet potential collaborators, business partners, clients or investors in the USA and Europe who can help elevate your business. And if your primary need is workplace solutions, then you could rely on WeWork and its amazing track record to help you solve that.
Meanwhile, Distrii will be the best choice for those who want smart office solutions. They use technology to elevate the workspace and they have made contactless booking and networking a lot easier through their proprietary mobile app. If you're working within Asia, especially if your business is in China or Singapore, their DEA membership is also a great offer to help you meet important business collaborators and partners.
And then there's Servcorp. Servcorp is the best choice for businesses looking for serviced offices. From IT services to telecom and HR work, Servcorp can help you. They also have a lot of branches and have a presence in the Middle East unlike all the other international workspace providers in Asia. They also have fair prices with the longest free trial offering you're going to see in the market today!
If you're unsure which one to choose, you may get assistance from our team. We can show you around several flex offices in Singapore to help you narrow down your options.
We'll help you find the right workspace for your business.