The Gateway West
When it comes to seeking for an office space that offers a beautiful yet functional environment, as well as an inclusive community culture, The Executive Centre in The Gateway has nailed them both.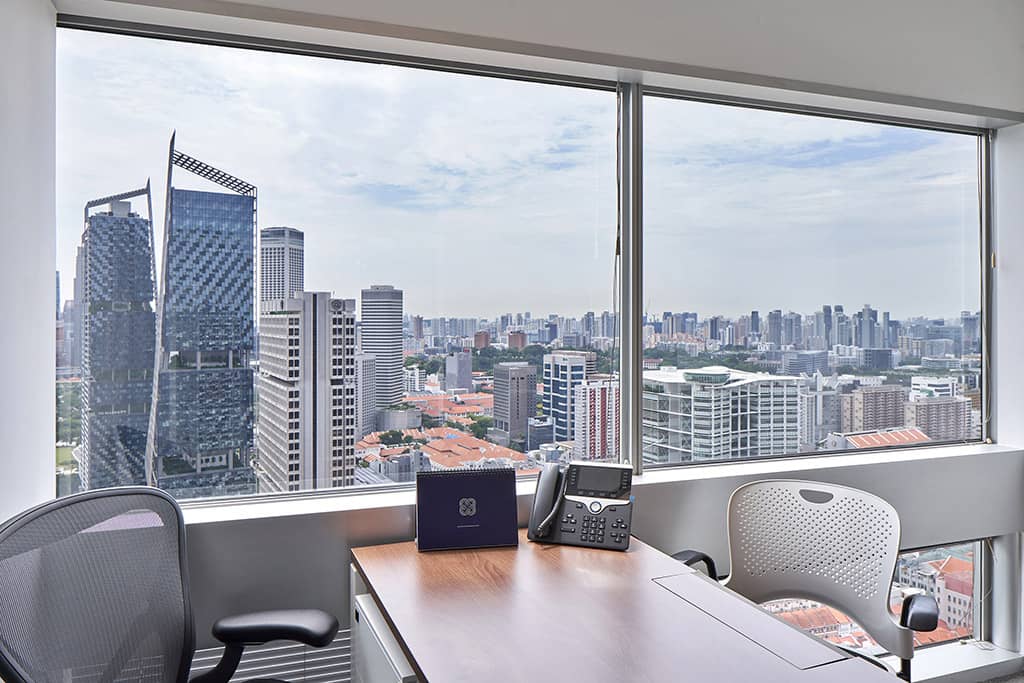 The Gateway West is a stunning and iconic building that stands at 37 floors and located at 150 Beach Road. This A-Grade building is just twenty minutes away from Changi Airport Singapore, takes you five minutes if you walk to Bugis Station, and two minutes to the major bus stop. Restaurants and shops and cafés are also located nearby.
The twin buildings have their modern offices with luxury meeting rooms, conference rooms, minimalist furniture, and promptly responsive office services. 24/7 access to this amenity-rich office guarantees absolute security, Internet and dining areas. The crystalline twin towers of The Gateway complements the contemporary interior and advanced infrastructure. One of the outstanding characteristics of this office space is its excellent natural lighting. According to a Cornell's recent study, getting as much natural light as possible has scientifically-proven benefits such as workers exposed to natural light experienced an 84 per cent drop in issues such as headaches, eyestrain, and blurred vision.
A hot desk starts at about SGD 250 per desk, and a serviced office starts at SGD 880 per desk.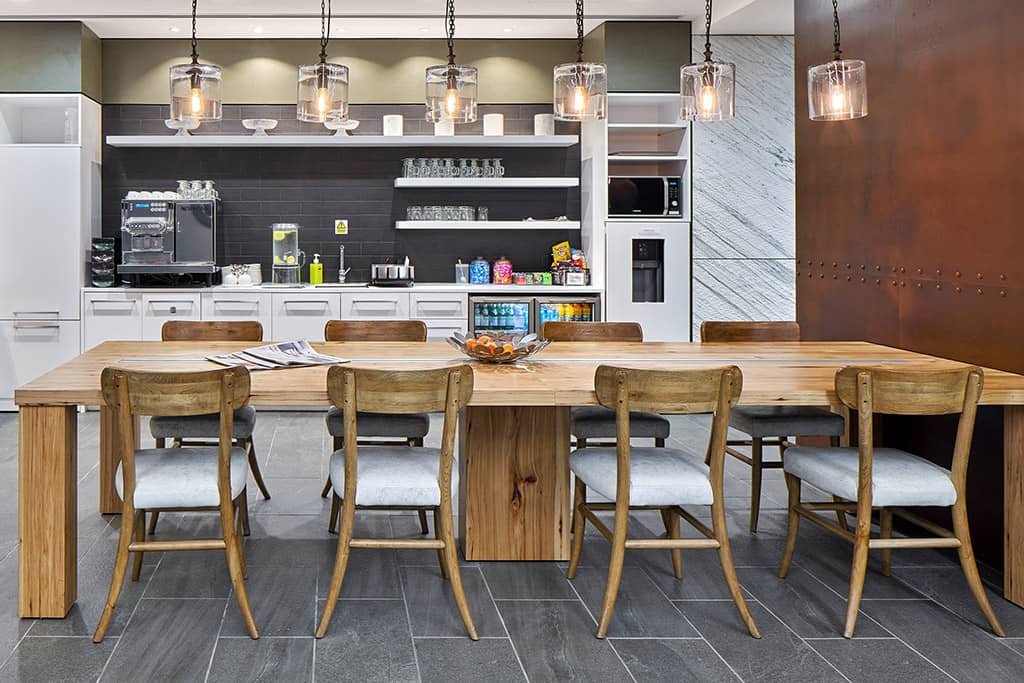 Frasers Tower
Nestled in the heart of the park, comes the new iconic addition to the city's skyscrapers, Frasers Tower. Prioritising environmental sustainability, Frasers Tower is presented with the prestigious green mark platinum award, the embodiment of aesthetic finesse and innovation. This modern building made a definitive change to the typical work-life with lush greenery covering three levels of gardens for the premium Grade-A commercial office.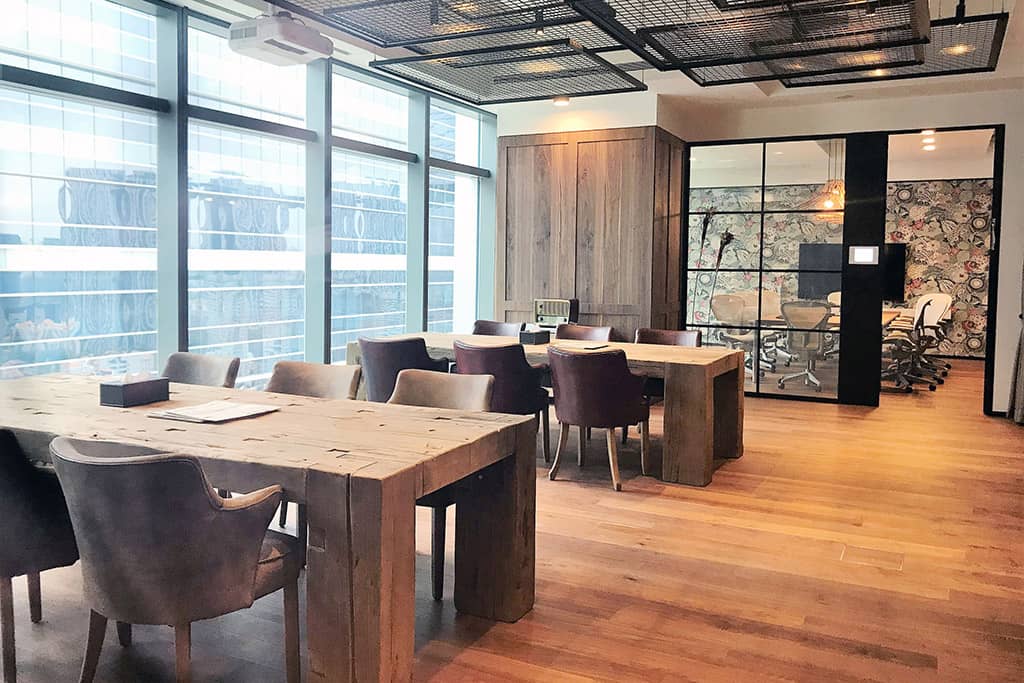 From a vibrant floral landscape at the park to pockets of tranquil water feature, Frasers Tower scales 38 storeys and opens up to an elegant lobby entrance. All the premium offices are served by dedicated lift lobbies equipped with security control systems. Frasers Tower provides 663,000 sq ft of Grade-A working space to accommodate up to 300 persons per floor.
Frasers Towers has 117 bicycle parking spots, security 24/7, personal storages, pool and dining room. The office space also includes other amenities such as free Wifi and LAN, printing facilities, shower facilities, mail handling and reception service. 
Unique to Frasers Tower are four community zones, communal terraces, garden areas and a sky garden for the tenants to connect and relax. The terrace is a vibrant recreation space for the community located on level 4. It offers communal breakout space that is ideal for social events, networking, town hall sessions, strategy discussions or only for tenants to step out for a breath of fresh air. Frasers Tower also leaps forward with the Oasis. A three-story integration of retail and garden podium space with a wide array of food and beverage outlets. The building's double-glazed facade significantly reduces solar heat that the sky garden gains while providing panoramic views of the precinct. It's a great place to de-stress from the bustling craze of the city. The tower is connected to Tanjong Pagar MRT station and other transportation.
A hot desk per person can start around SGD 250 and go up depending on the facilities included or type of office.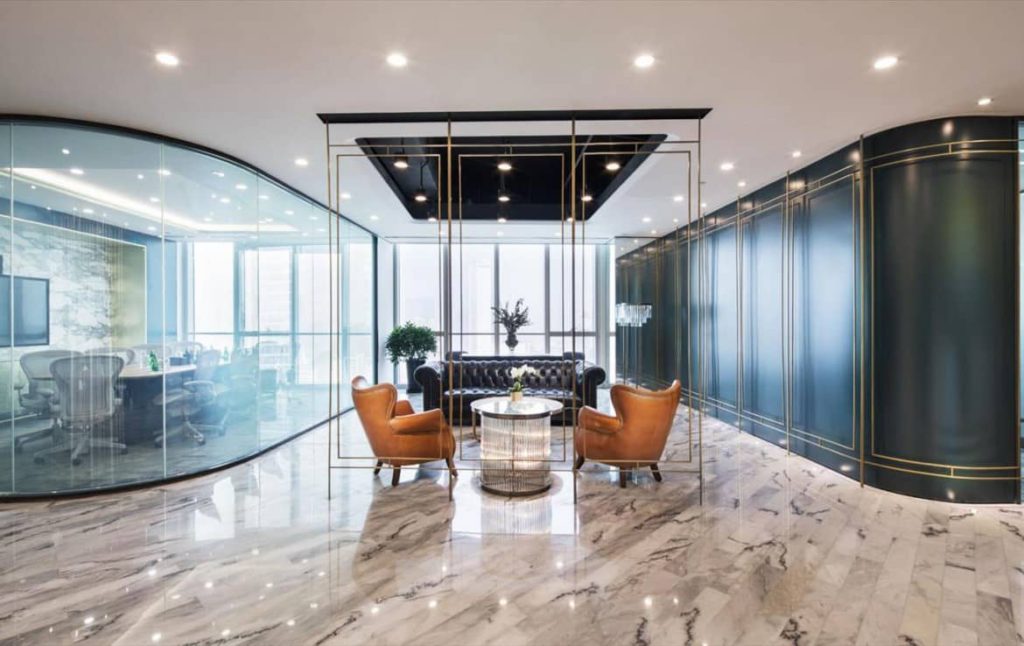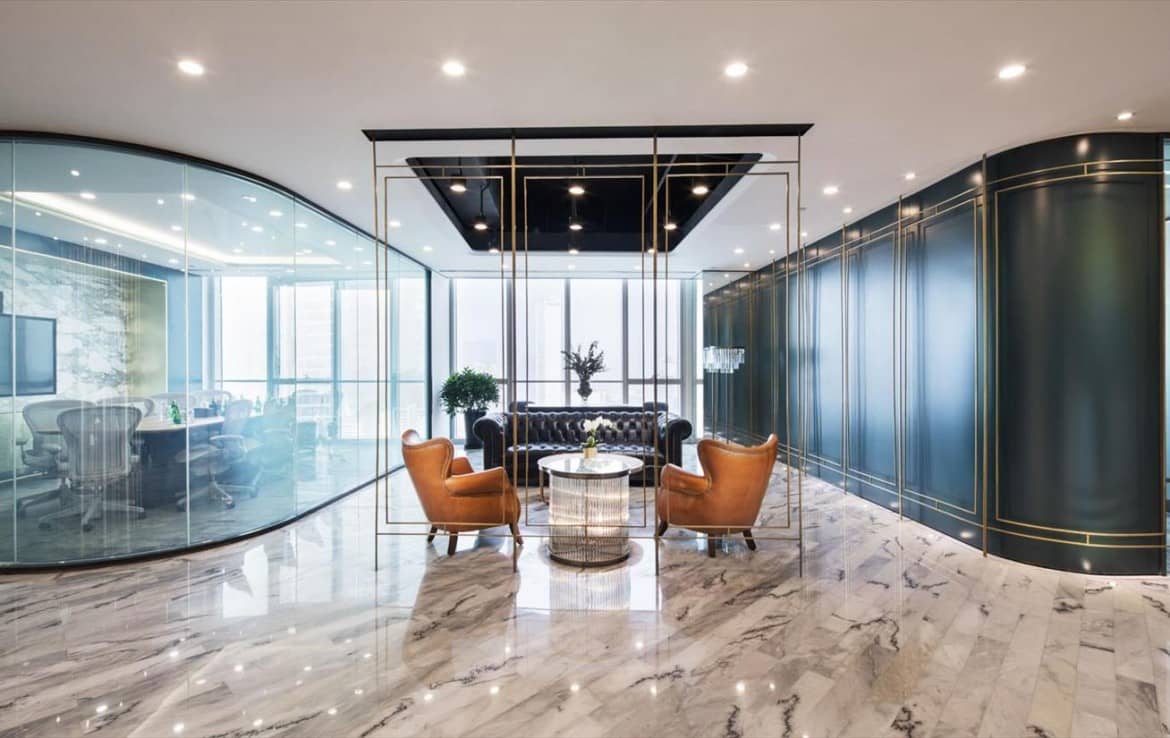 Clifford Centre
Singapore is famous for its 'work hard, play hard' lifestyle. The mixed-use workspaces at Clifford Centre have successfully brought these fields together under one roof. The 29-storey commercial skyscraper is strategically located in the heart of Raffles Place, the financial district of Singapore.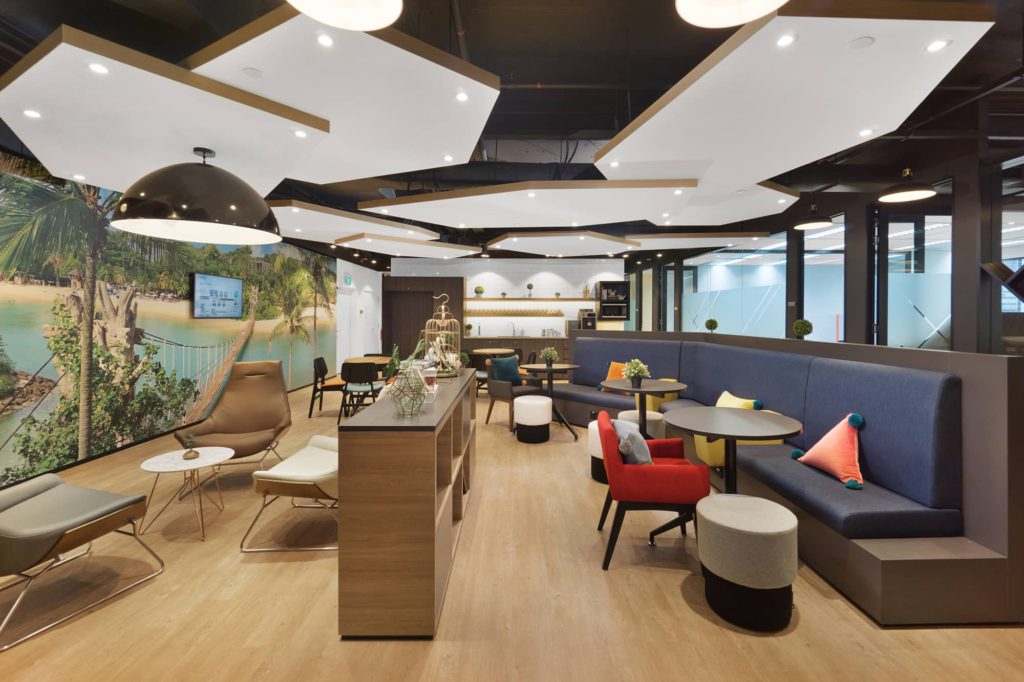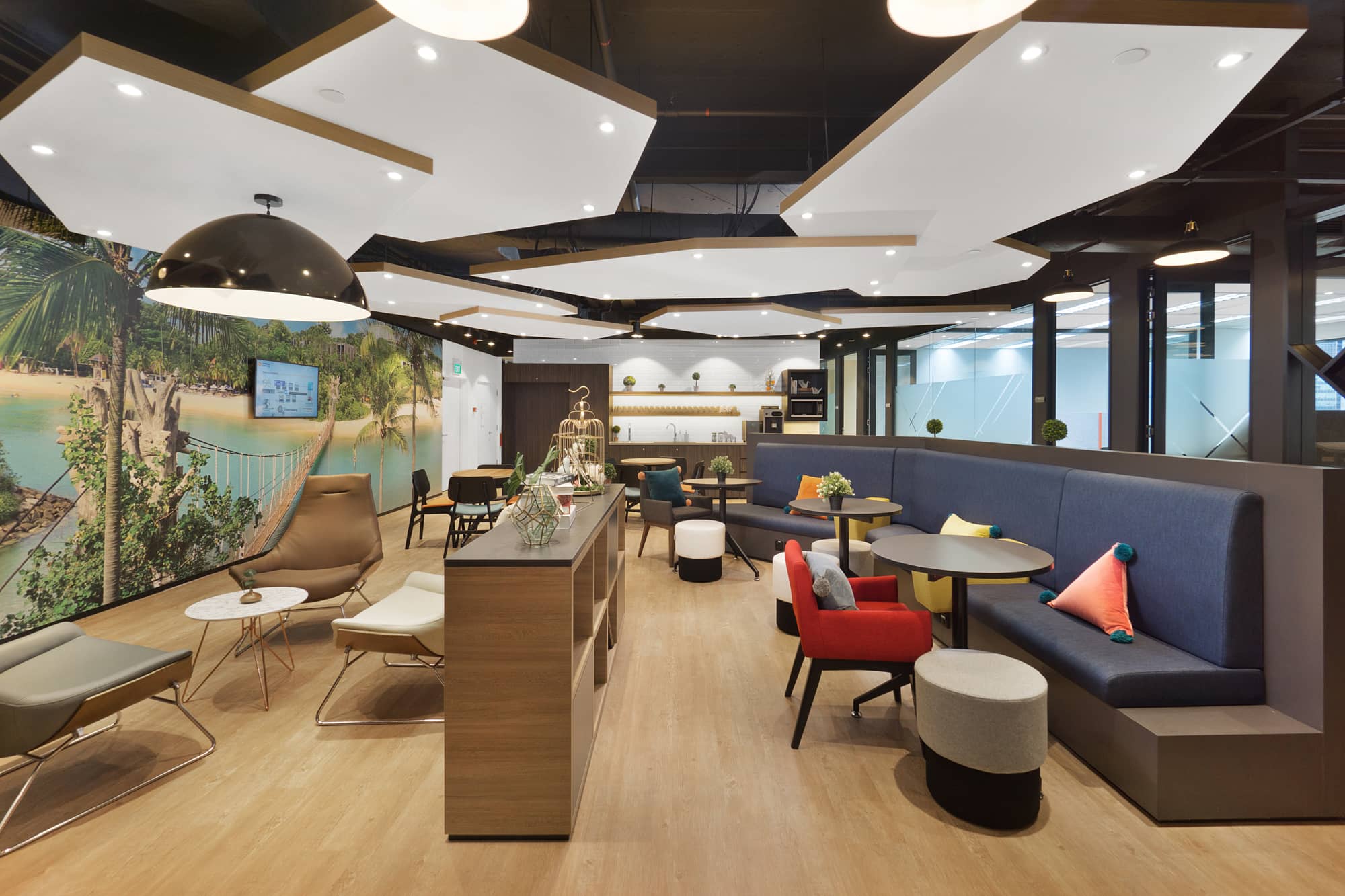 Clifford Centre is a convenient location for workers as it is located near the Marina Bay financial district and the Raffles Place MRT Station. Other MRT Stations include Downtown MRT station and Telok Ayer MRT station, which are also nearby. It only takes a few minutes to get to several bus stops such as Bus Stop Fullerton Square – 03011,  Bus Stop Clifford Pier – 03019, and Bus Stop The Sail – 03381. It is also very close to Cold Storage China Square.
Clifford Centre is a high-quality coworking space which has various kinds of office suits for businesses from small to medium and startups such as serviced offices, virtual offices, and day offices. With a perfect mix of affordable fully-equipped meeting rooms and modern co-working spaces, Clifford Centre offers flexible and creative workspaces for growing companies, startups and entrepreneurs. 
The location offers tenants and guests three levels of food and retail choices consisting of a basement food court offering a wide range of local and international cuisines. Clifford Centre is also close to specialist business support services, fitness centre, boutique hotels, business hotels with facilities, serviced apartment, banks, childcare, pre-school centres, other food centres, and eateries together with a wide range of retail and dining options.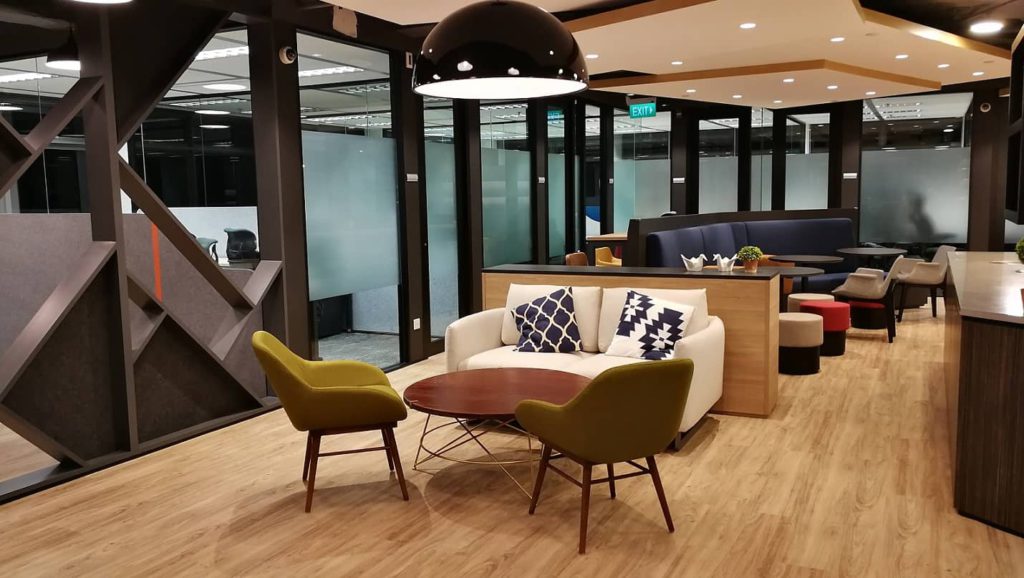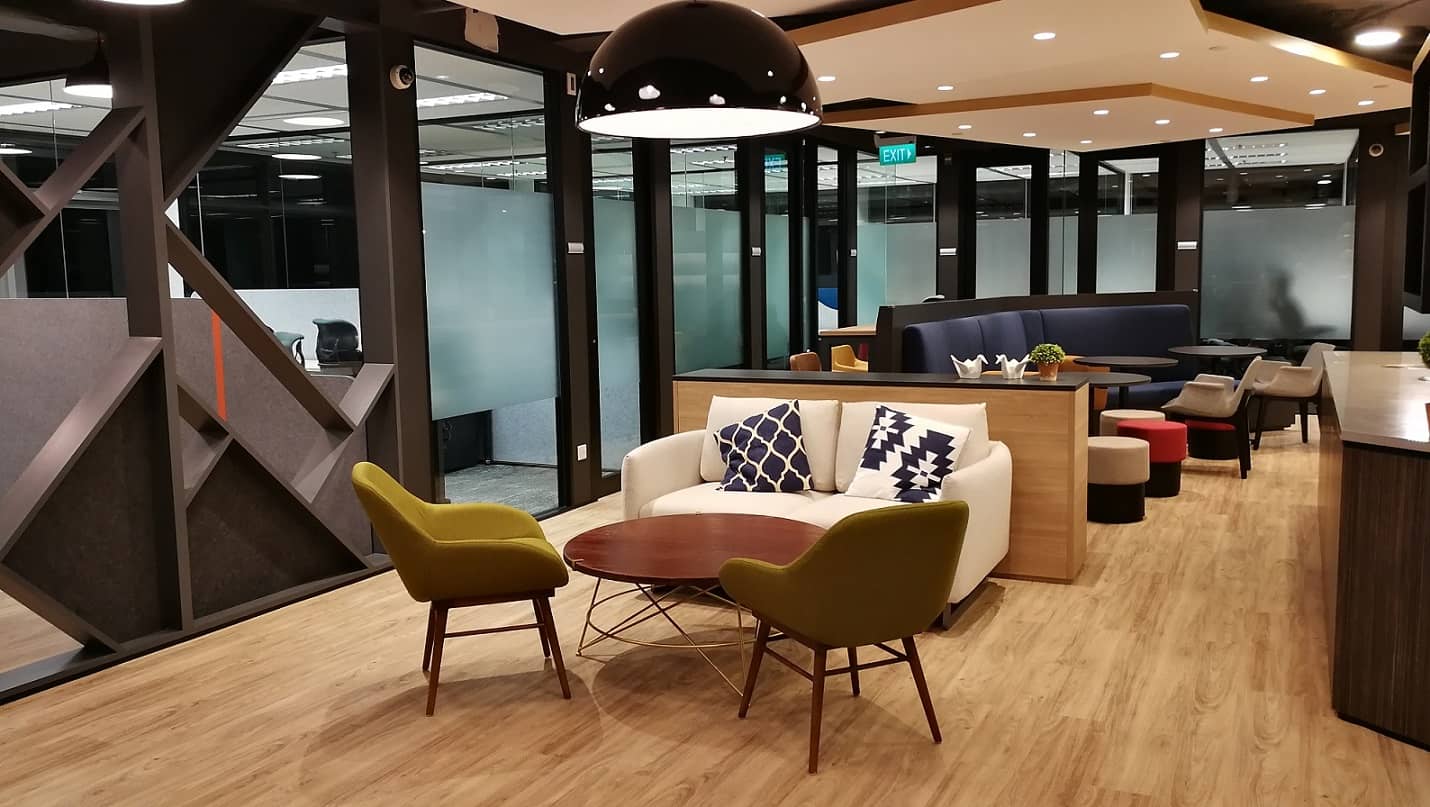 The Hive Carpenter
This coworking office located at The Hive, Carpenter Street is set over six storeys in a trendy precinct within the CBD and filled with everything busy bees need for a productive work environment. This new modern building carries light throughout the building interiors, this is a beautiful space and community for anyone looking for being near to the city centre combined with a dynamic, flexible and creative atmosphere.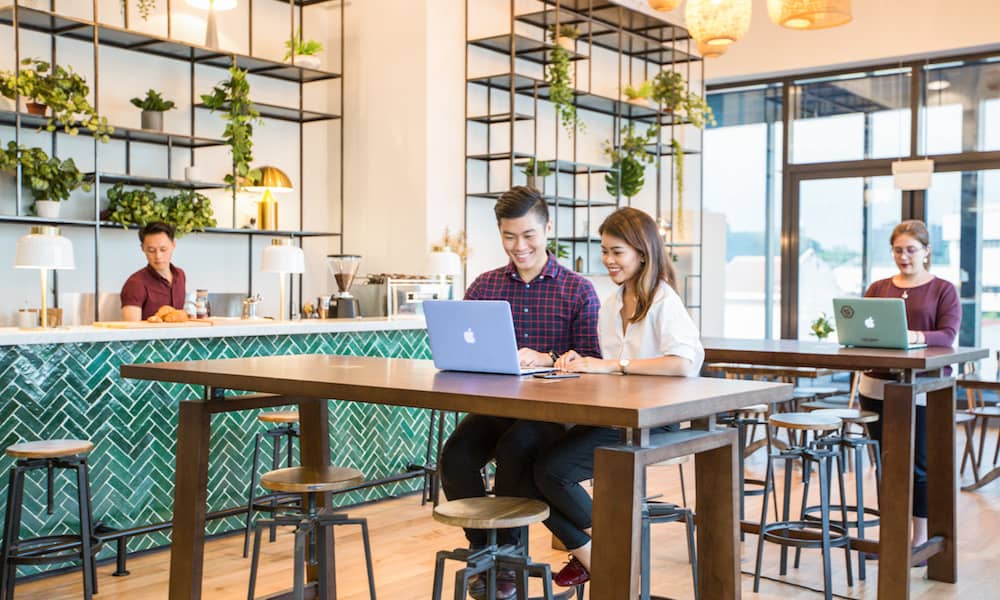 Offices ranging in size up to 30 pax offers many types of offices such as hot-desking, dedicated desks, private desk, special rates and virtual office, all of which have access to fully-equipped meeting rooms plus a rooftop café with breathtaking views of Marina Bay, with baristas serving fresh coffee every day. Besides, The Hive also has other amenities such as a dedicated entrance and lobby, light-filled space, rooftop terrace, air conditioning, and on-site car parking.
The Hive is conveniently located in this recently gentrified precinct. It only takes you 3 minutes to walk to the CBD and 2 minutes to get to the Clarke Quay MRT Station.
Here are a few prices for memberships in The Hive Carpenter:
Hot desk: SGD 250 per person per month.

Dedicated desk: SGD 580 per person per month.

Private desk: SGD 900 per person per month.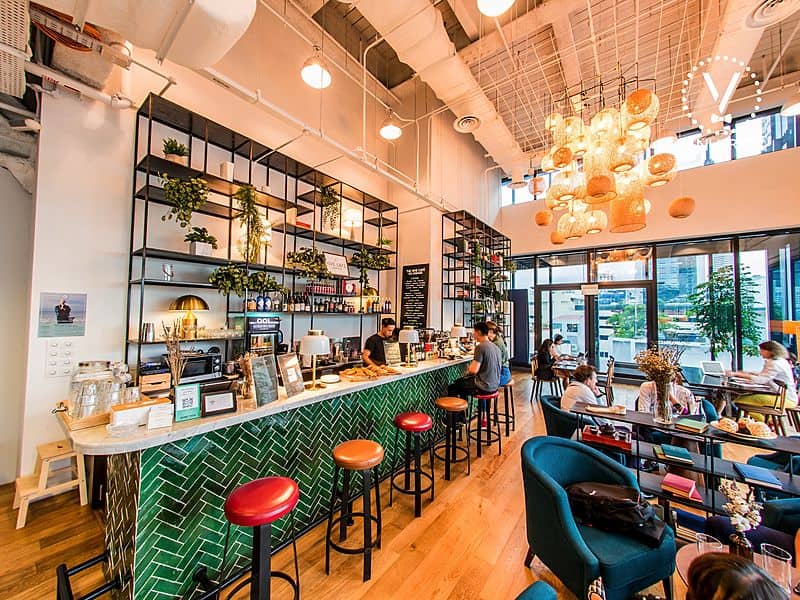 Marina One East Tower
In the heart of the financial business district lies Marina One East Tower, the iconic integrated development at Marina Bay. This premium Grade-A office space is giving you all the opportunities to rub shoulders with some of the biggest companies in the world, participate in a fun and creative shared space environment and network with a community of like-minded individuals and businesses.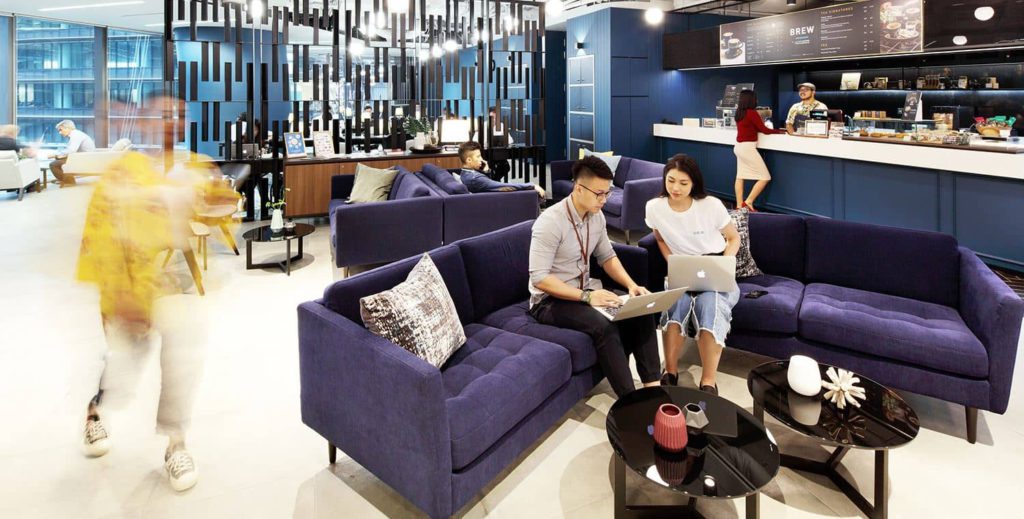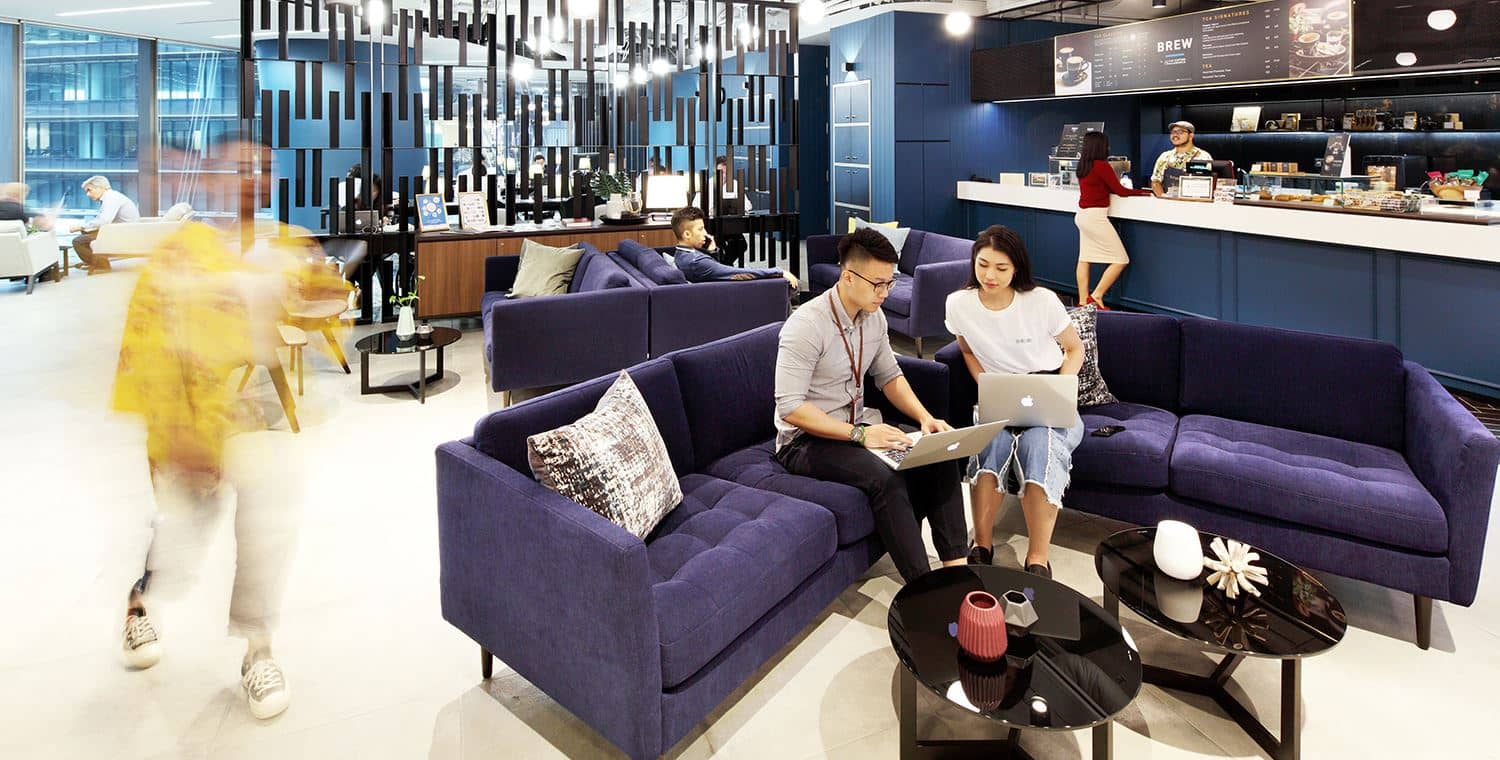 Regarding transportation, both Marina Bay and Downtown MRT stations are within a 5-minute walk away. There are a lot of food options and a food court within the building itself and there are many other cafes, restaurants and eateries within close proximity. This highly coveted central location has a lot to offer since the lifestyle, wellness and entertainment facilities located just nearby.
Some of the facilities and amenities that office spaces offer are as follows: WiFi, IT support, meeting rooms, private phone booths, collaboration areas, well-stocked pantry, 24/hr access and security, mail handling service, front-desk & business support services and so much more.
Security is a priority. CCTV monitoring systems that operate around the clock are equipped everywhere. For added security, all visitors are greeted at the front desk before they are escorted to their meeting room or office. Outside of opening hours, all entrances are locked and you can only enter if you have an access card.
Here are the plans and pricing: 
Basic Hot Desking from SGD 98 per month

Unlimited Hot Desking from SGD 398 per month

Unlimited Dedicated Host Desking from SGD 750 per month

Private Studio Suites from SGD 800 per month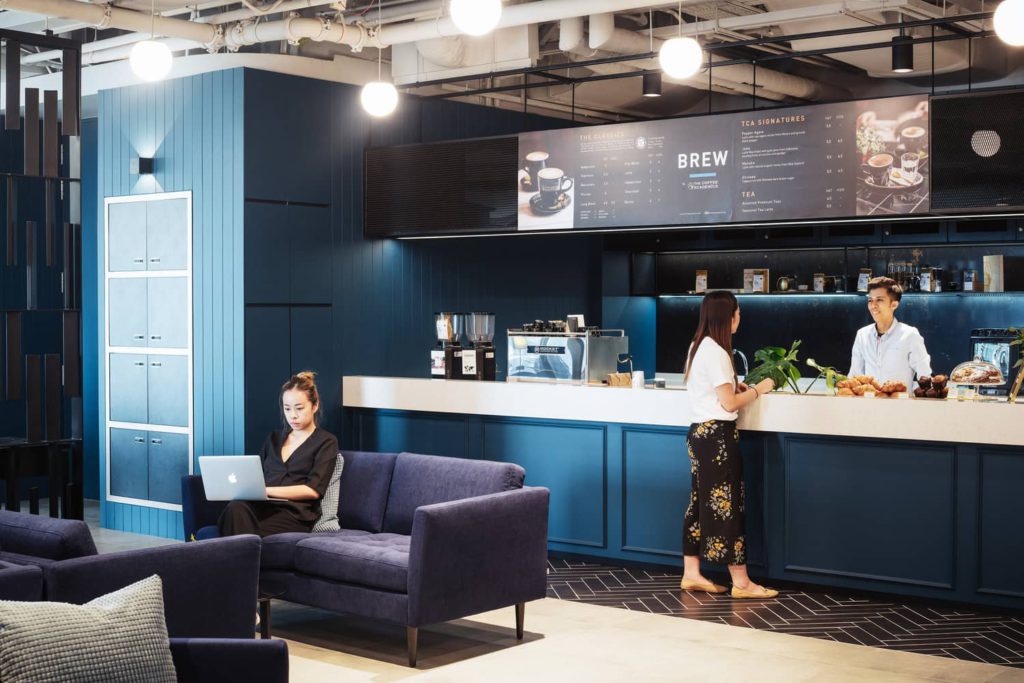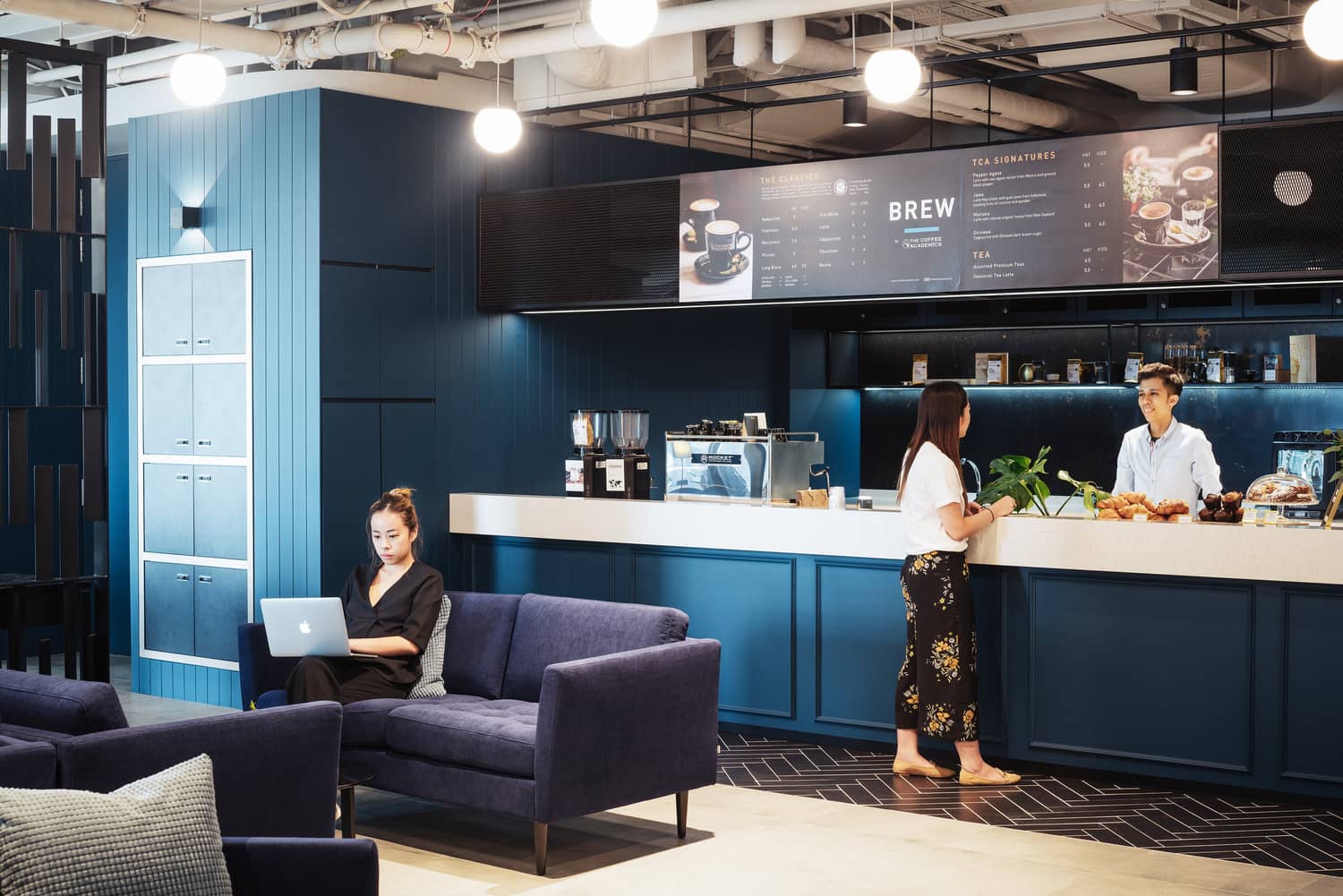 Don't know which of these office space rental is the best for you and your team? We could help you find and choose the office space that suits your business needs. Send us a message on Whatsapp or fill out the contact form.
Real Estate Investor, OSDORO
Bachelor of Applied Finance and Bachelor of Laws, Sydney, Australia. 
David has been in real estate business since 2002 and has a passion for South East Asian cross border cooperation.
As an entrepreneur, David has won multiple tech industry awards, including 2019 for Best AI Startup GITEX awards, 2019 Best AI Technology Accathon Capital USA and recipient of the Wharton Innovation Fund Grant. His last startup, Woveon, was a New York VC backed AI enterprise business intelligence company that worked on customer data stitching and analytics of billions of conversations.
David is also the recipient of state and national Australia technology prizes including the PWC Innovation Award and Intel Enterprise Technology awards.
We'll help you find the right workspace for your business.