Find an Office Space in Melbourne, Australia
This cultural hotspot is growing at a rapid pace each year, attracting investors and entrepreneurs from Asia and the rest of the world. It's home to a diverse population, making Melbourne one of the most interesting and culturally diverse cities in Australia.
If you need to set up shop in Melbourne or are simply looking for an office space for short-term use, osDORO can help you. We have flexible office spaces all over Australia including Sydney, Perth, and Brisbane.
Book a tour of any flexible offices in Melbourne including co-working spaces, private offices, serviced offices or shared office spaces.
When people think of Melbourne's skyline, they think of Rialto—that iconic building attached to memories of this city. Rialto Towers is a skyscraper, situated at 525 Collins Street, in the western side of the Melbourne's Central Business District, Victoria, Australia. When it was constructed, it was the tallest office building in the Southern Hemisphere. Taking a step into this stunning silhouette, you would immediately get the feeling of a new world-class workspace combined with grand-scale regeneration delivered state-of-the-art facilities, stellar additions to Rialto's already-exceptional dining offering. Plus, investment in energy features, security infrastructure, and technology have sharpened Rialto's leading-edge, cementing its status as an unrivalled address for first-class businesses. As part of a highly motivated network, the businesses of Spaces Rialto harness hot-desks and flexible working styles to grow and thrive, as well as the convenience of Rialto's amenities, services and effortless connections to neighbouring hotels and public transport. To top it all off, Melbourne's arts and theatre district, iconic arcades and limitless shopping are only a few steps away. Rialto is a place that represents business success, an empowered and engaged tribe, ready to take on every opportunity. If you are finding a perfect place to run your business or an office space dedicated for people who are bold and willing to take chances, definitely check this out!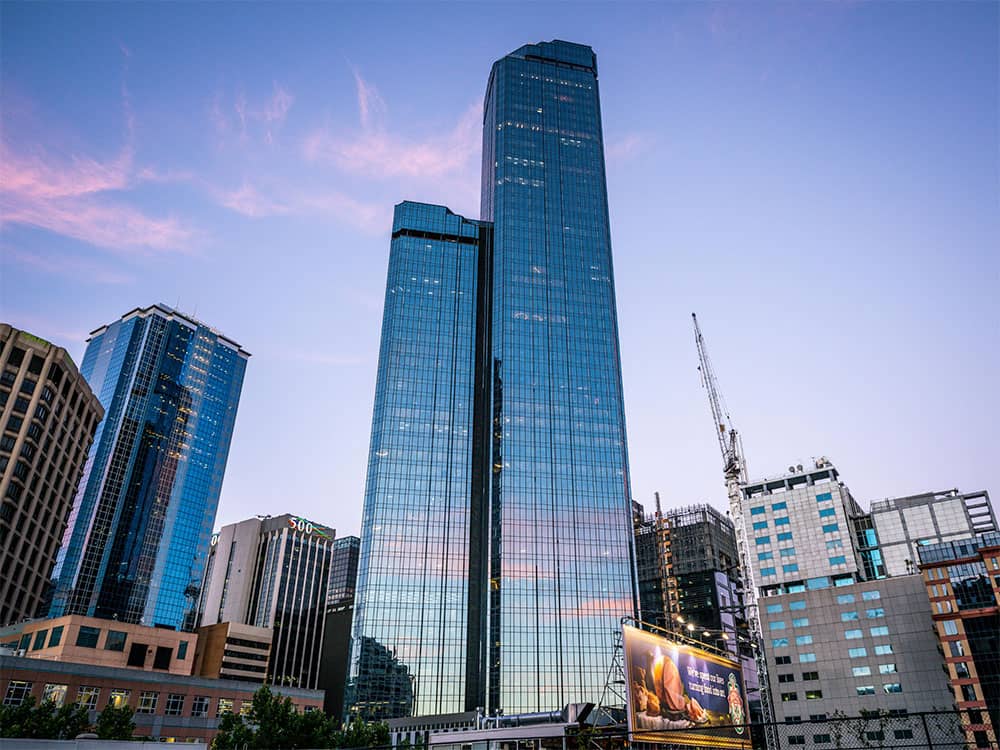 Offering a unique combination of function, effort and design, Bourke Place is a modern premium-grade office tower comprising 46 levels of office accommodation, two levels of retail and over 400 car parking spaces. Sitting at the prominent corner of Bourke and King Street, in the western and legal precinct of Melbourne's Central Business District, Bourke Place gives us 360-degree views over the entire city and beautiful Port Phillip Bay. This building boasts connectivity through public transport and major road networks within the city and to the airport. Humming with amazing opportunities, Bourke Place brings together people from all walks of life to pursue their dreams and expand their network. A rich tapestry of passions realized, dreams achieved, and discoveries made, Bourke Place embraces diversity, and is the ideal place to work and entertain in Melbourne's CBD. Timeless in its structure and function, this skyscraper is vigorous and future-proof. Leading the way with advanced technology and modern methodologies, the building is at the forefront of workplace excellence and comfort. A modern yet distinguished tower in Melbourne's skyline, its metallic facade and articulated shape reflects the visionary thinking and energetic vibe flowing within. Plus, the on-site Market Hall brings together an eclectic mix of retail, from quick bites and coffee to various tasty cuisine offerings.
Melbourne Central is an exceptional complex including the Melbourne Central Shopping Centre, the Melbourne Central railway station—a part of the City Loop underground railway and formerly called Museum, and the 692 ft high office tower with its distinctive black colour and two communications masts in the city of Melbourne, Victoria, Australia. This building is super easy to access via the city loop station beneath it, or the many trams in Swanston Street. Plus, it is on the free city circle tram route and also has over 800 car parking spaces available. Walking into Melbourne Central, you would find a charming shopping and dining destination that invites you to keep exploring. With over 300 retailers over five levels, this is home to a wide range of Australian and international brands, namely Sephora, Country Road, Nike, MRP, Hoyts, and Mecca Maxima. Melbourne Central also boasts several one-of-a-kind architectural features, such as the giant marionette watch hanging in Shot Tower Square – once was famous for its hourly rendition of the Australian anthem 'Waltzing Matilda' – and several other art installations throughout. Thanks to all these amazing facilities, Melbourne Central is no doubt the perfect home for your business.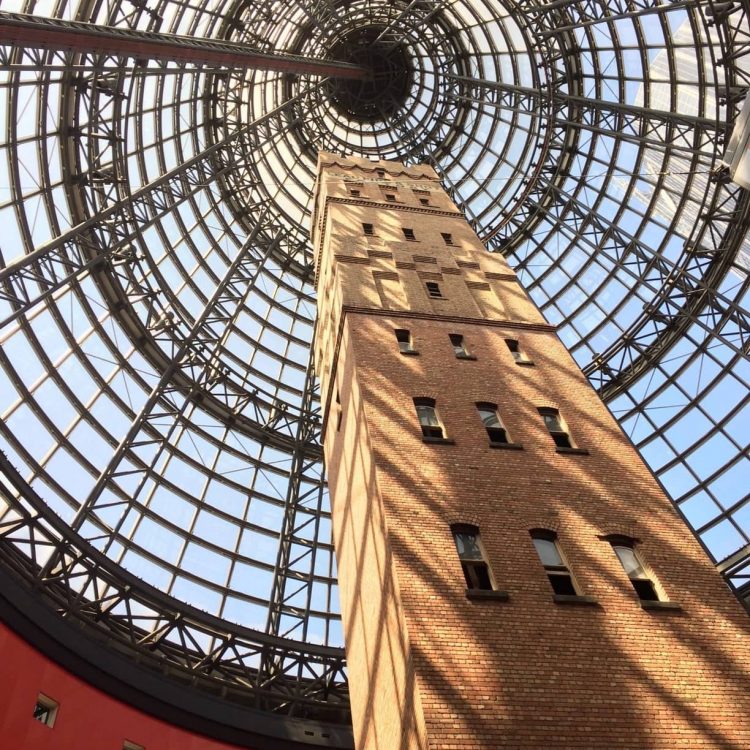 This skyscraper will attract you at first glance with its prominent height and massive curved facade. Many people have known it as a significant turning point in the look and design of office buildings in CBD because its height was nearly twice that of any other building in the city at the time it was completed. After over 50-years, this building not only keeps its prestigious history status but also becomes a premium-grade office with top-notch furniture and amenities. It refurbished internal spaces but still retained some principal room layout and planning configuration. Especially, from the top floor, you can enjoy views of the city and harbour from a never-before-seen angle. Located at the Circular Quay, it is straightforward to access with many transportation networks nearby. There are many attractive palaces around for visitors such as Customs House, Justice & Police Museum, Museum of Contemporary Art and Sydney Harbour. Besides, many famous restaurants and shopping centres are in close distance. In general, this skyscraper in the city of Sydney will meet all your needs, offering a wide range of services from office space to cafes and restaurants for break time.
Walking into Argus Centre, the modern and comfortable atmosphere will impress you with natural light, ample space and luxurious amenities. If car parking is the big problem of most cites, Argus Centre will provide you with 520 car parking bays over ten levels. With floor-to-ceiling windows and comprising different geometrical shapes designed, this building is always full of sunshine from many angles. Additionally, most of the furniture and amenities are black and warm color, combining several plants and trees in some corners bring a feeling close to nature and refreshing. There are many restaurants, cafes and shopping malls within 5 mins walking. Another outstanding benefit of this building is easy to access. This 34-level office tower is located opposite Melbourne Central Railway Station and other famous trains and bus stations. With plentiful public transport links in close distance, you can also quickly move to other places. If you are looking for an office and car park building, this is an excellent pick for you. 
Welcome to ICI House, a 19-storey building used to be Australia's tallest office tower Completed in 1958. Although having a long history, ICI House still looks very modern and has excellent 360-degree views towards the CBD. ICI is famous for the new style of international architecture with the framed glazed curtain walls and innovative use of concrete. Walking into the building, you will be impressed by their smart working space arranging. Every aspect is optimized to create a comfortable and creative space for working. Especially for businesses having rapid development, this building provides flexibility from a small scale to a bigger size. It equips all rooms with premium amenities and other useful applicants to bring you a more comfortable life. Another outstanding feature making this building an ideal workplace is its location. With 5 – minutes-walk to Carlton Gardens, you can have a perfect place for relaxing after hard working hours. There are several famous restaurants, historical moments (such as Parliament House, The Old Treasury Building) and amusement places nearby. Many public transport stations are in close proximity.