Find an Office Space in Shanghai, China
Shanghai, like Beijing, is a booming metropolitan area with some of the most thriving districts and business centres in the region. Finding an office space may be tricky, so it's best to let experts navigate and do the search for you. 
Secure the best deal in Shanghai. Flexible offices are available for short-term or long-term agreements. Find a co-working space, private office, meeting or conference rooms, shared office or other flexible spaces in Shanghai.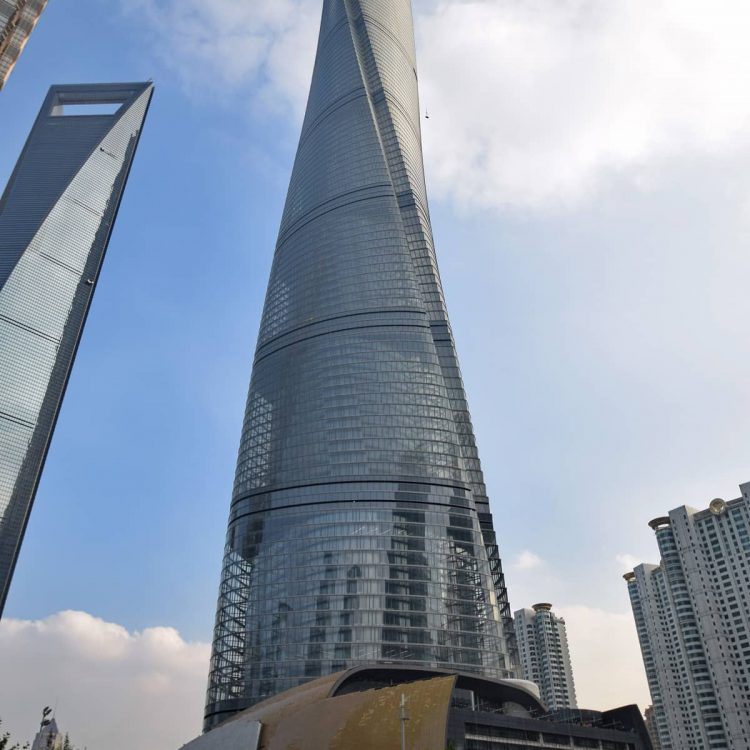 Walking into the Shanghai Tower, you are bound to be in awe of the breath-taking view of the 128-story mega tall skyscraper. In the heart of the bustling Lujiazui Financial and Trade Zone, the Tower's tiered construction, which is designed for high energy efficiency, embodies the spirit of the world-class financial and commercial hub with nine separate zones utilised for office, retail and leisure use. Each of its nine areas is designed with a unique atrium featuring gardens, cafes, restaurants and retail spaces. It is highly recommended that visitors and tenants take a chance to experience the panoramic view of the city from the tower's peak, which holds of being the world's highest observation deck within a building or structure. The dynamic environment within its business area comprises both established tenants such as Jiangsu-based Heilan Group, Tibet Trust Corp, Yiwu Rural Commercial Bank and prospective enterprises gathering at coworking spaces including but not limited to WeWork and SPACES office. Besides, convenient access to Metro Line 2 at Lujiazui Station also saves its guests the bother of commuting. 
Shanghai World Financial Centre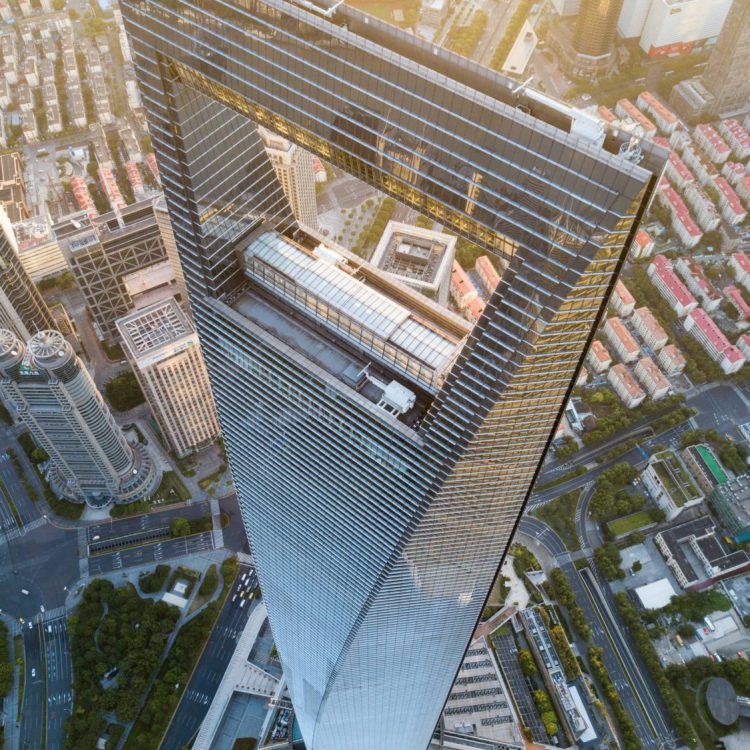 Priding itself in the highly sought-after address in the sprawling financial district of Shanghai, the 101-storey Shanghai World Financial Centre (SWFC) possesses the design of a city-within-a-city. It is a mixed-use skyscraper including a premium complex of hotels, conference rooms, observation decks, spa, media centre, shopping malls and, notably, 70 storeys dedicated for serviced office space. One of the most renowned components of the tower is the elegant Park Hyatt Shanghai, which offers spectacular views of the skyline and the Huangpu River. Perennial "Feng Shui" elements are employed, representing unparalleled resources and inspiration for growing businesses and independent entrepreneurs. The landmark also provides easy access to transportation facilities such as Metro Line 2, International Airport and many other office spaces, retail spaces, attractions and media centres in close vicinity. After work, your team can enjoy lavish dinner at acclaimed Da Dong or Jade Mansion before soaking in the splendid city views with vibrant dance clubs and lounges nearby.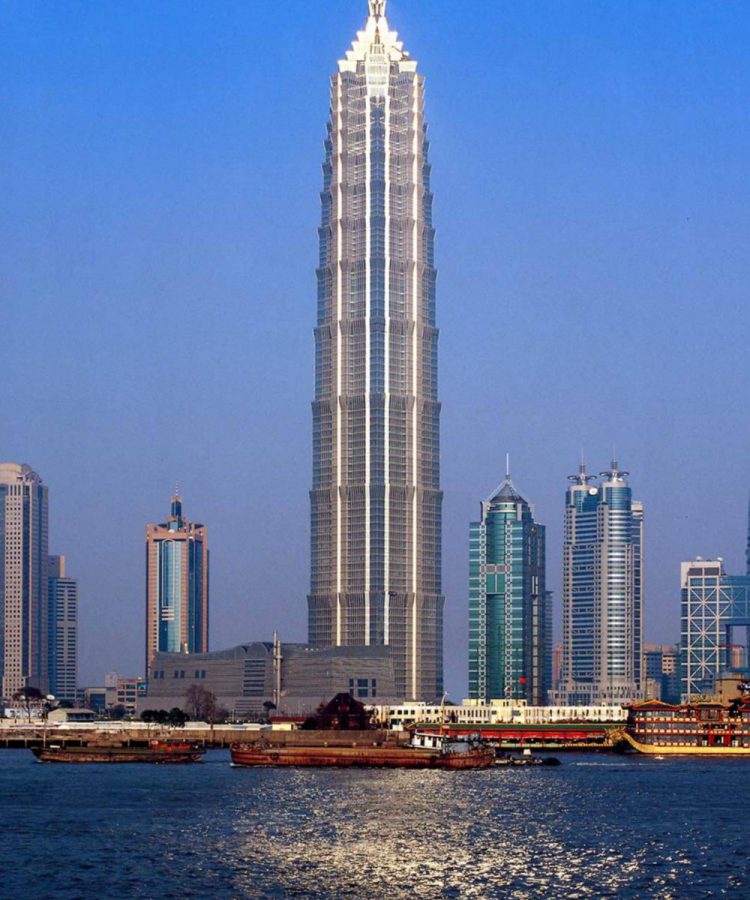 Based on the exceptional location in the Lujiazui area of the Pudong district, the Jin Mao Tower is a component of the world's first triple-adjacent super-tall buildings in Pudong alongside the Shanghai World Financial Center and the Shanghai Tower. The 88-storey skyscraper highlights Chinese architecture replicating the structure of a tiered pagoda whose complexity rises as it ascends. Similar to the Petronas Towers in Malaysia, the building's proportions revolve around number 8, which symbolises prosperity in Chinese culture. The anchor tenant is the five-star 555-room Grand Hyatt Shanghai hotel accompanied with various high-end amenities including night clubs, restaurants and multiple retail outlets. The landmark's dining options feature a collection of restaurants offering experiences of international cuisines such as the Cantonese Canton restaurant, The Grill, the Italian Cucina, the Japanese Kobachi, and the Patio Lounge at the base of the atrium. As a desirable business address at the centrepiece of the Pudong skyline, the Jin Mao Tower is also surrounded with companies whose professions range in all aspects of finance, from the world's biggest banks to the Shanghai Stock Exchange.
Shimao International Plaza
Walking into the Shimao  International Plaza at 789 Nanjing East Road, Nan Jing Lu, Huangpu, China. Feel the excitement in the traditional urban centre of the city, the building is on Nanjing Road, China's largest commercial street with about 1.5 million daily users and is next to a large public People 'Square – the symbol centre of Shanghai metropolis. Skyscrapers are higher than 300m in Shanghai. This building is the product design companies Ingenhoven, Overdiek Und Partner, East China Architecture and Design Institute. For businesses or customers wishing to rent office space, this place offers a variety of conference spaces and diversity offices with a unique design. The atmosphere is warm and welcoming with a wide selection of comfy private offices, fully services designer meeting rooms and desk space in a shared lockable office. Less than a few minutes from Shanghai Station station by subway, taxi or walk away to the office. Local attractions, with shopping areas, flexible office space, restaurant, rooftop garden, embankments, Bund museum, and top four floors are the famous 5-star hotel Le Royal Meridien Shanghai at People square. Overlooking bustling Nanjing Road, the luxurious and modern skyscraper is a 12-minute walk from Shanghai Museum and 4.1 km from Shanghai World Financial Center.
Walking into the Sinar Mas Center, Hongkou District, Shanghai, China, the waterfront views overlooking the Huangpu River and lies on the north Bund a breathtaking view of the city. Sinar Mas Center is a complex designed as a mixed community with three towers over 100 meters high. Tower 1, the highest of the cluster, is a super enormous office building built with a synthetic frame. It is 320 meters in height, making it the highest building and a landmark on the North Bund. The interiors of ATLAS Workplace are decked out in European neoclassic style, reflected by many elements such as modern-style decoration, harmonious colour, stylish environment. Space provides both public areas and private offices, with a comfortable experience and privacy. Office space also inspires effective work with unique seven continents interior design, smart lockers ensure plenty of private storage space. Besides cost-effective, you can enjoy a creative office environment with many other like-minded tenants. Approximately 23 kilometres from Shanghai Hongqiao Airport, about 30 minutes by car. There are many restaurants, shopping malls nearby, China's first W branded hotel, and a sizable retail component in a podium three stories tall, plus 2 additional floors underground and spanning the block between the three towers.
Walking into Shanghai Wheelock Square at 1717 Nanjing West Road, Jing'an District, Shanghai, China. A brand new international Grade A office building and mall in the CBD of the popular Jing'an District in Shanghai. The building forms part of the new high-end office and retail development around Nanjing Road. Offices with highly personalized workspaces, warm tones, cozy corners, and comfortable escape areas. Shanghai Wheelock Square is a suitable choice for growing companies, startups, and entrepreneurs, with flexible workspaces, increased connectivity, and facilitation of cooperation. The skyscraper has 58 floors, with Metro Line 2, 7, and 14 only 2 minutes walk from the business centre or the Jing'an Temple Station and Shanghai Metro. Wheelock Square is strategically positioned on Nanjing Road West in the heart of Shanghai's premium business address, with leading business, banks, international 5-star hotels, world-class retail stores. From here, it's just a 10-minute drive to Huaihai Road and Xujiahui, and a five-minute walk to the Jing'an subway station.