Luxury or affordability? Events solutions or IT services? The choice between The Great Room and Servcorp boils down to your answers to these two questions. Read more about the details of how The Great Room and Servcorp are different so you can choose the best workspace provider for you.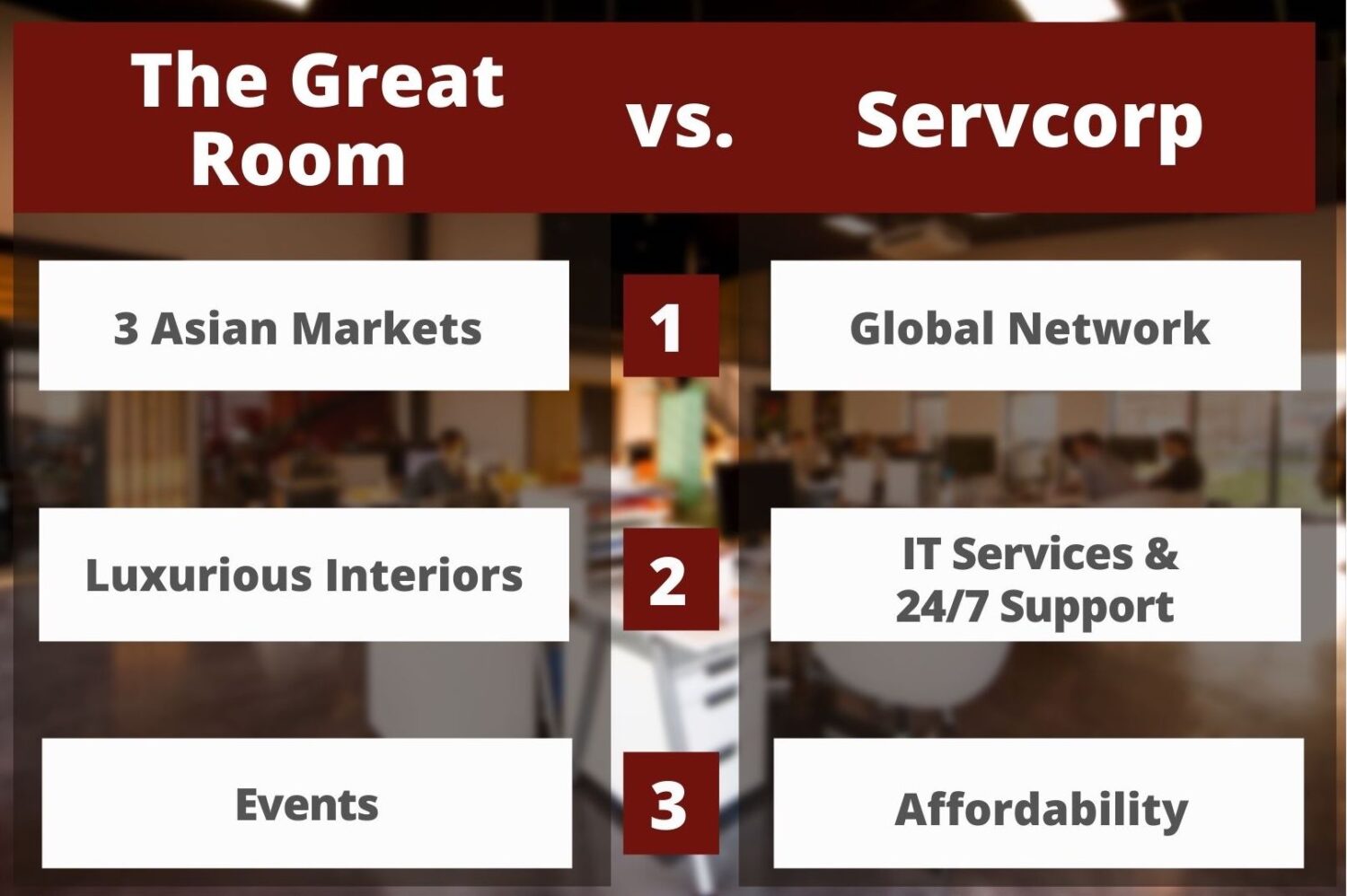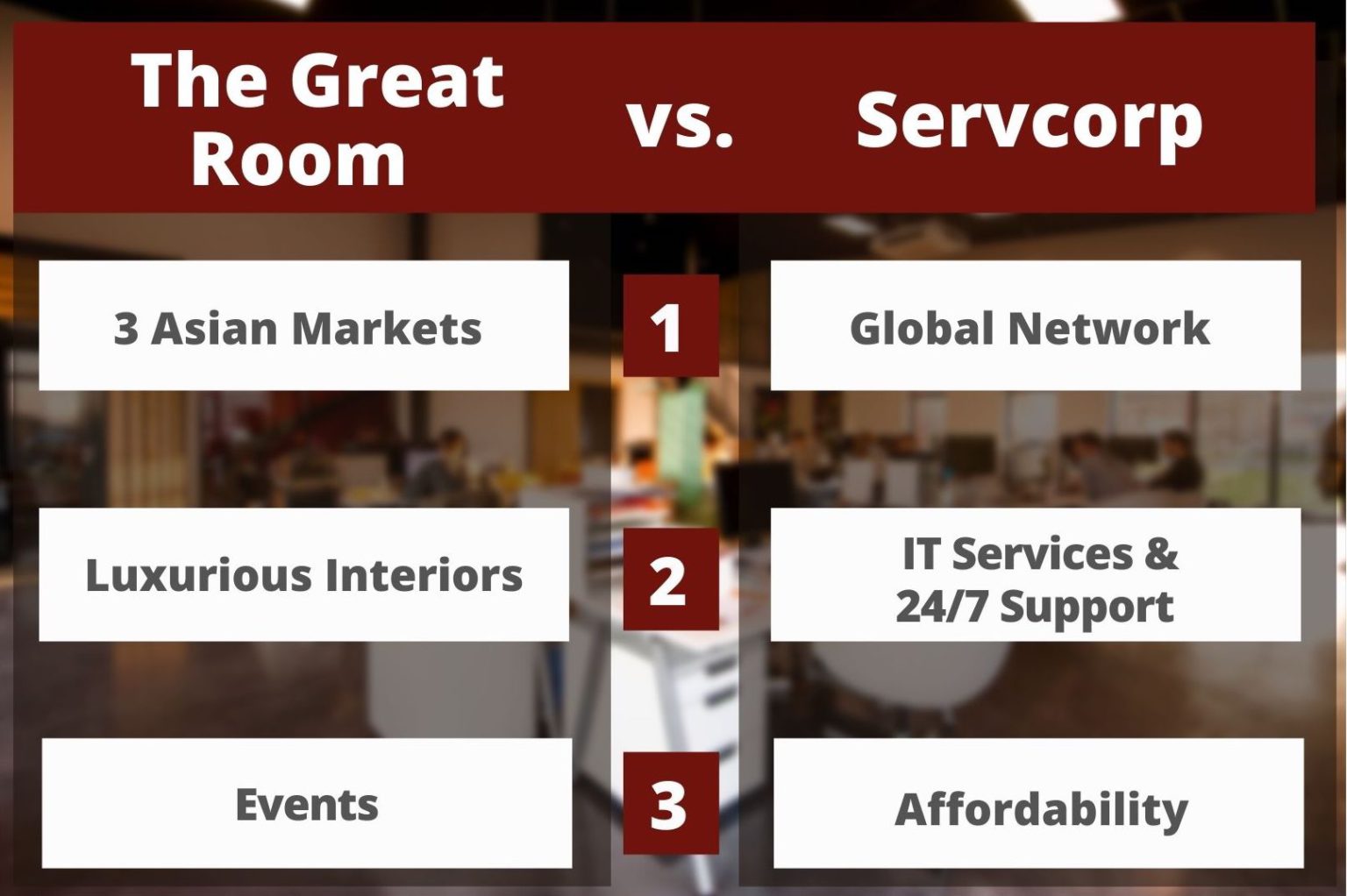 The Great Room
Since The Great Room was founded in 2016, it has built branches in Singapore, Hongkong, and Thailand. Their locations are in Grade-A office buildings in central business districts, offering accessible premium office addresses to their members. 
The Great Room uses the power of design to delight the senses, promote casual collisions, and heighten productivity. Inspired by the unique ambience of hotel lobbies which fosters important decision making, The Great Room integrates the casual luxe feel of hotels into their ergonomic workspaces so that their coworking space is not just a place where work gets done, it's also the place where relationships are built and where deals are struck.
Besides offering the usual office amenities, The Great Room also has a Breakfast Club and a turn-down cart which aim to cultivate friendships through well-timed morning brews or delectable snacks. 
One of The Great Room's most popular features is its events. In each of its three markets, Hongkong, Bangkok, and Singapore, it has an events calendar. Their events encourage conversations between members of different industries and perspectives. 
The Great Room doesn't just conduct their own events, they also have a team of experienced event organizers who help their members organise events, workshops, and seminars. This team of experts specialise in maximizing the use of The Great Room's entertainment suites, meeting rooms, and event spaces. Members are sure to have successful events.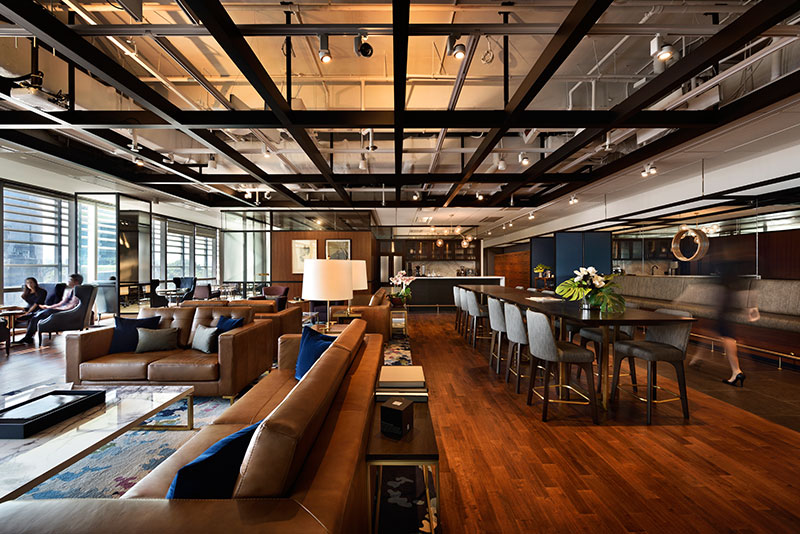 Servcorp
ServCorp Limited is a multinational organisation founded in 1978. For decades, they provided flexible workspace solutions as well as top-notch services. Today, they have over 150 locations in 44 cities across 22 countries around the globe. This gives them presence in the USA, Asia Pacific, Europe, as well as the Middle East.
ServCorp has helped over 50,000 businesses by providing them impeccable IT services, reception services, and global telephone services. This makes them one of the best serviced offices and virtual offices company around. 
ServCorp also has a proprietary mobile app, ServCorp Onefone. This app allows members to access their landline from their smartphones, anywhere and anytime. Members have a landline phone, voicemail, conference calling, call forwarding, phone extensions, and more in their phones. With just internet connection, members are able to call office numbers at no additional cost. This app also has number display capabilities to help inform members which locations their calls are coming from.
One of ServCorp's selling points is their 24/7 support. They have an in-house team of over 100 IT professionals who assist their members with IT issues at any time of the day. Not to mention, ServCorp has full-time bilingual IT specialists available during business hours to help those who need IT assistance in other languages.
ServCorp has one of the best marketing strategies in the coworking industry. They offer free use of their facilities and services for most of their services and workspaces in the first month regardless of the location.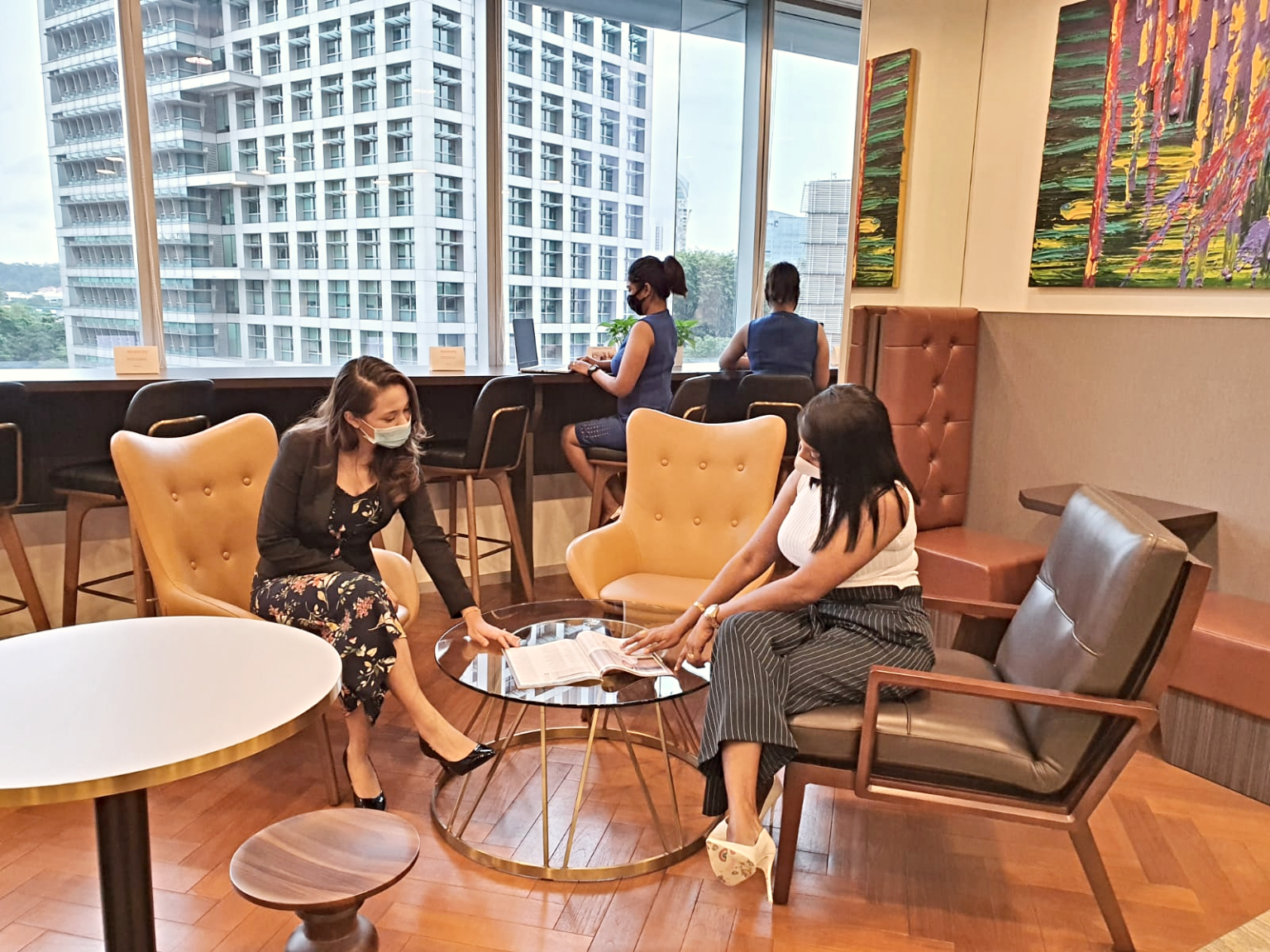 The Great Room vs. Servcorp
Network Size and Market Potential
The Great Room is a fairly young company. They were founded in 2016 and have since expanded into 3 markets, Singapore, Hongkong, and Thailand. This means that becoming a member of The Great Room will give you access to their community which they have built across three markets in the last 3 years. This community has professionals, multinationals, and everything in between. The Great Room's events also allow this community to interact with each other, presenting a lot of networking opportunities.
On the other hand, Servcorp has been in the market since 1978. In that time, Servcorp has expanded to 150 locations scattered all over the world. As such, the Servcorp network is several times larger and more diverse than The Great Room's. Whether you're a business owner or professional looking to grow your connections in Asia Pacific, Europe, USA, or the Middle East, Servcorp has a lot more to offer in terms of networking opportunities and market reach.
Event Support or IT Services
Every business has a different need. Whether your business relies on events or your business needs to outsource services, particularly IT-related services determines which workspace provider is a better fit for you. 
In the short time, The Great Room has operated, they have made a name for themselves largely for their events and networking opportunities. If you're a B2B business, this is a golden opportunity for you to meet potential clients and establish a working relationship. 
However, if your business does not require you to meet other businesses and if networking is not a priority for you, then Servcorp might be a better choice. Servcorp also has a community with plenty of businesses you can interact with although Servcorp is not well-known for its events. 
More importantly, Servcorp offers services along with their workspaces. Whether your business needs IT services, reception services, global telephone services or all three, Servcorp will be able to help. Servcorp has a great track record, having helped over 50,000 businesses to date.  
The Great Room gives you hotel-like workspaces while Servcorp offers free services and free rent for the first month. These two workspace providers can't be more different in their selling points than this. The choice would ultimately depend on your budget and preference. 
If you are willing to pay a higher price to use hotel-like amenities, then you choose to join any of The Great Room's luxurious offices. Meanwhile, if you're looking for a better bang for your buck, Servcorp is a clear choice.
We'll help you find the right workspace for your business.