Both JustCo and The Hive are big names in the flex space industry in the Asia Pacific region. They also both have applications that encourage their members to network. But their similarities end there. 
On the one hand, JustCo focuses on providing many locations and offering smart office solutions to modern problems experienced by businesses. On the other hand, The Hive is a workspace provider that focuses on lifestyle without the exorbitant price tag. 
Read further about the key differences between JustCo and The Hive to choose the right workspace provider for you and your business!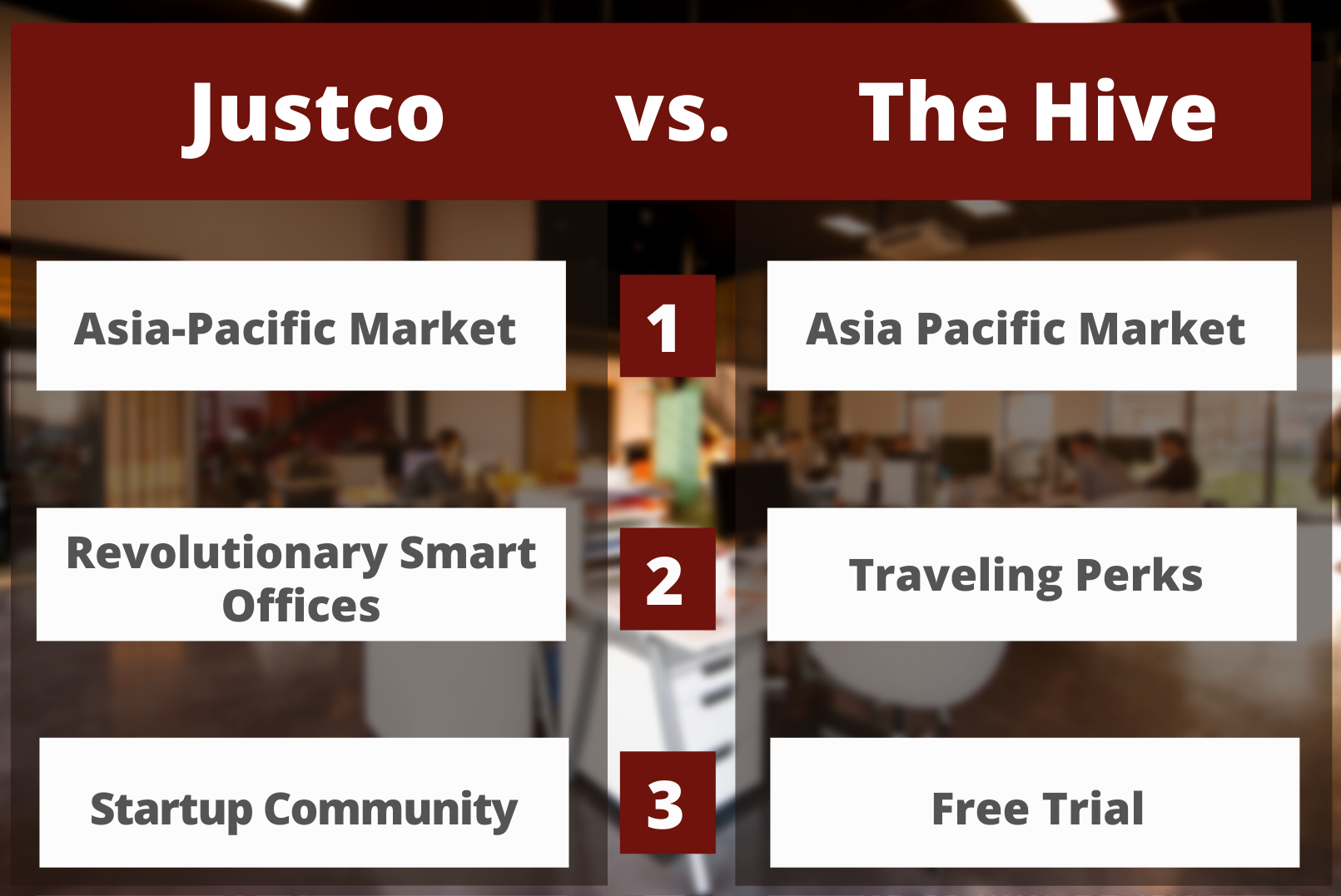 JustCo
With almost 10 years of experience, JustCo is one of the biggest names when it comes to coworking in the Asia Pacific region. They are located in Grade A office buildings, with over 40 locations across 9 major cities in 8 countries in the Asia Pacific. This allows them to build a large and thriving community of over 100,000 members, all of whom they encourage to network, collaborate, and connect for various business purposes. 
Revolutionary Smart Offices
To remain relevant in the new normal, JustCo is using SixSense, an AI-powered tool that allows JustCo to analyse and optimise the use of their spaces. This tool revolutionises smart offices, redefining how tech and workspaces are integrated, and creating a safer space for their members in light of the pandemic. Not to mention, it also allows members to access their workspace, connect with other members of the JustCo community wherever they are, and avail exclusive events and perks anytime. 
JustCo has JustCo Labs, a platform that allows startups to connect with enterprises within the JustCo community so that they can employ their help in solving business problems. JustCo Labs also helps young entrepreneurs through a series of educational events to help them level up as individuals and business owners.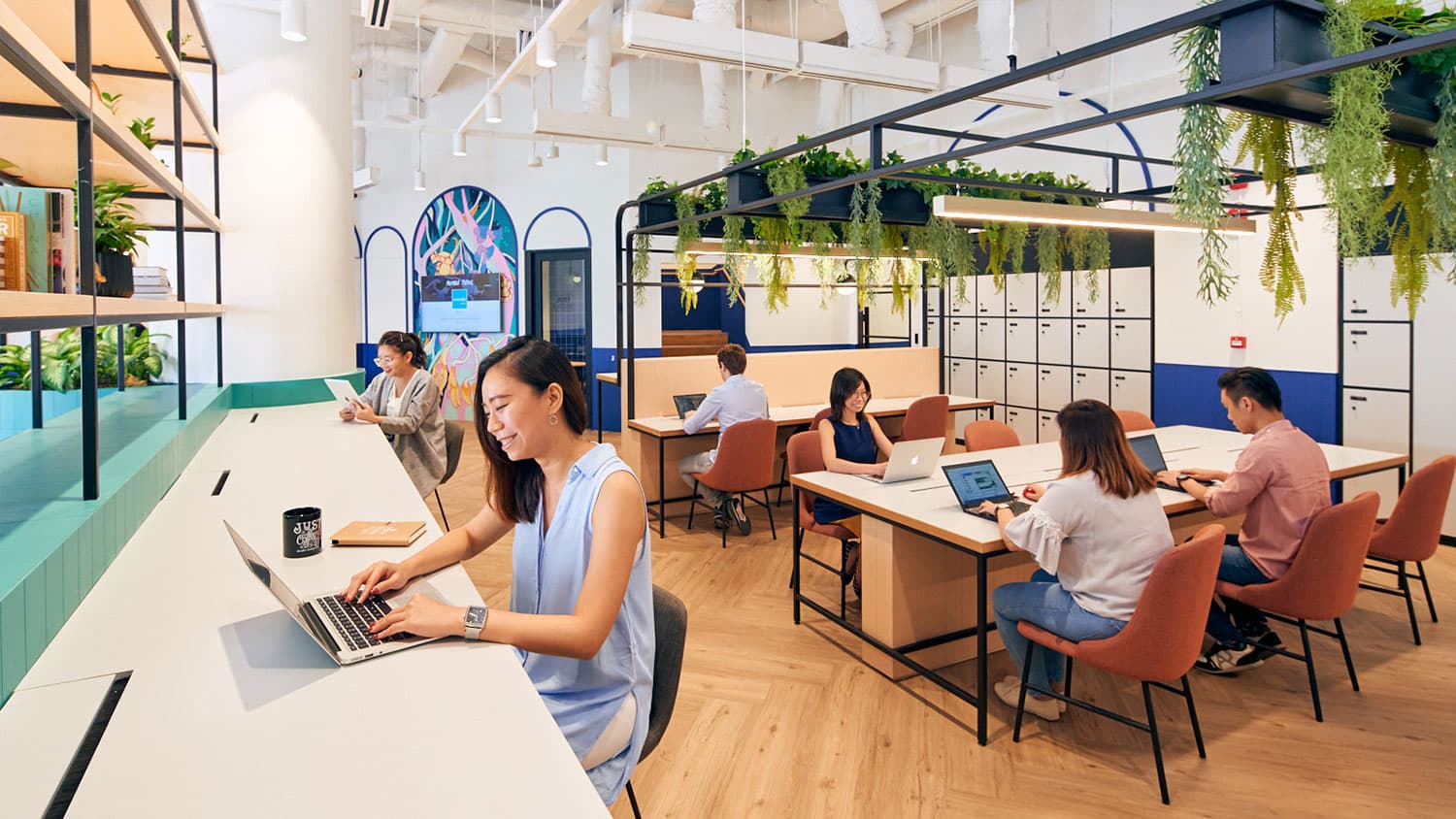 The Hive
Since its founding in 2012, The Hive has expanded to 20 locations across 7 countries in the Asia Pacific. They have presence in Singapore, Japan, Thailand, Vietnam, Taiwan, and Australia, which makes the Hive network incredibly diverse. Through the use of their member app, members can interact with other Hive members for networking purposes.
The Hive is the first and only coworking space with a partnership with Asia Miles. Hence they're the only workspace providers who are capable of providing members miles to help supplement their traveling needs. They offer various Asia Miles packages depending on the location. 
One of The Hive's key features as a coworking space is their free trial. To encourage people to join their coworking community, The Hive's provides a no-strings-attached trial to let them have The Hive experience at no cost. This helps people determine whether The Hive is a good fit for them before they even choose to avail a membership package. This is flexibility taken to the next level!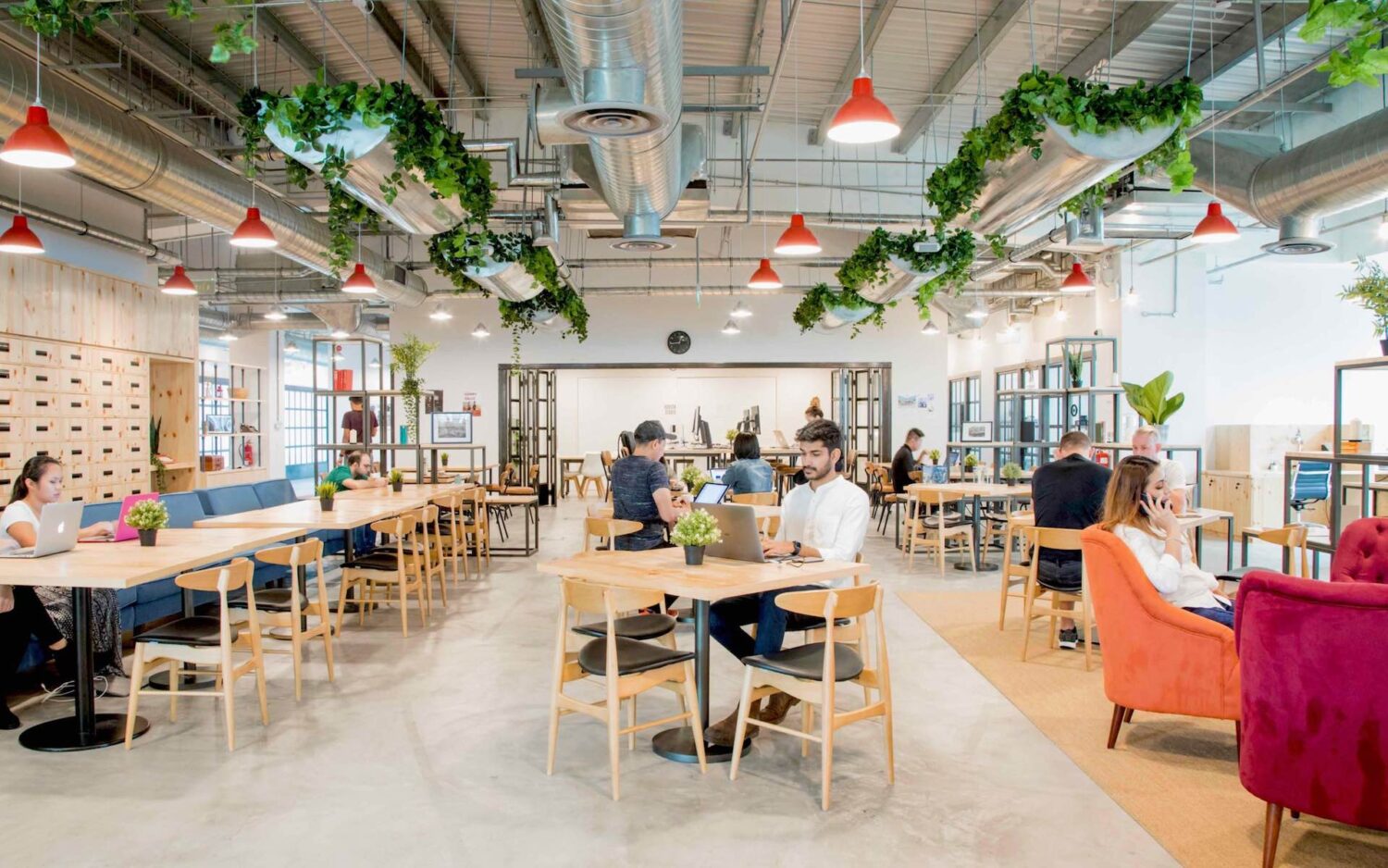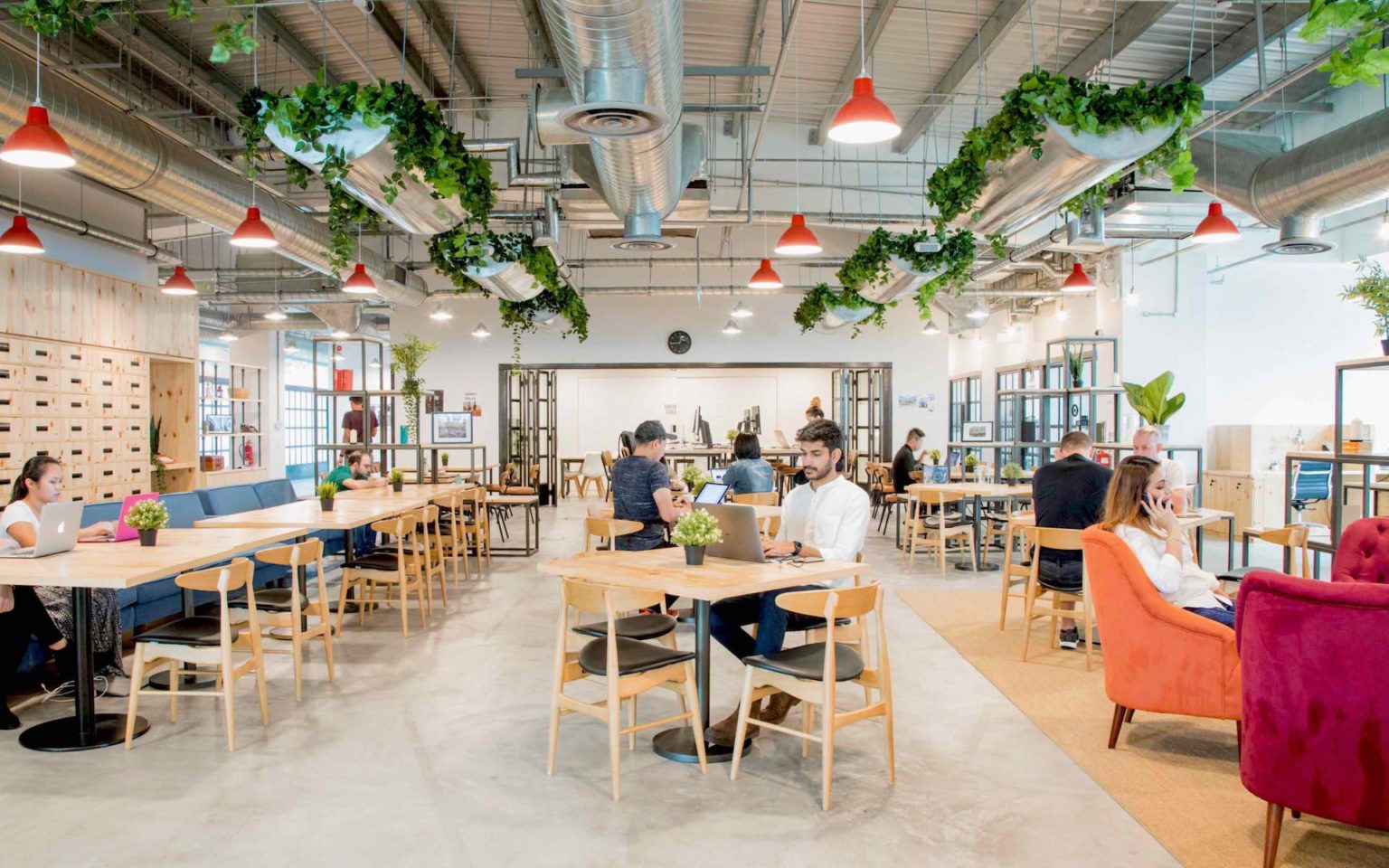 JustCo vs. The Hive
JustCo and The Hive are some of the biggest names in the flex space industry in the Asia Pacific. JustCo was established in 2011 whereas The Hive was founded in 2012. In the last decade, both companies have expanded to 8 and 7 countries, respectively.
If market reach is your priority, then you can't go wrong with either company. However, if you prefer the convenience of having more locations to choose from per city, we would recommend you choose JustCo. JustCo has plenty of locations across different countries, and you will find plenty even in Singapore alone. Meanwhile, The Hive only gives members one to two location options per country.
Every workspace provider is trying to offer unique value to remain relevant and competitive in the growing flex space industry. If you are looking for smart offices that allow you to minimize contact points especially during this pandemic, then JustCo does that very well with the rollout of their proprietary technology, SixSense.
But if you're someone who travels a lot for business or leisure and you would really appreciate having the opportunity to save on travel costs, then The Hive has a partnership with Asia Miles. To date, they are the only workspace provider to offer travel perks in this form.
One of the biggest populations who fill flex spaces are startups hence it's important to consider as well how startup-friendly a workspace provider is. JustCo and The Hive each have their own offerings which make them particularly startup-friendly.
For JustCo, their JustCo Labs is a promising platform for startups to grow their business through connections and actual training opportunities. Meanwhile, The Hive has a free trial option. If you're a startup, your budget is tight, and knowing what you'll be getting before you commit to spending is a huge advantage.
We'll help you find the right workspace for your business.