Both Distrii and The Hive offer flex workspaces in Asia. If you're a business owner or individual looking for the right flexspace to serve as your new office, you would have heard of either of these companies. But how are they different?
Distrii is to tech while The Hive is to perks. Read on to find out whether one or the other will suit your business better.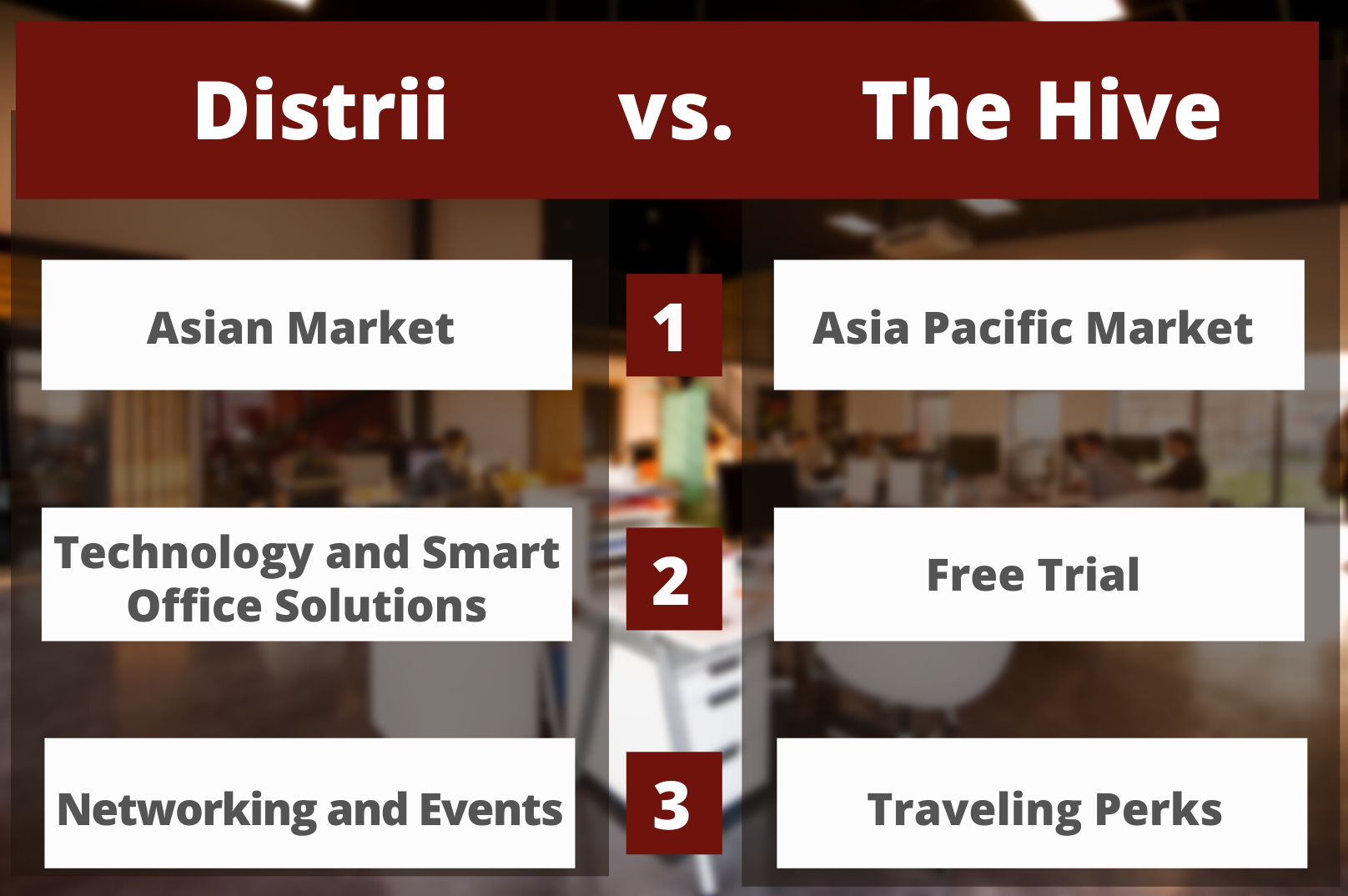 Distrii
Since it was founded in 2016, Distrii managed to open 30 branches across Asia with the majority of its branches in China and a handful in Singapore. They have amassed an impressive network of over 20,000 members from over 600 companies, making them one of the largest coworking companies in Asia.
Technology and Smart Office Solutions
Distrii also has a comprehensive suite of proprietary tech tools. They provide members with a mobile app backed by a cloud-based system and IoT technology. This app gives members access to a series of office tools, as well as access to Distrii's large social circle. With this app, members enter locations, make reservations, access lockers, and even avail exclusive deals or promos just by scanning a qr code in their mobile phones. This same technology also allows members to freely use conference call facilities and to easily share their files or laptop screen with other participants in the call.
Aside from providing smart office space solutions to enhance business operations, Distrii is also proactively promoting networking amongst its members. They offer a Distrii Entrepreneurship Alliance (DEA) Membership, which is an extensive platform offered only to select members so that they may network across Distrii's large community and share their ideas and experiences, as well as resources and opportunities for collaboration and business expansion.
Not to mention, Distrii also has event spaces for rent in their locations. This makes holding events and event planning more convenient and also cost effective given their member perks.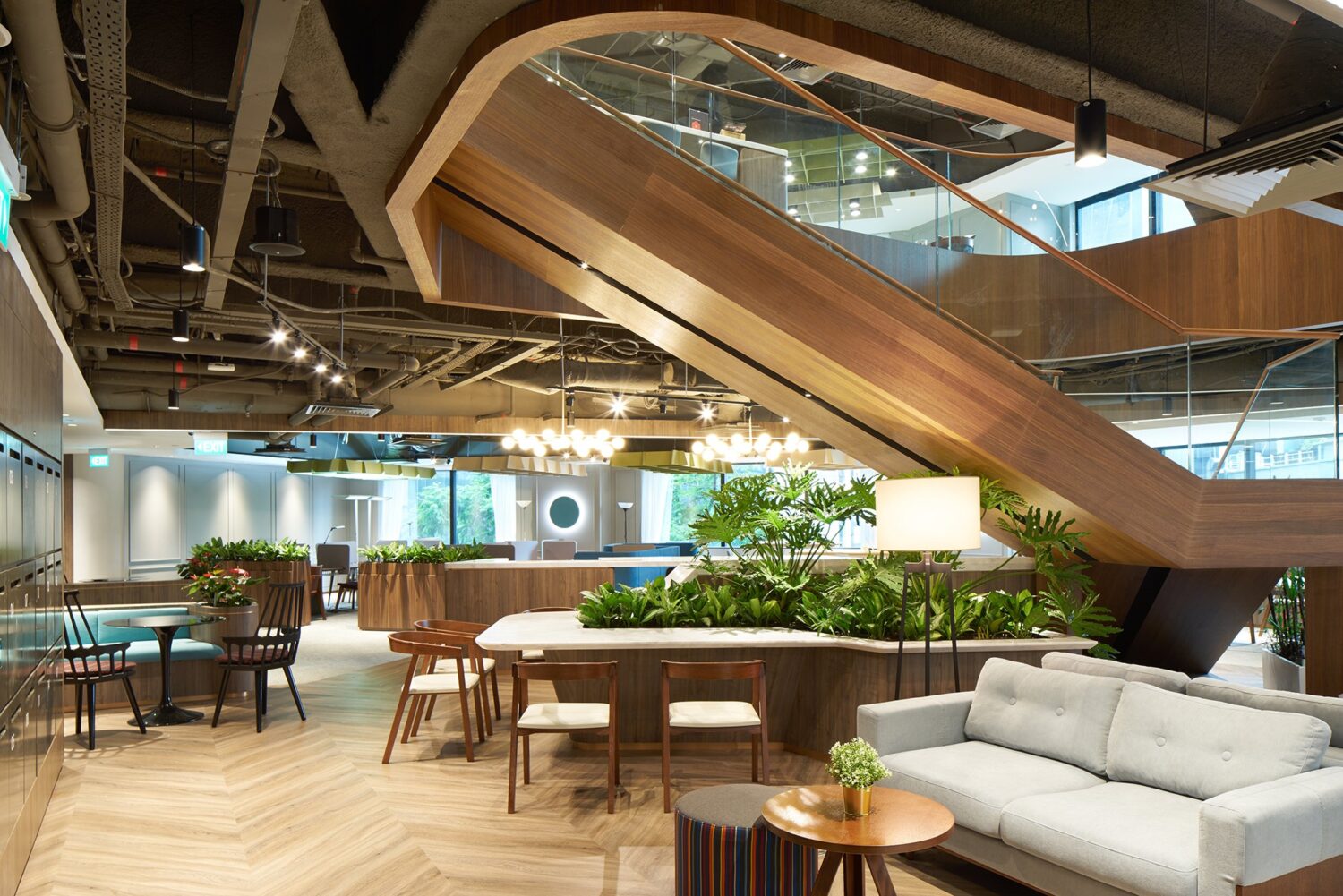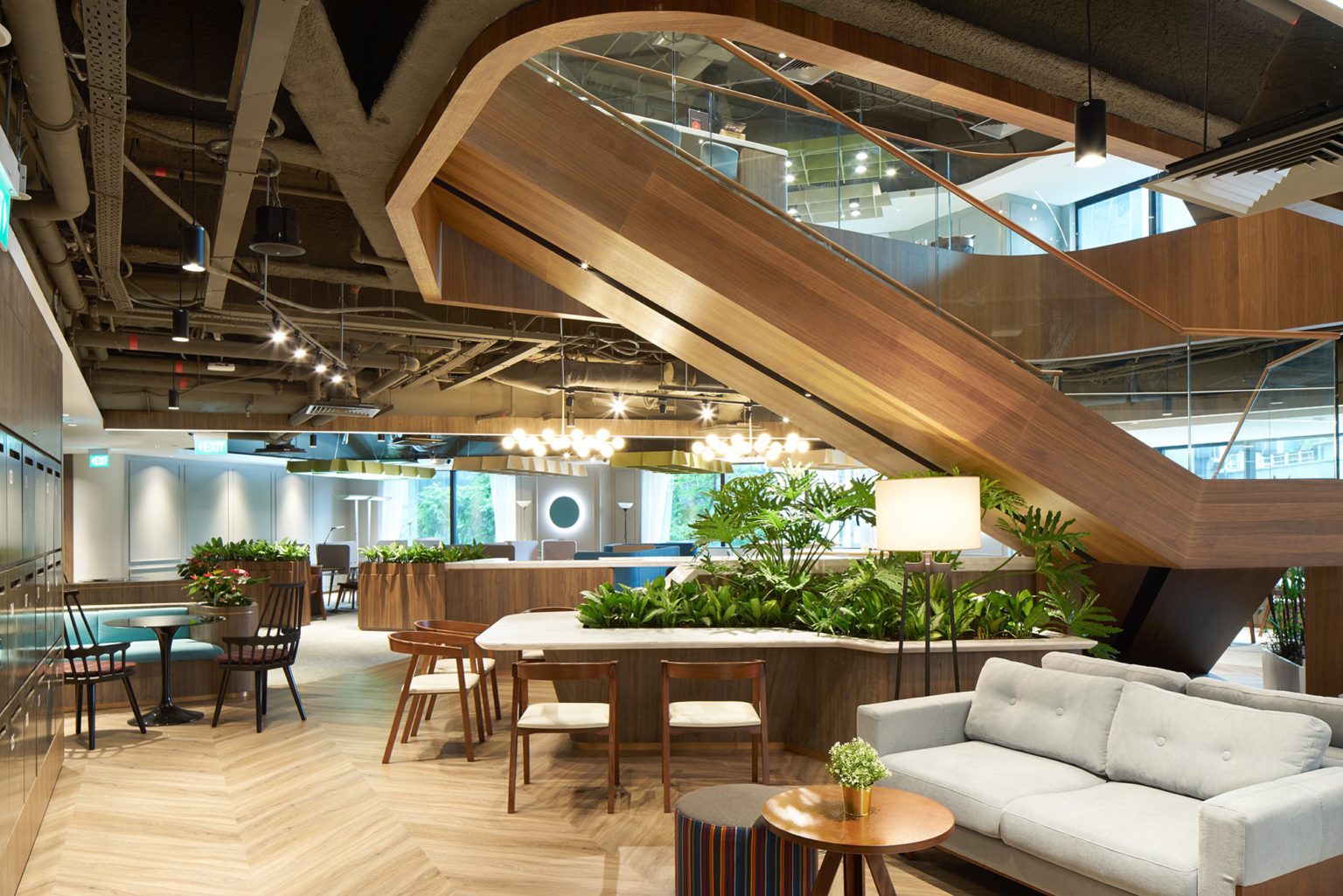 The Hive
Since its founding in 2021, The Hive has expanded to 20 locations across 7 countries in the Asia Pacific. They have presences in Singapore, Japan, Thailand, Vietnam, Taiwan, and Australia, which makes the Hive network incredibly diverse. Through the use of their member app, members can interact with other Hive members for networking purposes.
One of The Hive's key features as a coworking space is their free trial. To encourage people to join their coworking community, The Hive's provides a no-strings-attached trial to let them have The Hive experience at no cost. This helps people determine whether The Hive is a good fit for them before they even choose to avail a membership package. This is flexibility taken to the next level!
The Hive is the first and only coworking space with a partnership with Asia Miles. Hence they're the only workspace providers who are capable of providing members miles to help supplement their traveling needs. They offer various Asia Miles packages depending on the location.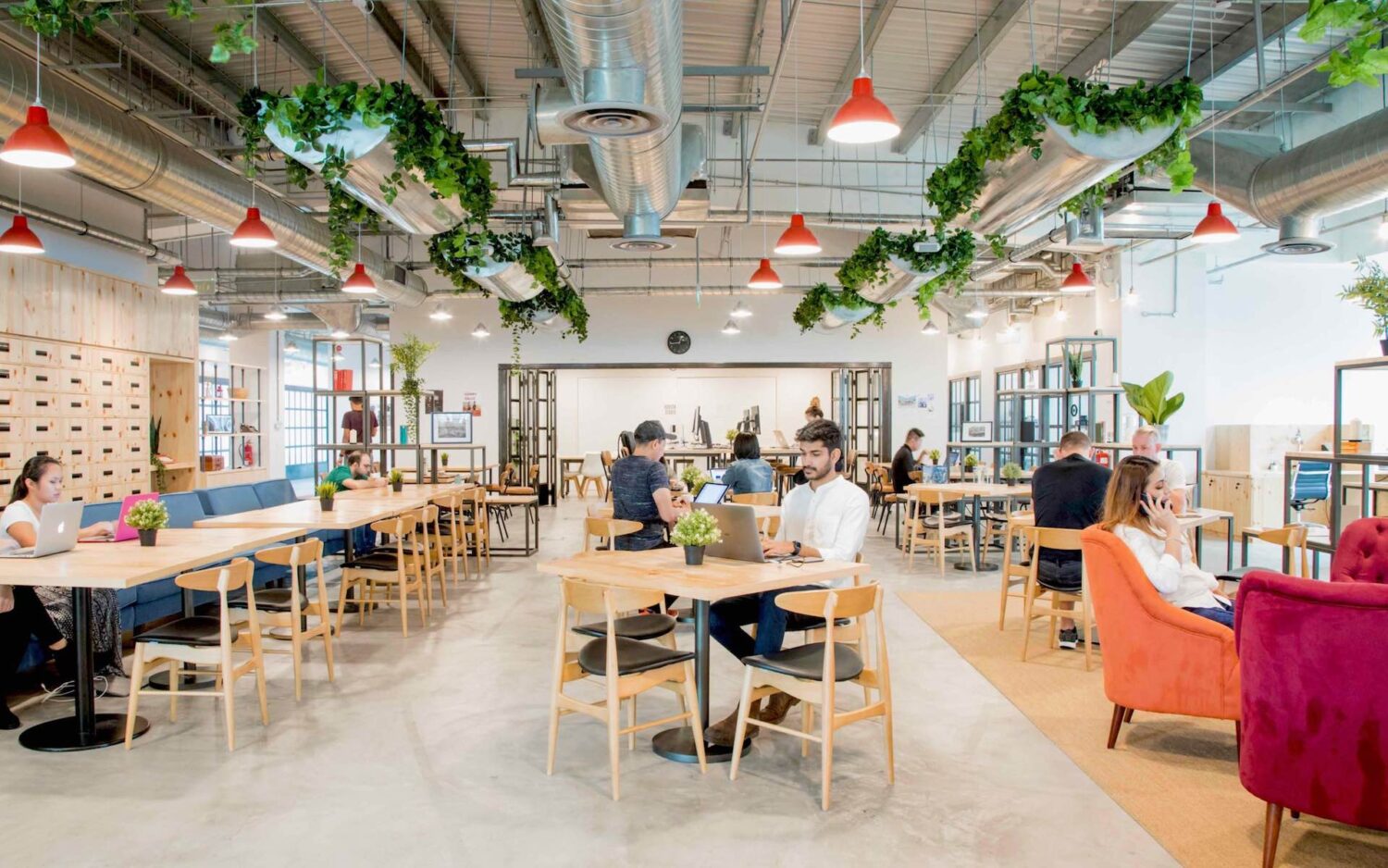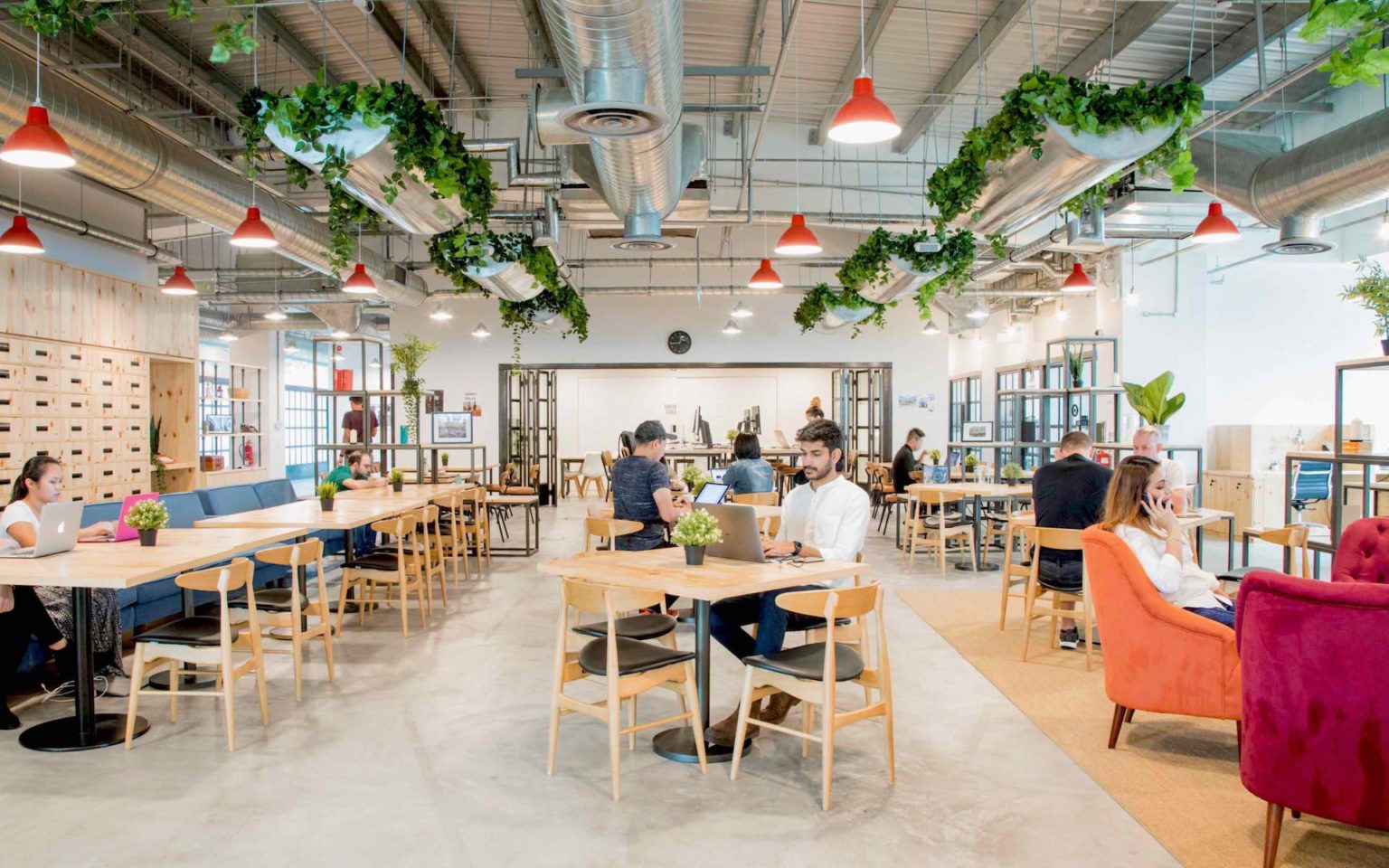 Distrii vs. The Hive
One of the Distrii's most distinctive features is its rapid growth. In less than five years, they managed to open 30 locations and grow their community to over 200,000 members. For people looking to join their momentum, it's a great idea to join their community and get a taste of their culture. The fact that they are proactive in helping members interact through their DEA membership is a huge bonus.
However, it's also important to note that while Distrii has a huge network and many branches to choose from, almost all of them are in China. Unless you work in China or are looking to penetrate the Chinese market, it is not going to be the most advantageous for businesses. The Hive, on the other hand, has 20 locations spread across 7 countries. This lends their community way more diversity which is a huge advantage for businesses trying to enter the international market. 
Office Solutions vs. Perks and Travel
Distrii provides smart office solutions to help businesses improve their productivity. They use proprietary technology to modernize the workplace and make bookings and communication a lot easier.
Meanwhile, The Hive provides their member's perks. They partner with several companies and brands which is a good offer especially for businesses who want to incentivize their employees or team members. Additionally, The Hive is the only workspace provider that partnered with Asia Miles to give you travel perks.
As a business, it's important to always factor in the cost. If you're moving your team into a flex space, you want to know that you're getting the most our of your money before you commit to any kind of contract. Even with flexible terms, it is going to be challenging to immediately relocate your entire team on short notice. So, deciding where everyone will work is a huge decision to make.
For this reason, we suggest checking out The Hive. Unlike most coworking spaces, The Hive offers a free trial which gives you the opportunity to try out their location, amenities, as well as services before you commit to working with them.
We'll help you find the right workspace for your business.