When it comes to proprietary technology and integrating technology into the workspace, Distrii and JustCo are the industry leaders, especially in Asia. Read on to see how they are similar and in what ways they differ so you can choose which of them will be a better fit for you.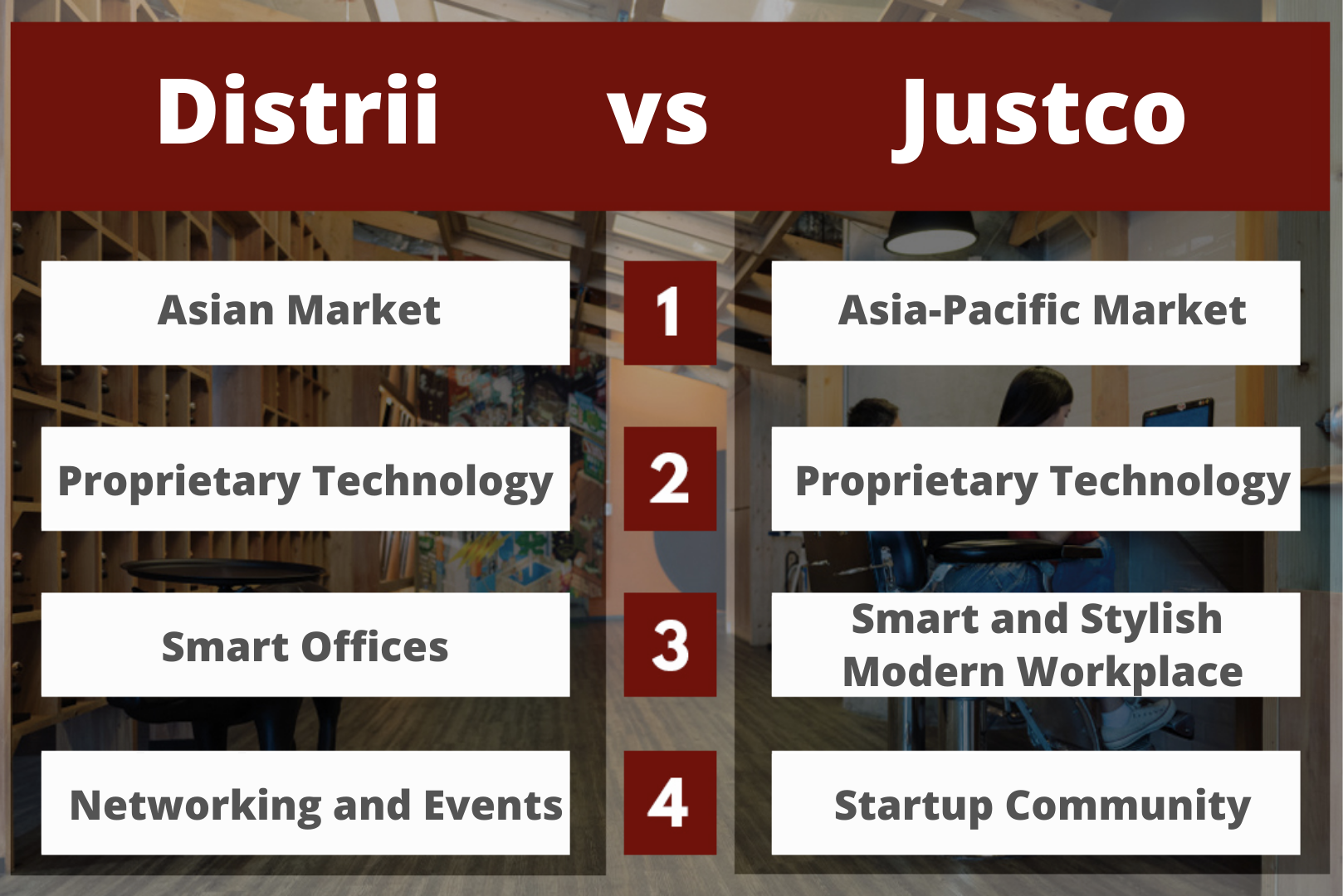 Distrii
Since it was founded in 2016, Distrii managed to open 30 branches across Asia with the majority of its branches in China and a handful in Singapore. They have amassed an impressive network of over 20,000 members from over 600 companies, making them one of the largest coworking companies in Asia.
Distrii also has a comprehensive suite of proprietary tech tools. They provide members with a mobile app backed by a cloud-based system and IoT technology. This app gives members access to a series of office tools, as well as access to Distrii's large social circle.
Distrii's proprietary mobile application lets members enter locations, make reservations, access lockers, and even avail exclusive deals or promos just by scanning a qr code in their mobile phones. This same technology also allows members to freely use conference call facilities and to easily share their files or laptop screen with other participants in the call.
Aside from providing smart office space solutions to enhance business operations, Distrii is also proactively promoting networking amongst its members. They offer a Distrii Entrepreneurship Alliance (DEA) Membership, which is an extensive platform offered only to select members so that they may network across Distrii's large community and share their ideas and experiences, as well as resources and opportunities for collaboration and business expansion.
Not to mention, Distrii also has event spaces for rent in their locations. This makes holding events and event planning more convenient and also cost effective given their member perks.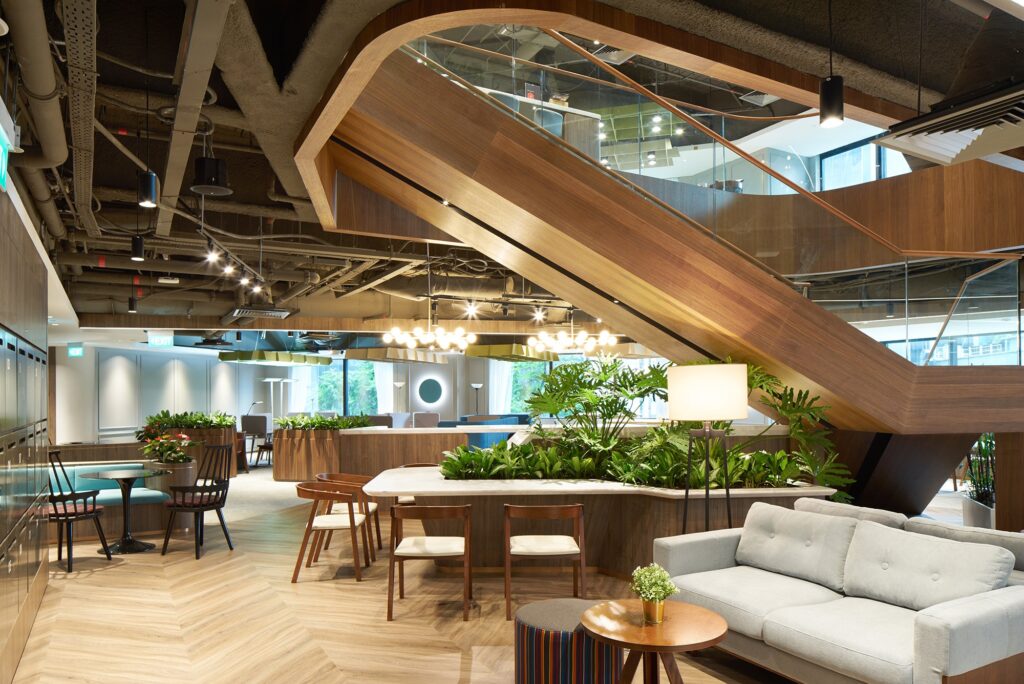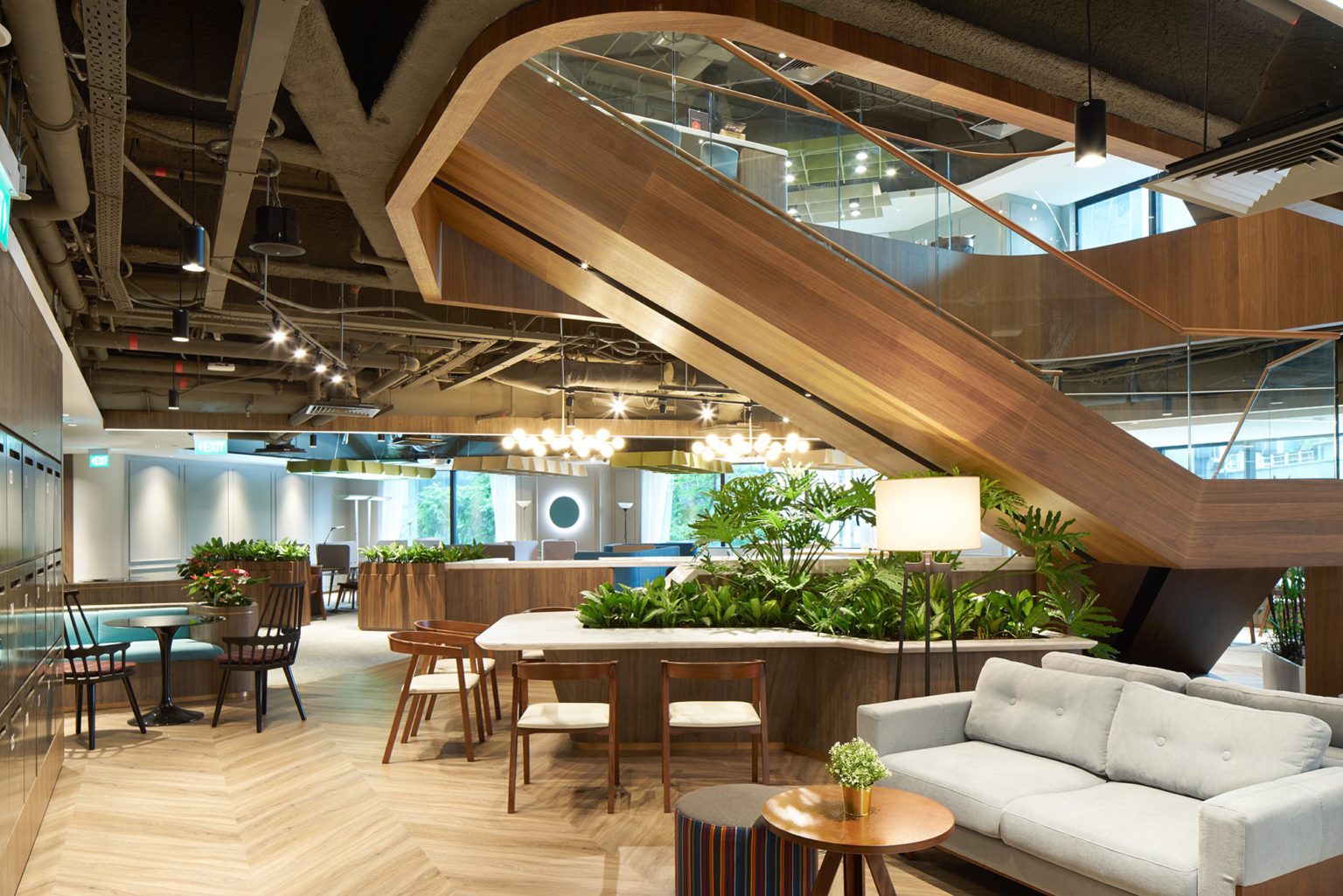 JustCo
With almost 10 years of experience, JustCo is one of the biggest names when it comes to coworking in the Asia Pacific region. They are located in Grade A office buildings in 9 major cities in 8 countries in the Asia Pacific. This allows them to build a large and thriving community of over 100,000 members, all of whom they encourage to network, collaborate, and connect for various business purposes. 
To remain relevant in the new normal, JustCo is using SixSense, an AI-powered tool that allows JustCo to analyse and optimise the use of their spaces. This tool revolutionises smart offices, redefining how tech and workspaces are integrated, and creating a safer space for their members in light of the pandemic.
Smart and Stylish Modern Workplace
All of JustCo's 40 locations are beautifully designed by JustCo's Enterprise360 team, an in-house group of workplace experts who offer a full suite of services from designing and building to operating an ever-relevant and modern workspace for clients. 
JustCo also integrates technology into their coworking spaces. Their in-house mobile application allows members to access their workspace, connect with other members of the JustCo community wherever they are, and avail exclusive events and perks anytime. 
JustCo has JustCo Labs, a platform that allows startups to connect with enterprises within the JustCo community so that they can employ their help in solving business problems. JustCo Labs also helps young entrepreneurs through a series of educational events to help them level up as individuals and business owners.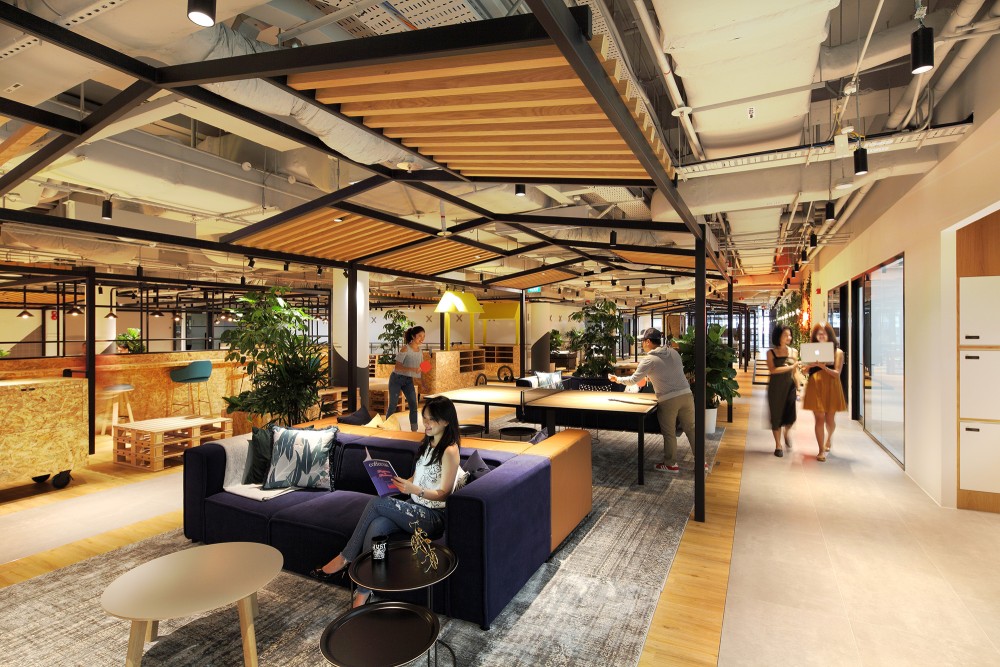 Distrii vs. JustCo
Tech and Smart Office Solutions
Distrii and JustCo are some of the most similar workspace providers available. They both use proprietary technology integrated into their workspaces to improve their members' workspace experiences. This allows their members to minimize contact with people and to interact with their networks virtually anytime and anywhere. If you're looking for a workspace with proprietary tech and smart office solutions, you can't go wrong with either Distrii and JustCo.
Network Size and Locations
Both Distrii and JustCo have a robust network; but if you're going to scrutinize the numbers, Distrii's over 200,000 members is double that of JustCo's who has roughly 100,000 members.
If you're looking purely at the number of members they have in their communities, Distrii wins by a mile. 
But it's also important to look at their locations. Though both companies have a huge presence in Asia, Distrii's community is concentrated in China with one only one international branch in Singapore. Meanwhile, JustCo is present in 8 countries not only in Asia but also in Australia. Therefore, JustCo's community is more diverse than Distrii's even if it's not as large. Additionally, by sheer number of locations, JustCo has 40 locations to choose from whereas Distrii only has 30.
If you look at a company's ability to grow then Distrii wins. Though Distrii has only been operational for five years, they managed to grow rapidly, opening 30 locations across China and even opening their first international branch in Singapore. 
But you can also look at the track record in terms of stability. In this, JustCo is the winner. Though JustCo has not been as aggressive in their expansion, they still managed to penetrate 8 countries in the Asia Pacific and managed to open 40 locations. In the 10 years they have been operational, they managed to build a solid reputation for themselves across several markets, and that is a really good track record.
If you're someone who is looking to network with Startups, both Distrii and JustCo have a lot of startups in their communities and they both have plenty of events to give you networking opportunities. 
But if you're a startup yourself, check out JustCo. Their JustCo Labs provides startups an opportunity to connect with enterprise members who can help them solve problems. This program also presents plenty of learning opportunities to help startup entrepreneurs grow themselves and their businesses.
We'll help you find the right workspace for your business.