Both The Great Room and Distrii are workspace companies founded in 2016. Since then, these two companies have established a name for themselves in their respective markets and with their unique selling points. Read further to determine which of these two workspace providers suits your business needs better.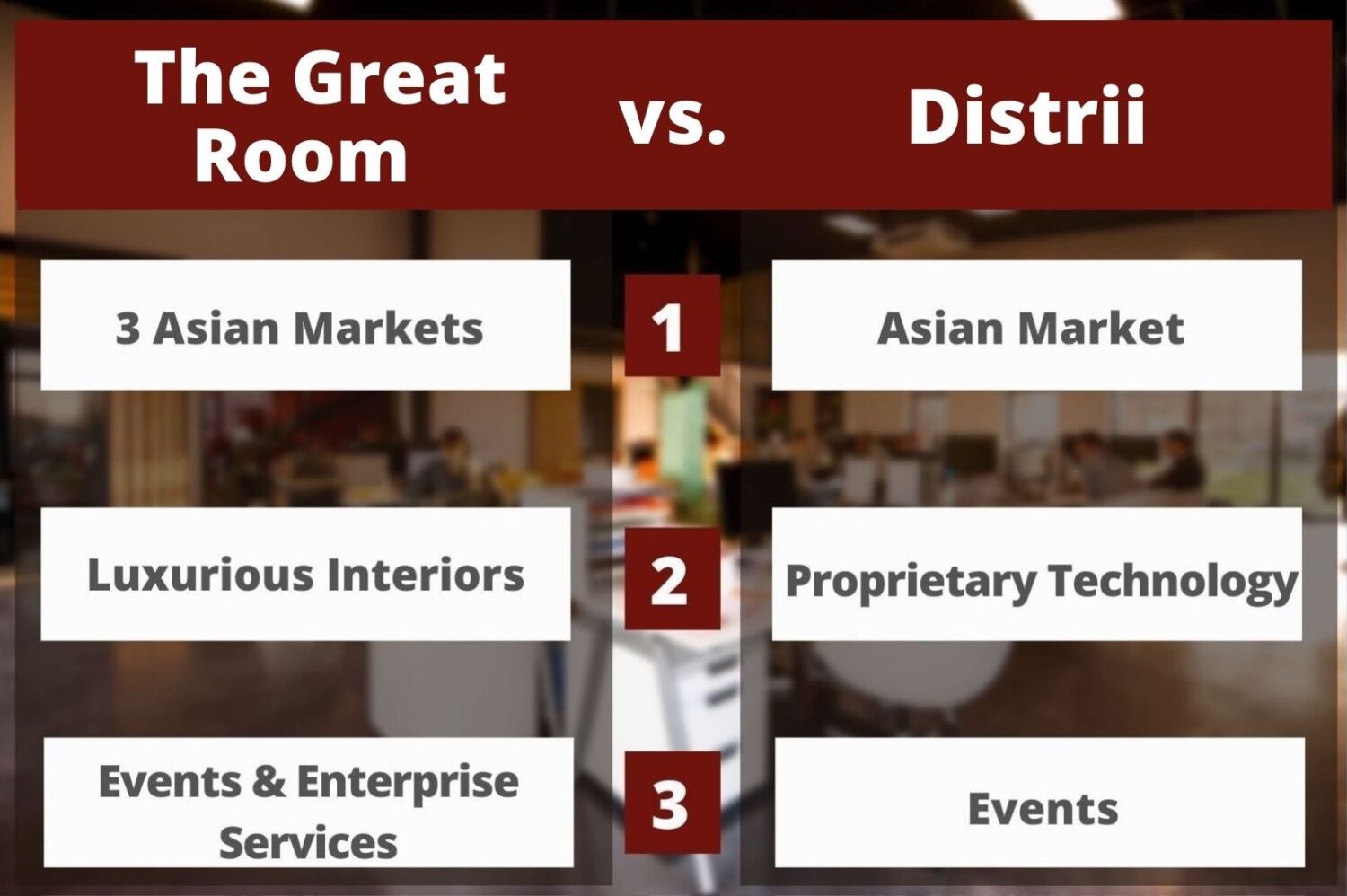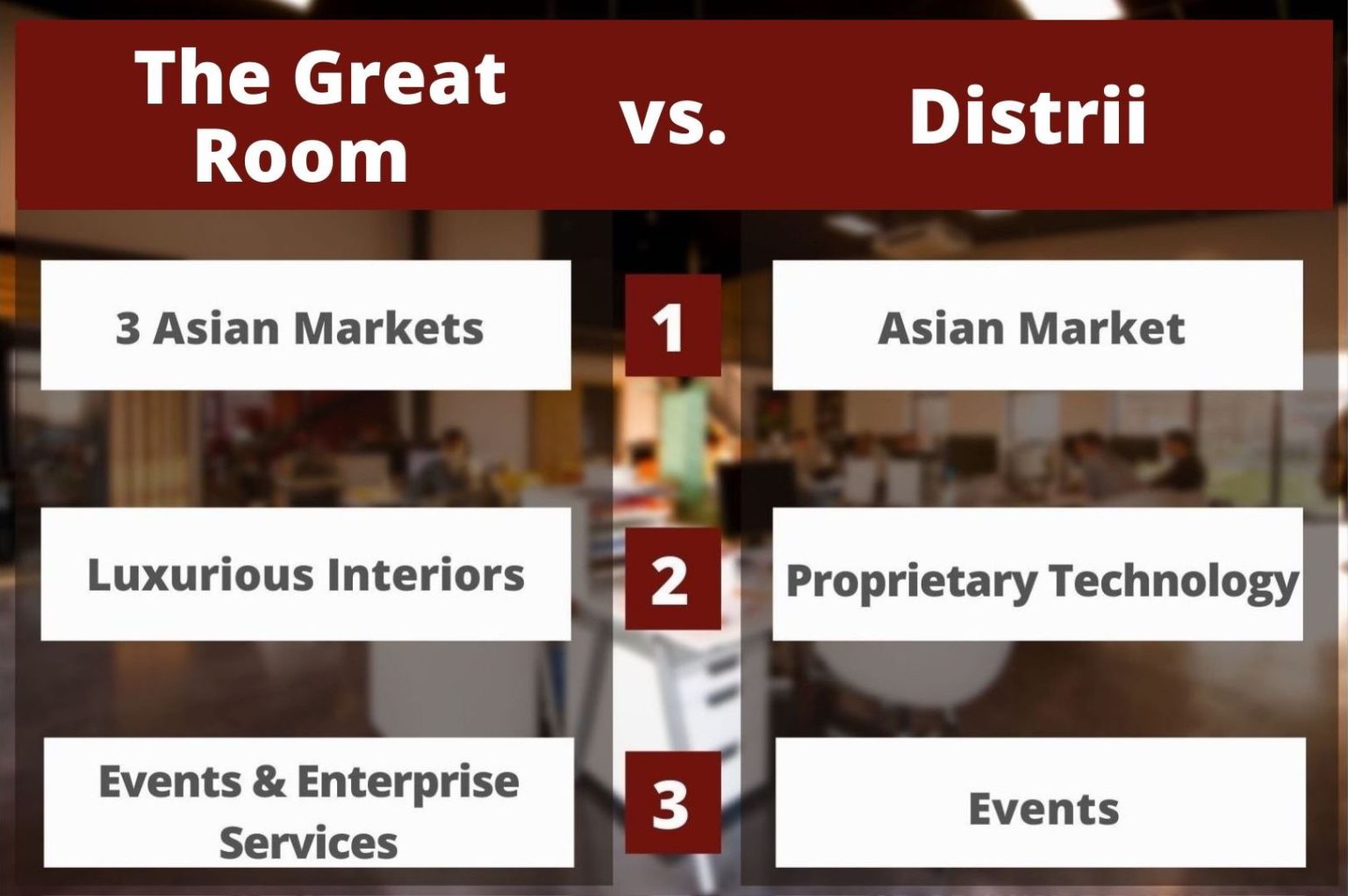 The Great Room
Since The Great Room was founded in 2016, it has built branches in Singapore, Hongkong, and Thailand. Their locations are in Grade-A office buildings in central business districts, offering accessible premium office addresses to their members. 
The Great Room uses the power of design to delight the senses, promotes casual collisions, and heightens productivity. Inspired by the unique ambience of hotel lobbies which fosters important decision making, The Great Room integrates the casual-luxe feel of hotels into their ergonomic workspaces so that their coworking space is not just a place where work gets done, it's also the place where relationships are built and where deals are struck.
Besides offering the usual office amenities, The Great Room also has a Breakfast Club and a turn-down cart which aims to cultivate friendships through well-timed morning brews or delectable snacks. 
One of The Great Room's most popular features is its events. In each of its three markets, Hongkong, Bangkok, and Singapore, it has an events calendar. Their events encourage conversations between members of different industries and perspectives. 
The Great Room has award-winning design partners who help their enterprise team create custom solutions for members' unique specifications. They also have several locations that can accommodate up to 200 or 300 people, perfect for enterprises looking to transition into a flex space.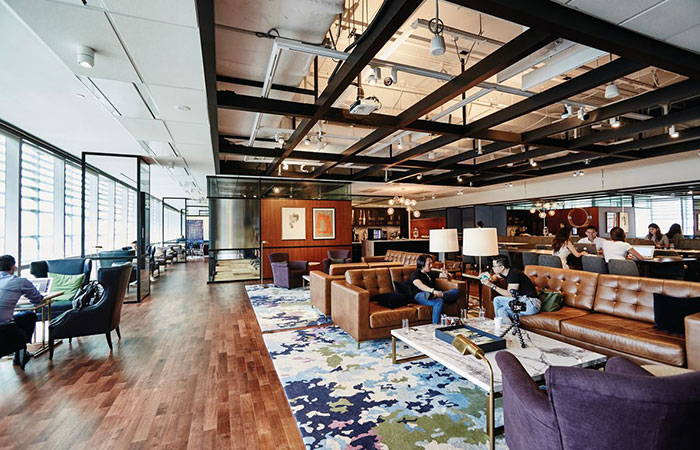 Distrii
Since it was founded in 2016, Distrii managed to open 30 branches across Asia with the majority of its branches in China and a handful in Singapore. They have amassed an impressive network of over 20,000 members from over 600 companies, making them one of the largest coworking companies in Asia.
Distrii aims to provide smart office space solutions to enhance business operations. Aside from smart furnishing, Distrii also has a comprehensive suite of proprietary tech tools. They provide members with a mobile app backed by a cloud-based system and IoT technology. This app gives members access to a series of office tools, as well as access to Distrii's large social circle.
Distrii's proprietary mobile application lets members enter locations, make reservations, access lockers, and even avail exclusive deals or promos just by scanning a QR code on their mobile phones. This same technology also allows members to freely use conference call facilities and to easily share their files or laptop screen with other participants in the call.
Distrii is proactively promoting networking amongst its members. They offer a Distrii Entrepreneurship Alliance (DEA) Membership, which is an extensive platform offered only to select members so that they may network across Distrii's large community and share their ideas and experiences, as well as resources and opportunities for collaboration and business expansion.
Not to mention, Distrii also has event spaces for rent in their locations. This makes holding events and event planning more convenient and also cost-effective given their member perks.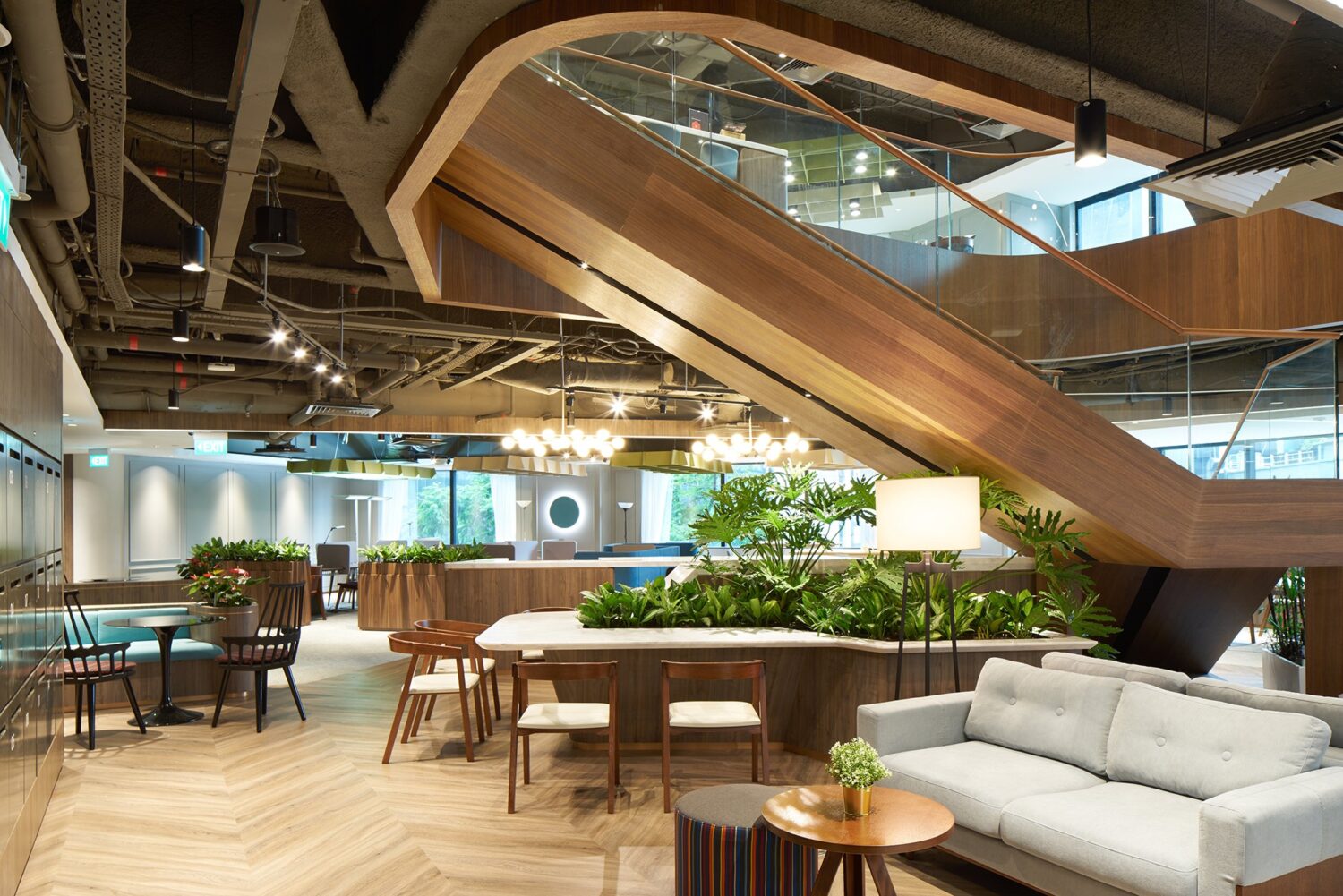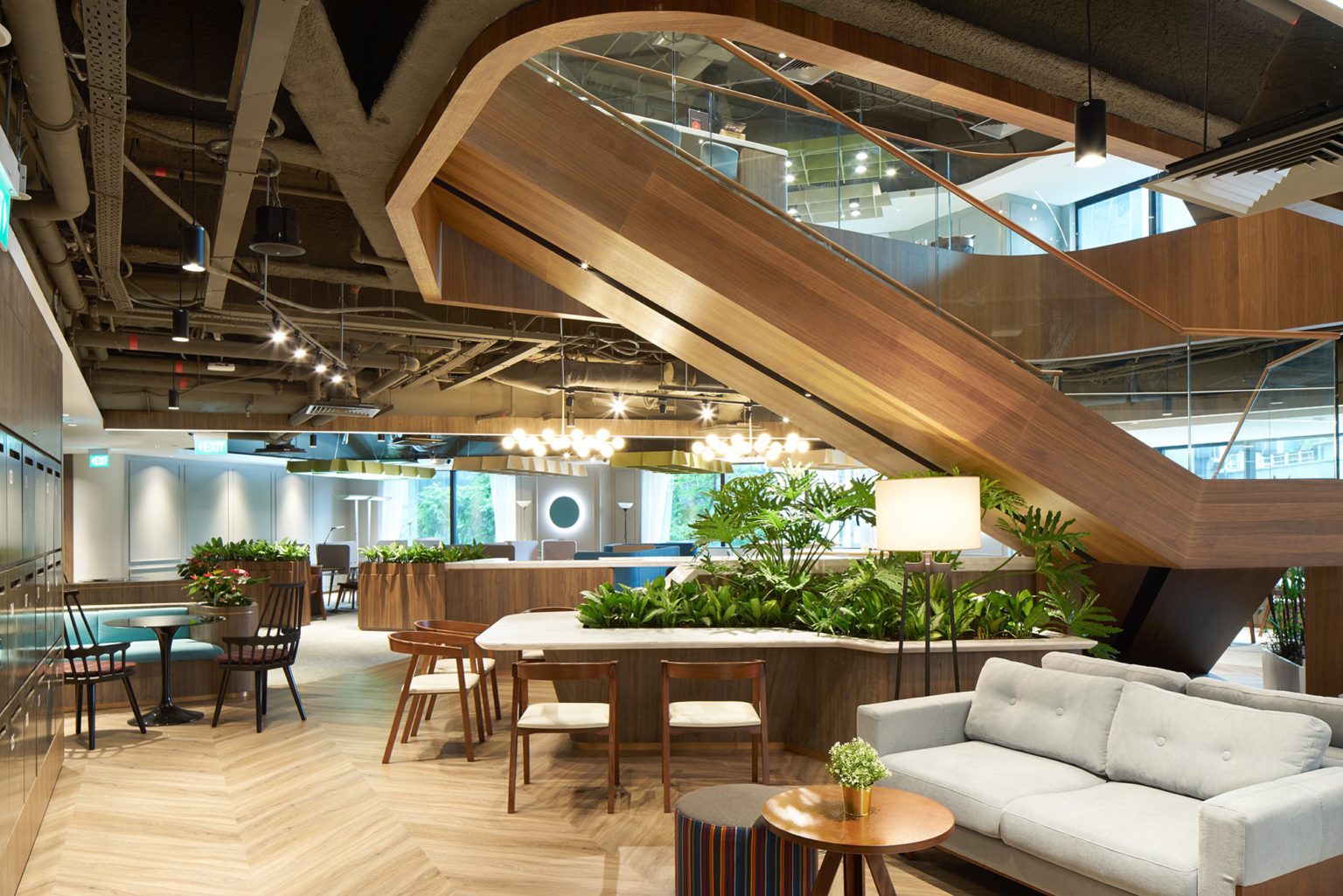 The Great Room vs. Distrii
When choosing between The Great Room and Distrii, it's good to consider your market as well as the network that would be more valuable to you. The Great Room is present in Singapore, Hongkong, and Thailand but they only have one location in each country. Meanwhile, Distrii only has locations in China and Singapore though they have many locations in China, comprising 30 locations overall.
This difference means that The Great Room will have a smaller network than Distrii. But that's because The Great Room is catered to different clients than Distrii. Their workspaces are luxury and are located in some of the most expensive buildings in Asia hence their prices are higher and their network is also more niched.
Meanwhile, Distrii has a larger network, but this network is highly concentrated in China. Their Singapore location is a new initiative to venture into the international market. This means that their network may have more members but it can lack diversity.
If you are a Chinese entrepreneur or your business is aimed at the Chinese market, Distrii is a great workspace provider, giving you plenty of locations to choose from and providing plenty of opportunities to network with Chinese businesses and professionals. However, if you're not invested in the Chinese market, The Great Room may provide more opportunities across markets for you to network with.
Luxurious Workspace vs. Smart Office 
When it comes to their workspace design, The Great Room and Distrii couldn't be any more different. The Great Room is aimed at relaxation by using hotel-like interior design while Distrii is aimed at providing smart office solutions to optimize the members' workspace experience.
Whether one is better than the other is difficult to determine. Ultimately, it will depend on your preference. If your business conducts many meetings or deals with high-profile stakeholders then a luxurious workspace that fosters discussions may be a good investment. However, if your business has you working on your own or with your team, then it might be better to choose a workspace that has smart solutions that can help boost your productivity.
We'll help you find the right workspace for your business.