Glass Tower
Designed and constructed by Samoo Architect and Engineering firm, the Glass Tower is located at the commercial hub – 534 Teheran-Ro, Gangnam-gu, Seoul. Once you've walked in this Grade-A office building, you are likely to be impressed by its sophisticated and prominent design. Glass Tower features a height of 118.26 meters and 40 floors, including 32 above the ground and 8 below. Its basic amenities involve a member's lounge, service operational support, 24/7 access, keyless locking system, as well as expert IT support and infrastructure. The building has redefined the aestheticism within a professional environment for its modern, ergonomic virtual offices, promising you elevated work experience. Furthermore, the Glass Tower offers excellent convenience in terms of transport since the building is connected directly to Samseong station, and the building is only 34 kilometres from an airport, to which you can travel by taxi with an approximate fare of $30. There are also five-star hotels nearby, such as Park Hyatt Seoul and Intercontinental, convenience stores, including 7-Eleven, GS25, and Homeplus.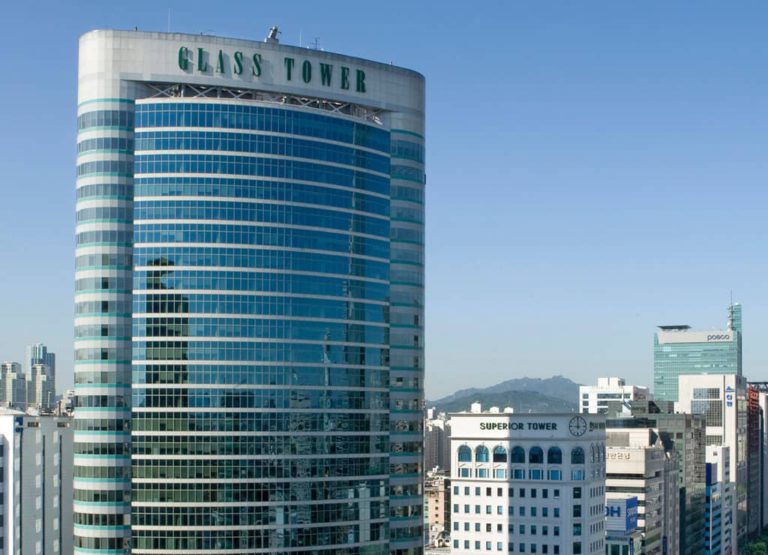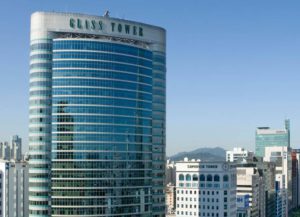 Trade Tower
Located at 511 Yeongdong-Daero, Samseong-Dong, Gangnam-Gu, Seoul, Trade Tower, also called World Trade Center, is one of the most iconic constructions in South Korea for its feature in the world-famous Gangnam Style music video. When walking into the Trade Tower, you're going to be impressed immediately by its unique architectural design as well as a distinctive landmark. The Trade Tower was constructed in 1988 as a core infrastructure in terms of trade stimulation and development. The Trade Tower, ASEM Tower, and City Air Tower have contributed to South Korea's growth in becoming one of the world's leading trade centres due to their first-class facilities, comprising shopping malls, hotels, and an airport. Besides, this 54-floor building provides a professional business environment since there are
private offices
,
co-working spaces
, and meeting rooms available. Especially, when setting up your office at the Trade Tower, you will get access to admin support, basic facilities such as communal kitchen, printers, community meeting rooms. The Trade Tower also offers great convenience as it is nearby Samseong Station, numerous stores, including GS25, CU, and 7-Eleven.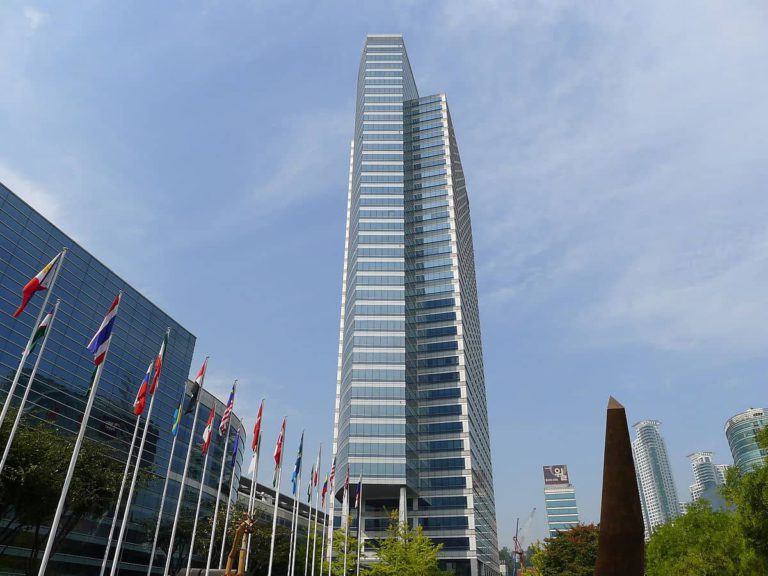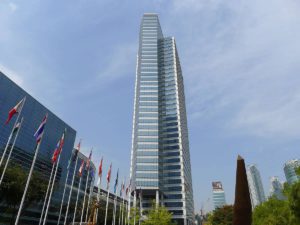 Gangnam Finance Center
Walking into 152 Teheran-Ro, Yeoksam-Dong, Gangnam-Gu, Seoul, you're likely to be amazed by a 204-meter skyscraper – the Gangnam Finance Center. This magnificent 45-storey building was once known as Star Tower or I-Tower. The Gangnam Finance Center was constructed in the period between 1995 and 2001, and it is now one of the highest buildings in South Korea. These days, Gangnam Finance Center gains a reputation as the most modern construction because of its inferiority. Especially, the aesthetic and sophisticated designed workplace is going to elevate your experience, as well as enhance work productivity. Besides, when placing your office at the Finance Center, you would be accessible to advanced IT infrastructure and on-site operational support, promising a professional, dynamic working environment. What's more, since this building is situated to the south of the Han River, there are numerous convenience stores such as CU, GS25, Homeplus, shopping malls, international restaurants, and hotels. It also allows you to travel easily thanks to several stations nearby, which are Yeoksam Station and Airport Limousine Bus Station, and two international airports.
Seoul Center 1
The dream of top-notch and green working space in Seoul's central business district named Regus – Seoul Center – an architectural masterpiece is possessing a prime location in Seoul's central business, comprising many luxury amenities. You can treat yourself to a full-experience of shopping at many top-class retail shops to enjoying your meals at famous restaurants and breezy cafes. When walking into the Regus, you will be impressed by the landscaped park for rest and a showcase of media technology as a front yard. This building offers you a wide range of services for private offices or shared workspaces. Everything is arranged smartly to give you a feeling of professionalism and flexibility. Besides, there are many bus stops, taxi stations, and MRT (Euljiro 1-ga Station) in close proximity. Especially the headquarters for the Bank of Korea and many Seoul's political, public administrations located within walking distance, giving you the best convenience. If you are looking for a place to entertain, you can consider many shopping centres and hotels nearby such as Lotte Hotel Seoul.
FKI Tower
Everything is "perfect" from FKI Tower's exterior wall to internal design. FKI Tower is the symbol of sustainable design, which gives you a stunning view embracing the breathtaking beauty of the city and the high-class furniture and constructing materials. FKI Tower features an innovative exterior wall, designed specifically for the project. The shape and construction of the wall help to reduce the heat and bring a more refreshing atmosphere via photovoltaic panels. This smart building will bring you the most comfort with high ceilings and being inundated with direct sunlight and "green expression". Located in the expensive location in Seoul, within walking distance to local transportation networks, including MRT stations and bus routes, you can get here in many ways. There are many luxury restaurants and other entertainment services nearby, helping you to relax and maintain a work-life balance. If you are on the business trip and looking for a hotel to stay near FKI Tower, there are a host of options for you, such as GLAD Yeouido, M Hotel, and Fairfield by Marriott Seoul.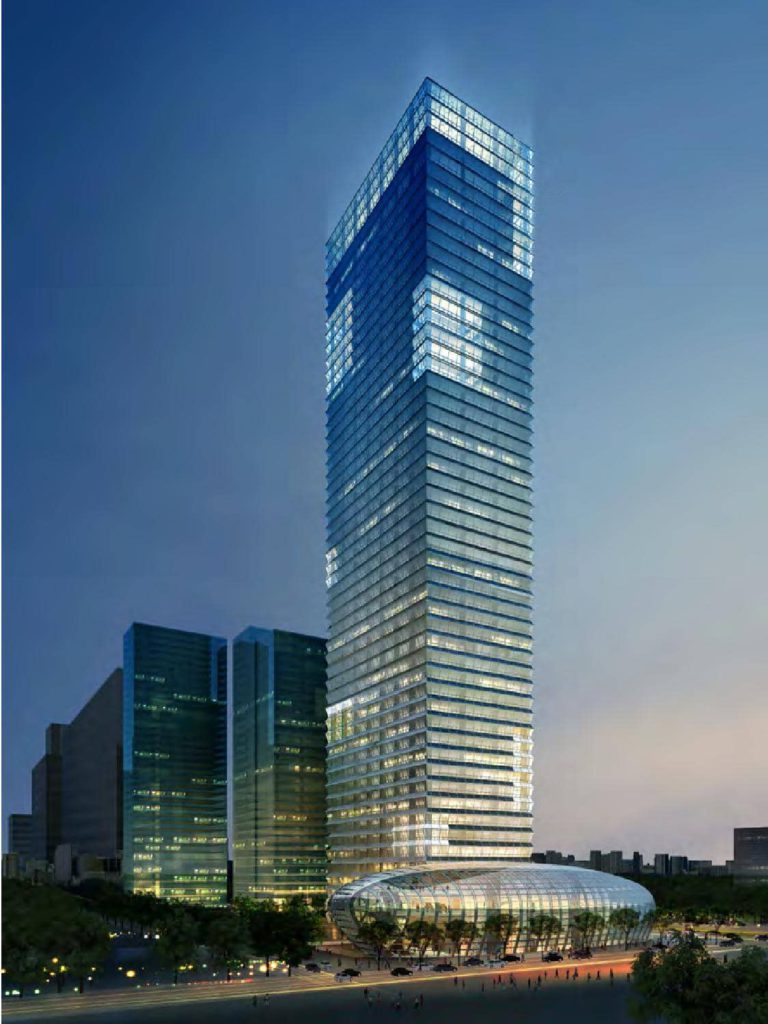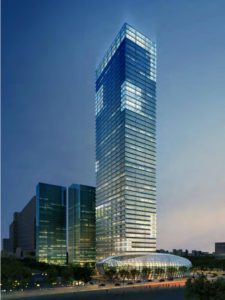 31 Building
31 Building – an office building, also known as Samil Building, was built in 1970 and became one of the tallest buildings at that time. After over 50 years, this skyscraper still keeps its value and was selected as 'Seoul Future Heritage'. When you come here, you will be impressed by the sleek black glass covering and reliable construction. This building shows a sharp contrast with the majority of most squat buildings clustered around. Walking into Seoul's first international-style- skyscraper, you will be provided with services for a professional working space. Inside, everything is streamlined and organized to help you focus on your work. There are many convenient stores and shopping malls in close proximity. If you want to get here, you can choose the bus or subway, both are convenient. Besides, you can enjoy your lunch and dinner at some restaurants nearby. For staying, Lotte City Hotel Myeongdong, The Designers Hotel Jongno-gu, Hotel Skypark Central Myeongdong are the best choices for you.
Real Estate Investor, OSDORO
Bachelor of Applied Finance and Bachelor of Laws, Sydney, Australia. 
David has been in real estate business since 2002 and has a passion for South East Asian cross border cooperation.
As an entrepreneur, David has won multiple tech industry awards, including 2019 for Best AI Startup GITEX awards, 2019 Best AI Technology Accathon Capital USA and recipient of the Wharton Innovation Fund Grant. His last startup, Woveon, was a New York VC backed AI enterprise business intelligence company that worked on customer data stitching and analytics of billions of conversations.
David is also the recipient of state and national Australia technology prizes including the PWC Innovation Award and Intel Enterprise Technology awards.
We'll help you find the right workspace for your business.