China World Trade Center
Walking into 1 Jianguomen Outer St, Guomao, Chaoyang, Beijing, you would be amazed by the "downtown fairyland"—China World Trade Center. Having a strategic location at the heart of Beijing's Central Business District, this spectacular complex has always been one of the largest upmarket commercial mixed-use developments worldwide and the first choice for many multinational companies based in Beijing. China World Trade Center opens a window onto Chinese economic reform and international events. Purposeful, elegant and embodying quiet, there's no wonder why it has become the centerpiece of Beijing's Central Business District. With three hotels, Grade A offices and a fashion-leading shopping mall, it is a perfect place for you to develop your business and fulfill all your entertaining purposes. With the completion of Phase 3B, China World will serve guests from all around the world with a brand-new image in the spirit "Inspiring Excellence". It is affectionately reputed as "The Place Where China Meets the World". This building has several large convention centers all around and several excellent restaurants for every taste. Plus, the silk street shopping center where you can find many high-end stores for shopping is about half a mile from this place. With its charming, modernist architecture, professional environment and reliable address, China World Trade Center has made a powerful statement that Beijing is a city full of opportunities and extreme wealth, an ideal place to do business.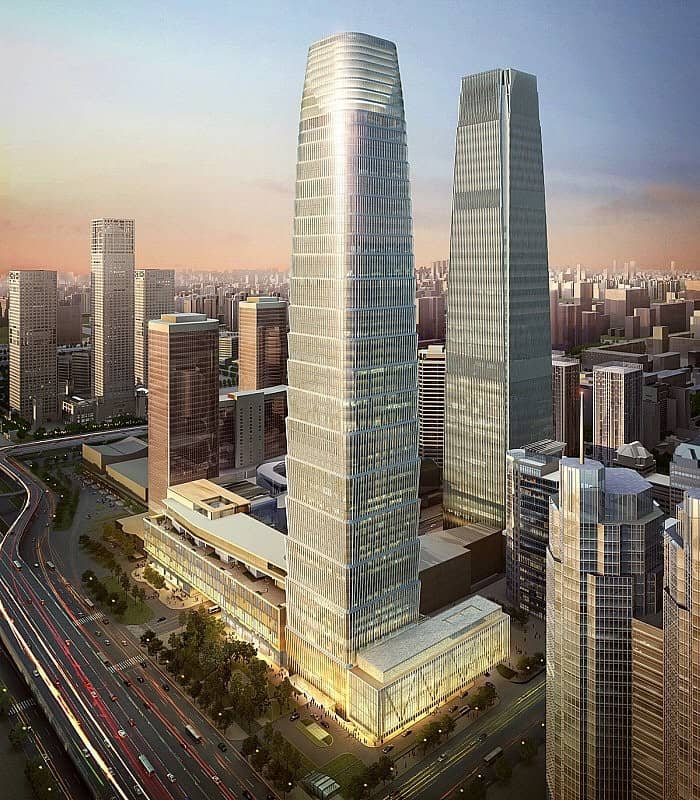 Yintai Center
At the southwestern corner of the Gold Cross of the Guomao Bridge, located right in the core of Beijing's Chaoyang Business District is the newest and most sought after business hotspot—Beijing Yintai Center. It is a beautiful landmark designed by world-famous architect John Portman & Associates, Inc. Aimed to enhance the Beijing skyline, this comprehensive mixed-use complex is a study in straightforward, impressive architecture. The tower is majestically crowned by an enormous cube that recalls a Chinese lantern, shines brilliantly through the darkness in the way a "Chinese lantern lights up the CBD", offering spectacular views of Beijing. You would find The Executive Center on level 15 and 31, a space designed with sleek and modern interiors to complement the state-of-the-art technology and amenities that assist and boost the development of your own business. Connected to the Park Hyatt Hotel, high-end living is only a few steps away. Plus, as the area continues to grow and thrive, many luxury shopping centers, fine-dining restaurants, and landscaped gardens are all conveniently located nearby to meet all your needs. With all these top-notch facilities, Beijing Yintai Center is definitely your perfect destination for high-grade business, health, recreation, cuisine and entertainment, all in its international definition.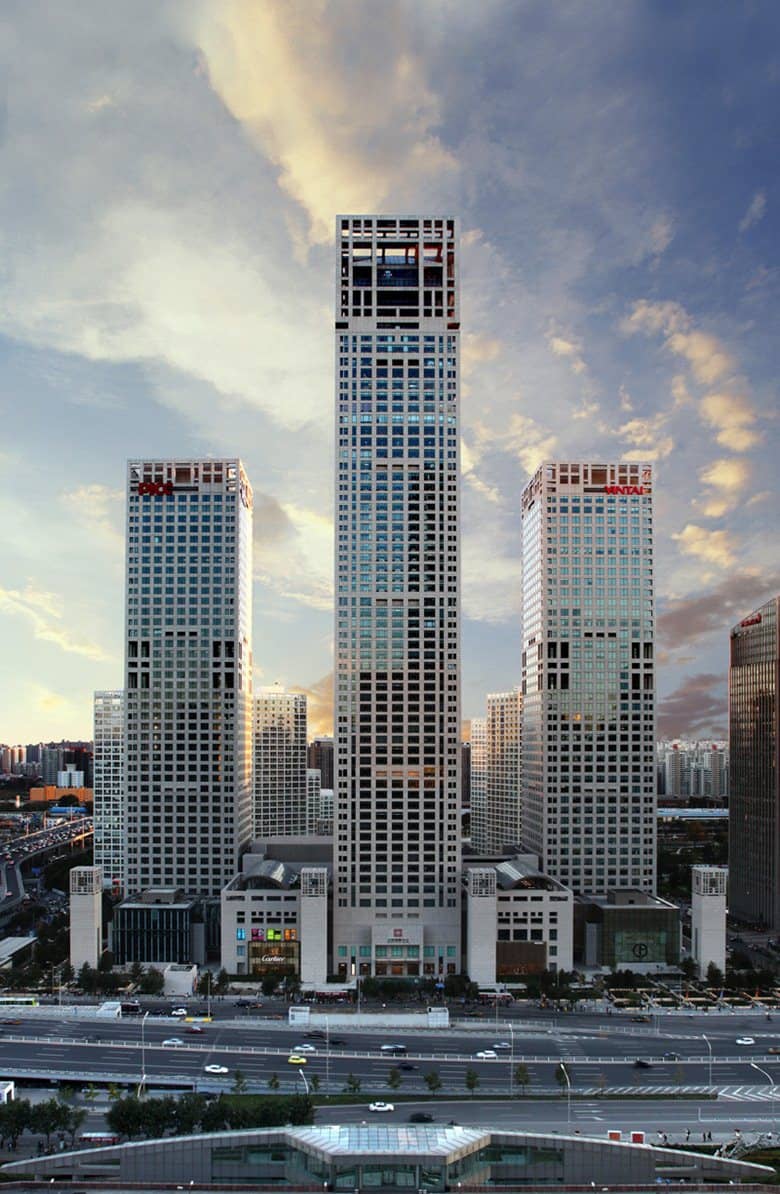 LG Towers
Positioned in the heart of Beijing' bustling Chaoyang commercial district is the LG Twin Towers—a fairly remarkable, hard-to-overlook building when passing through the new Central Business District. Designed by LG and already considered a landmark of the city, this building combines office and retail spaces on one of the most lively business avenues in Beijing. Since it prominently located along Chang'an Avenue—a key artery road in Beijing, the LG Tower is super easy to access thanks to the axial line stretching from West to East in the city. Plus, it offers direct access to Yonganli Subway Station. It takes only 32 mins driving to Beijing Capital International Airport and 44 mins driving to Beijing Daxing International Airport so you can optimize your time. Not only the location, it is also the modern amenities that make LG Towers an extraordinary architectural element making up the face of modern Beijing. The Towers maintain international standards with advanced technology and top quality to meet everything a business needs. The lobby is grand and airy, the front desk staff are helpful and always swift with requests. Last but not least, there are many excellent restaurants where you can enjoy after an exhausting day of work, and several interesting places to hang out with your fellows.
Find the perfect home for your business today!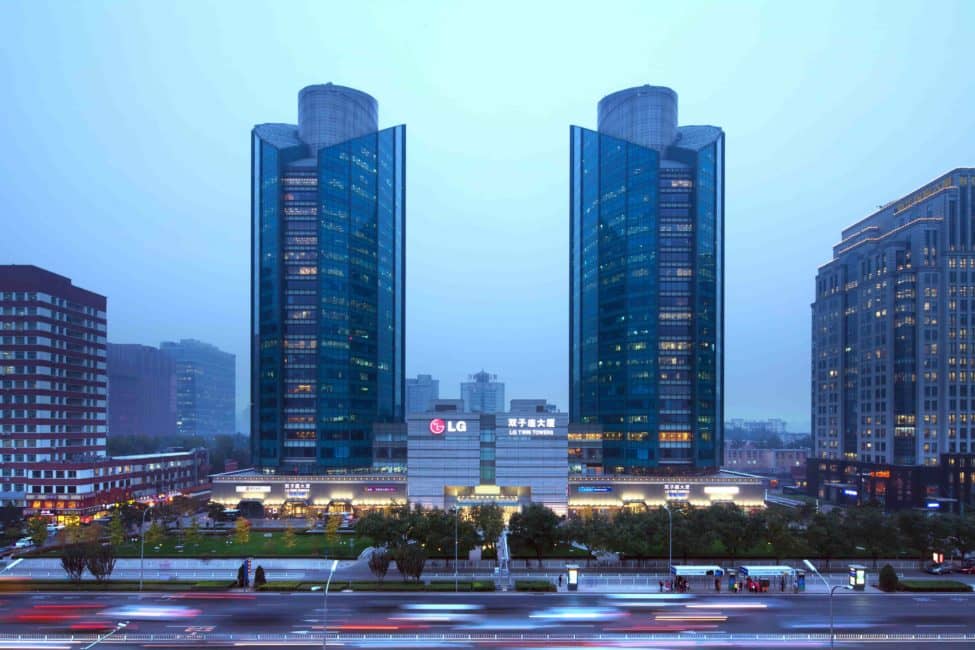 New Poly Plaza
Situated in the southwest corner of Dongsishitiao Bridge, Dongcheng District, Beijing, New Poly Plaza is going to impress you with its sophisticated lantern-inspired architectural design. This famous building was completed in 2007 by SOM of the US, costing 180 million dollars to construct. The overall footprint on the 65,000-square-meter site is of a right triangle, whose longest side is formed by a glass cable-net wall facing north-east, which reduces the exterior surface area and helps moderate Chinese interior climate. Since the building is so novel and functional, China Poly Group Headquarters and Poly Museum are now located there. The New Poly Plaza also includes numerous shopping malls, restaurants, and co-working spaces, ensuring a professional but energetic working environment. Besides, the location of this building enables easy access as there are two stations nearby, which are Dongsishitiao and Chaoyangmen Station, and it only takes 33 minutes to reach Beijing Capital International Airport or 49 minutes to arrive at the Beijing Daxing International Airport. In general, the China New Landmark would be one ideal place to either visit or launch your business.
Beijing Prosper Center
Walking into No.5 Guanghua Road, Chaoyang District, you would be immediately impressed by a glass-featuring design of the Beijing Prosper Center, which is also known as the West Tower – a 99.6-meter skyscraper. This 23-storey building was completed in 2007 with a total area of 49000 square meters. Once you've placed your office in the Beijing Prosper Center, you would barely find any difficulties in transport because there are two airports nearby, the Beijing Capital International and Beijing Daxing International Airport. These two places only take you approximately 34 and 49 minutes to reach by car. This building also allows you to take the subway from three stations, which are Jintaixizhao, Guamao, and Yonganli Station. Amenities in the surrounding area consist of two restaurants, Beijing Yintai and Beijing Kerry Center, China World Hotel, Kerry Hotel, and Kerry Center Health Club.
SOHO Nexus Center
Located at Beijing East 3rd. Ring Road, Chaoyang District, the famous CBD of China, adjacent to the Sanlitun Embassy, SOHO Nexus Center guarantees you a modern business environment with its A-level smart offices. Walking into SOHO Nexus Center, you would immediately get a sense of professionalism in its established workplace, and there is a wide range of options for you to set up your office whether it is a private or a co-working space. Since the SOHO Nexus Center lies in China CBD, there are numerous buildings in the area, including Fortune Plaza, China Youth Plaza, and Taikang Financial Center. You would also find several banks nearby, such as the Industrial and Commercial bank of China (ICBC) or Bank of China (BOC). Besides, SOHO Nexus Center offers excellent convenience with various amenities, which consist of shopping malls, groceries, and hotels. Last but not least, the building can be reached by different means of transport, especially travelling to Beijing Capital International Airport in 30 minutes.
Real Estate Investor, OSDORO
Bachelor of Applied Finance and Bachelor of Laws, Sydney, Australia. 
David has been in real estate business since 2002 and has a passion for South East Asian cross border cooperation.
As an entrepreneur, David has won multiple tech industry awards, including 2019 for Best AI Startup GITEX awards, 2019 Best AI Technology Accathon Capital USA and recipient of the Wharton Innovation Fund Grant. His last startup, Woveon, was a New York VC backed AI enterprise business intelligence company that worked on customer data stitching and analytics of billions of conversations.
David is also the recipient of state and national Australia technology prizes including the PWC Innovation Award and Intel Enterprise Technology awards.
We'll help you find the right workspace for your business.