Hot desks are ideal for startups that do not yet have the budget for an office, as well as freelancers who work better in a collaborative, more social environment. They are becoming increasingly popular in Singapore, and several luxury hot desks have sprouted up throughout the city-state. This article will examine the top luxury hot desks in Singapore to assist you in determining which one is best for you.
If you're a struggling entrepreneur, an aspiring startup, or simply someone who can't get motivated working from home, these hot desks in Singapore could be the solution.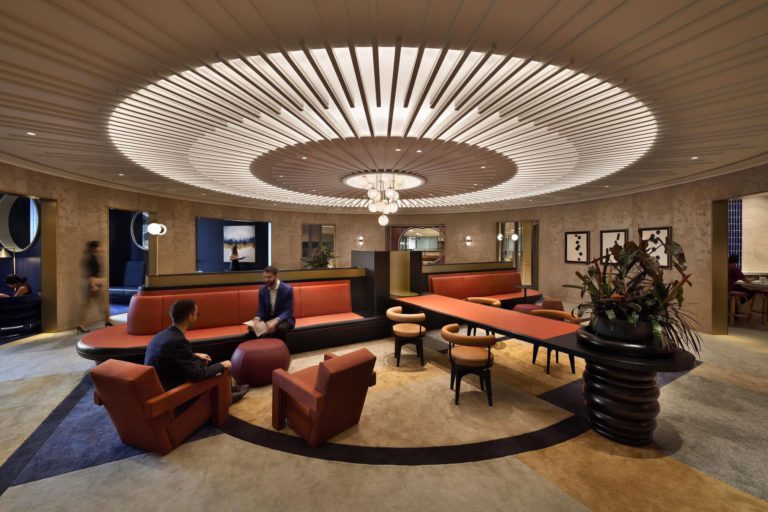 1. The Work Project
The Work Project is not short on space, with over 200 private workstations, 120 collaborative spaces, and 100 hot desks. At first glance, it may appear to be a 5-star hotel; however, it was designed with luxury and productivity in mind. In fact, the concept of "Design Thinking" was used to create a space with the best look, smell, and sound for maximum productivity and happiness at work.
The weekly membership fee is $295, or $495 per month for a flexi desk. Alternatively, you can opt for a private office, which costs between $650 and $1000 per person per month.
Open 24 hours a day, seven days a week, The Work Project offers more benefits than any other co-working space, including a reception desk, housekeeping, maintenance, and IT support. Food and drink are also available from a fully stocked pantry, The Providore, and Omotesando Koffee. The Work Project is without a doubt one of Singapore's most opulent co-working spaces.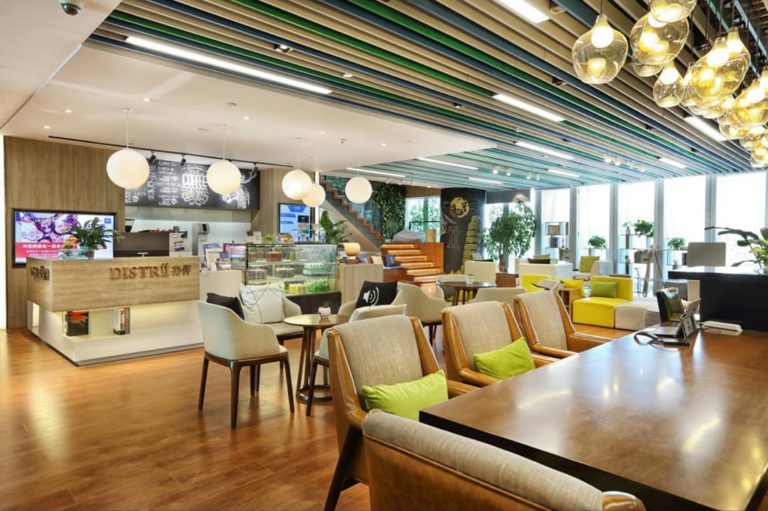 2. Distrii
Distrii is Singapore's largest co-working space, spanning 62,000 square feet over six floors. It has over 900 flexi desks, as well as multiple private offices, customisable team spaces, meeting rooms, and a multi-purpose event hall with a capacity of 200 people. They even have a Hans im Glück burger restaurant on-site, in addition to a variety of other dining options.
Monthly memberships start at $550 per month and include access to Distrii's managed offices in China.
Distrii's in-house architects and engineers can assist you in customising private offices to meet the needs of your start-up. They also have a mobile app that managers can use to book meeting rooms, video conferences with their employees, and track the work of their employees. This app also enables Distrii members to communicate with one another and share ideas, experiences, resources, and collaboration opportunities.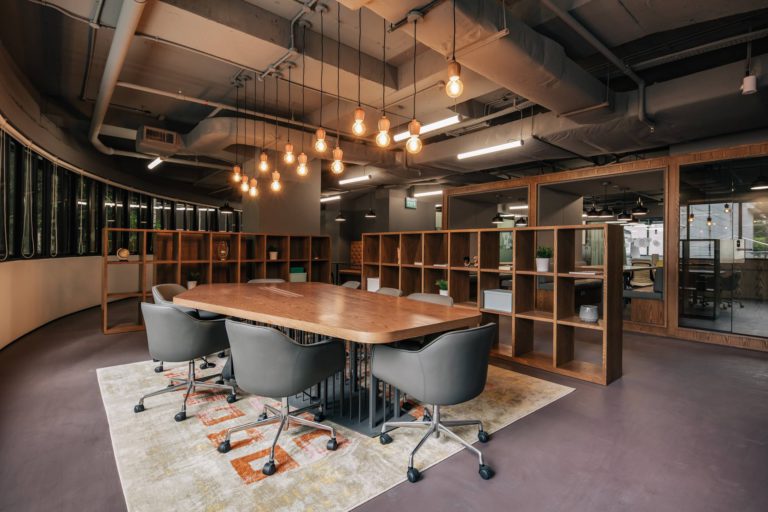 3. Regus
With a Regus membership, you'll be able to pop in to a nearby workspace if you need a quick meeting with a client or you happen to be in a specific area and you need to work. With a total of 27 locations throughout Singapore, you can access and network at any of those office spaces anytime.
Though travel is currently prohibited, your Regus membership gives you access to over 1,000 workspaces worldwide. Those with country-hopping jobs will want to consider this membership once travel is reinstated.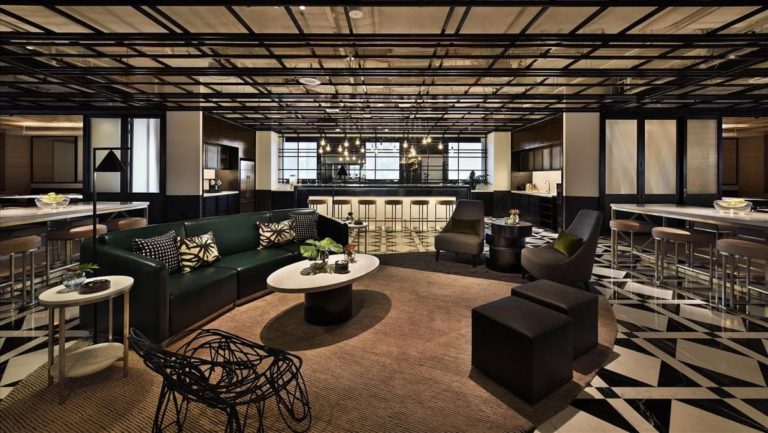 4. The Great Room
The Great Room, one of Singapore's most premium co-working spaces, has four locations and is designed with a luxury theme. It fosters a conducive working environment by providing plenty of natural light, private offices, meeting and presentation rooms, and workshop areas. Furthermore, the plush leather couches and Okume timber desks add to its elegant and stylish appeal.
The Great Room isn't just for work; it also has a kitchen, yoga studio, shower facilities, lockers, and private phone booths. They even have free coffee all week and free breakfast every Monday morning! Day passes cost $70, while monthly passes begin at $750.
Work is stressful, and The Great Room's designers are aware of this. That is why they created this co-working space with comfort in mind – after all, it is difficult to feel mentally strained in such a relaxing environment. You can even get a 10-minute shoulder massage for a small fee if the tension and pressure become too much.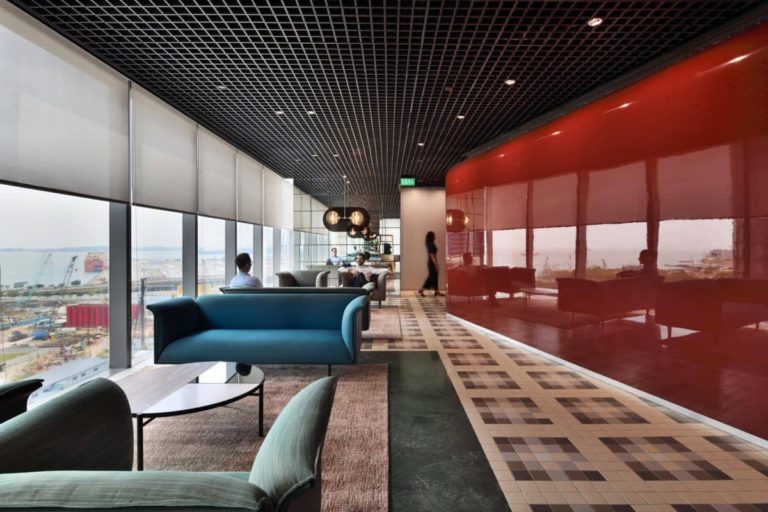 5. JustCo
JustCo co-working space, which takes up four floors of the Parakou building, offers a view of the city's skyline and plenty of opportunities for collaborations and discussions with booth buddies. Its amenities include ping pong and a foosball table. Their offices are furnished with office furniture, books, and retro '80s decor (we spy a Space Invaders wall mural and some old school arcade machines). There's also a pantry and a few meeting rooms if you need to meet with clients. Renting a desk for a day costs $50, but if you're in it for the long haul, a studio space costs $800 per month.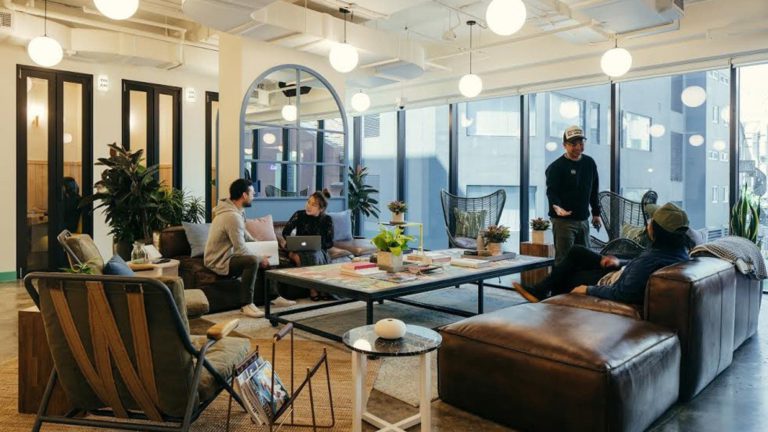 6. WeWork
WeWork already has many branches in Singapore, with more planned, making them one of the most well-known co-working brands in the country, if not the world. Other reasons to choose WeWork include 24/7 office access, trendy working areas, and a pantry well stocked with fresh fruit water, micro-roast coffee, and craft beer on draft. Prices vary by location and range from $520 per month for hot desking to $1250 per month for a private office space.
7. CoQoons Coworking
Members of CoQoons Coworking have the luxury of truly working in a calming setting, with a panoramic view of Sentosa and HarbourFront in all their glory. Their Dedicated Desk plan, which starts at $620/month, gives you a seat and 24/7 access to the space.
If you want to give the space a try, purchase a $40 day pass and find a comfortable spot with charging ports nearby. Their monthly Hotdesk plan, which costs $380 per month, gives you access to the space from 9 a.m. to 6 p.m. on weekdays. There are also plenty of lunch options nearby, as the workspace is only a 5-minute walk from HarbourFront Centre and a 7-minute walk from VivoCity.
You can also get some much-needed caffeine and complimentary snacks from the pantry to help you get through the day.
If boredom strikes or you're looking for a stress-relieving activity to round out your workday, gather a couple of other members and enjoy a game of billiards at their communal pool table.
8. Tribe by TEC
Tribe by TEC, which has multiple locations throughout Singapore, upholds the concept of "office without walls" across its large locales, making it ideal for startups that value having workers mingle and interact with one another. The open concept office has some quirky elements, such as a lorry-shaped table, a colorful solo sofa, cork shelves, and many more, which add to the office's atmosphere. Tribe has a variety of office configurations with varying sizes, as well as more flexible workstations. Prices start at $220 per month, depending on the outpost.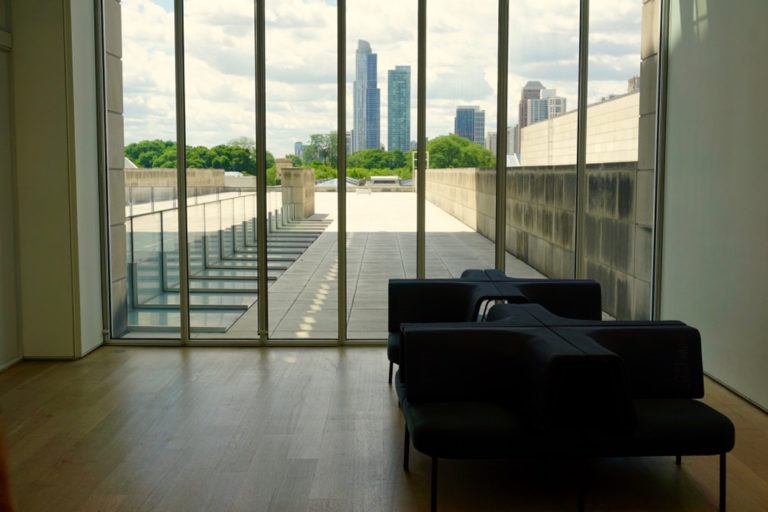 What's Next? 
If you're still thinking about joining a hot desking space, you can take a tour or try a free day pass, depending on the coworking space that you've chosen, which typically costs between $40 and $70.
The vibe and crowd will be important factors in your decision—after all, one of the main reasons people are willing to pay to join hot desking spaces is for the community and networking opportunities.
We'll help you find the right workspace for your business.